Brush fonts are always a classic, it gives you that rustic, DIY, homey feel that's great to add to any project that calls for a cozy aesthetic. We love free design resources as much as you do, so we're always on the watch for inspiring typography. In this list, we wanted to focus on not just general brush fonts, but modern brush fonts!
Modern Brush fonts give you the best of both worlds, it has a brush font aesthetic with a contemporary twist. This means you can use these fonts in projects that call for both a rustic calligraphy font look and a modern aesthetic. What are you waiting for? check out the list of our favorite Modern Brush fonts that are worth adding to your font library!
Adorable Modern Hand drawn Brush Font
Just like its name, this font is truly an Adorable Modern Handwritten Font! This cute font would surely be a perfect brush font to use for projects that call for a cozy rustic vibe with a modern touch. The creators of this font also think the font would work well for branding projects, product packaging, or can even be used as a wedding font! The Adorable Modern Brush font also has multilingual support making it widely accessible for everyone to use. The best part, of course, it's free to use and easy to download with a few clicks here!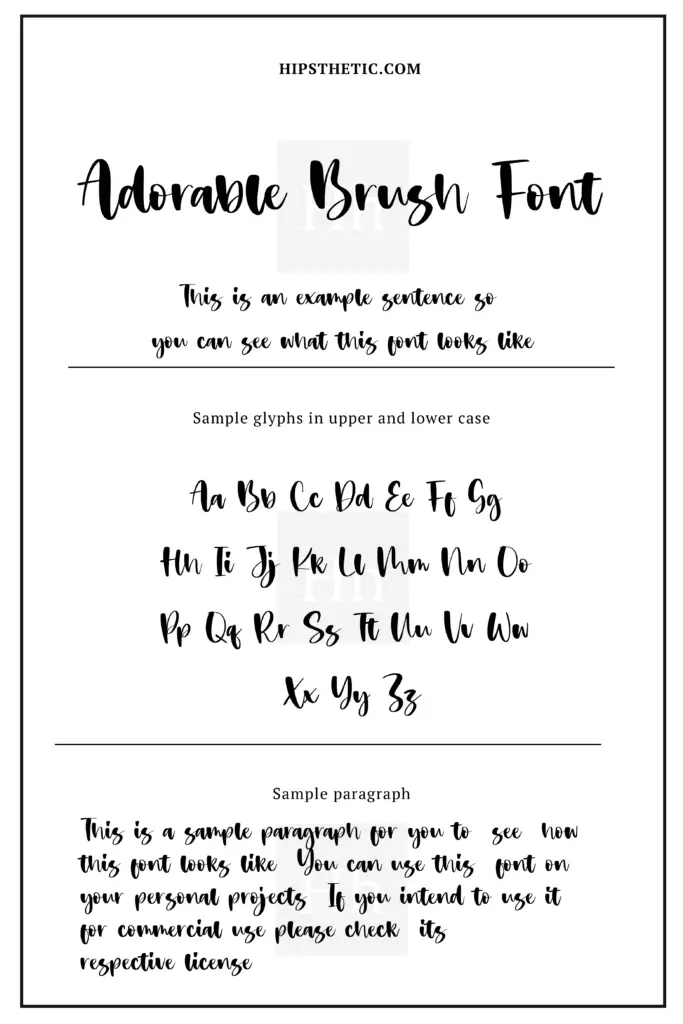 Hard Streed Brush Font
The Hard Streed Brush Font is one of our favorite fonts in the list, mainly because of its texture and character. The font features all capital letters, a mix of print and script characters and a subtle brush texture that looks both elegant and rustic at the same time. This font will truly be a great addition to your font library especially if you're looking for something to add a little "oomph" to your DIY projects! Download this font for free here.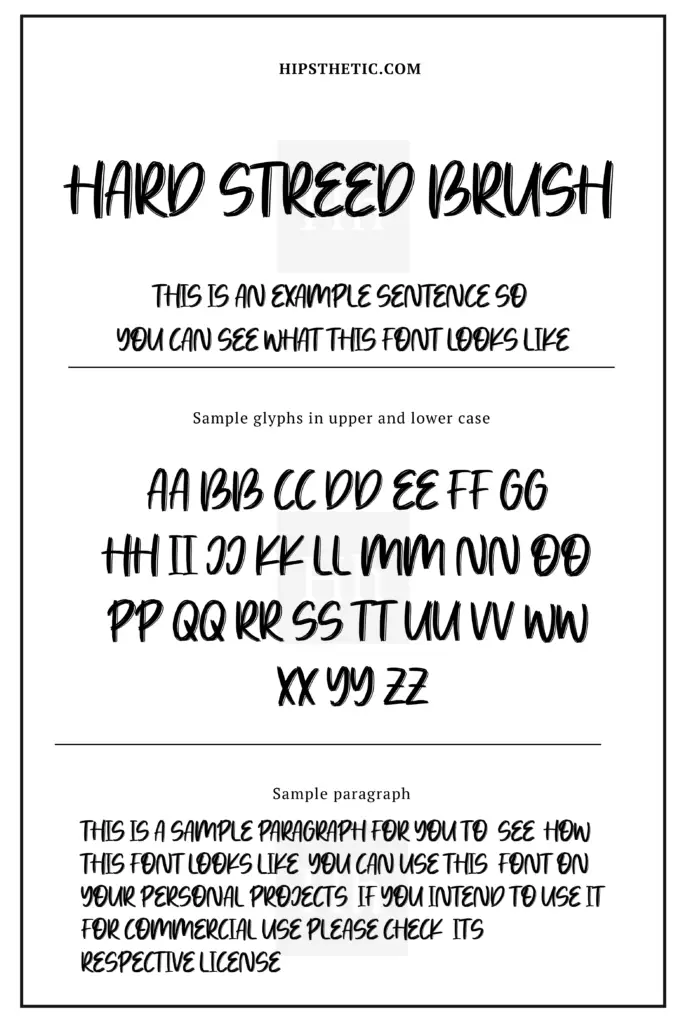 Bollymoth Modern Brush Font
Sometimes there's a misconception that brush fonts are mostly cursive fonts as well, but not all brush fonts are cursive fonts. The Bollymoth Modern Brush font is one of our favorite brush fonts that features print style characters. The font displays a fun, youthful, and free vibe that can be suited for different creative projects. Its prominent brush outlines with its structured sans serif type make it a modern brush font indeed! Try out and download this font now!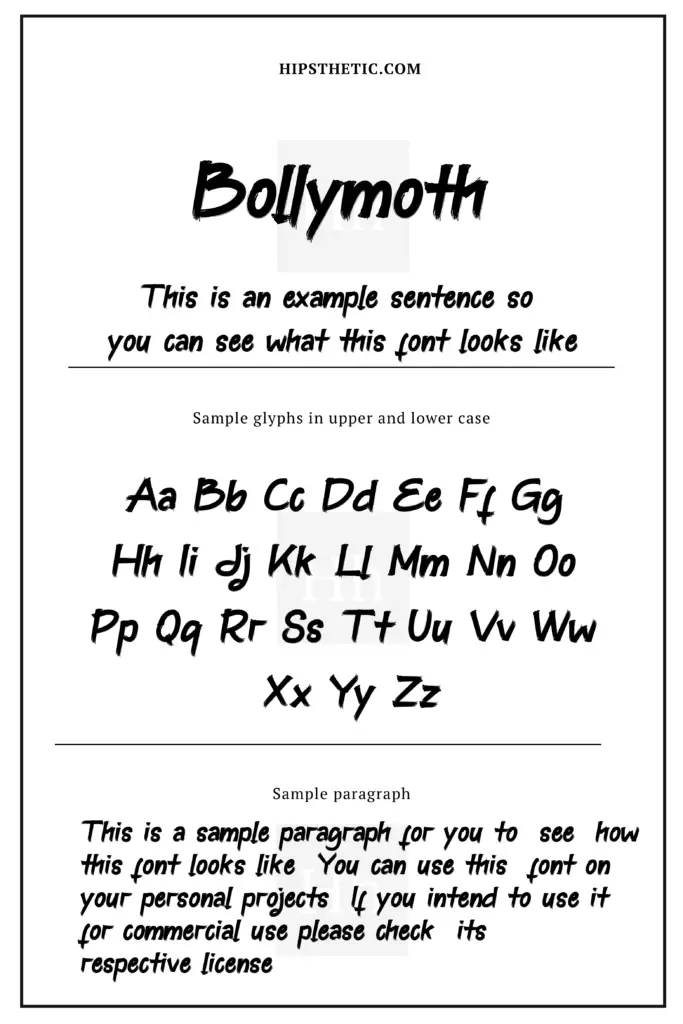 Brush Mark Modern Brush Font
This font is another print sans serif modern brush font that we absolutely love! What we love about the Brush Mark typeface is its melding of two font styles in one! If you look at it closely the font resembles both brush font and marker font that's kinda meshed into one. It gets its brush font quality from its vivid brush texture, and its marker font quality from the character's edges, different in weights and overall aesthetic. This font is perfect for your modern design project needs, especially on posters, logos, or even quotes! Try out and download this font for free here.
Haunted Moon Modern Brush Font
The Haunted Moon typeface showcases a thin cursive brush font in a semi-bold weight. The font's quirky script style makes it a great font to use for more casual, friendly, and fun design projects. This font would also be something that we would totally use on both print and digital projects that call for that homey handwriting aesthetic. Try out this font for free here!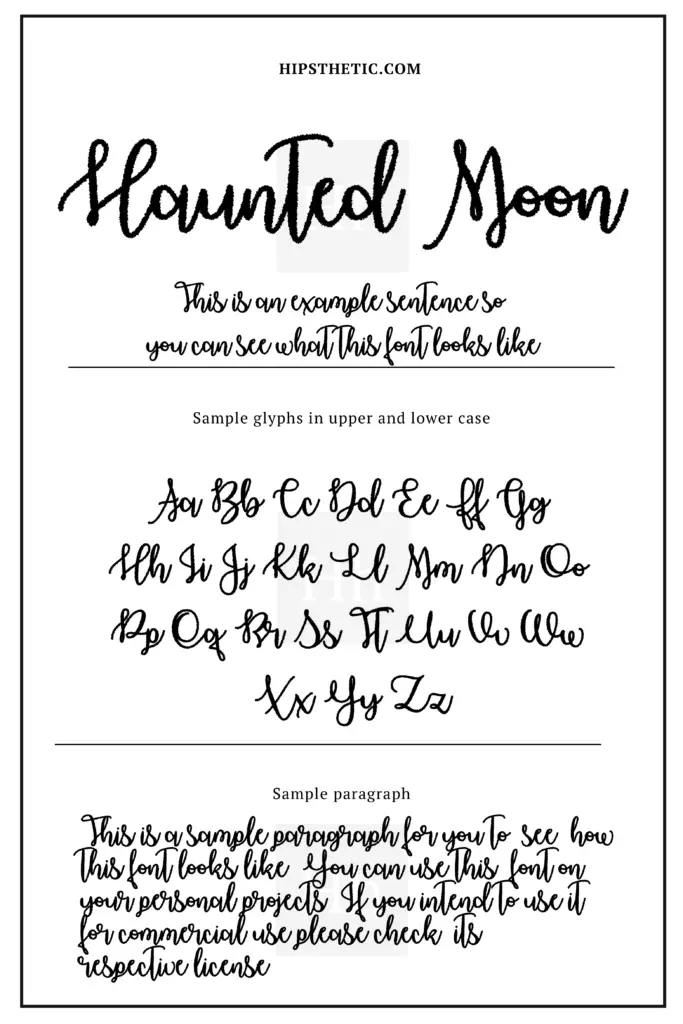 More Modern Fonts and Brush Fonts
We hope you enjoyed our list of our favorite modern brush fonts. If you want to check out more of our brush fonts and modern fonts, head on to our post on our favorite Japanese Brush Fonts, and Modern Minimalist Fonts.