We've catalogued the best bold, strong, messy and clean free slab serif fonts available to download for absolutely nothing, online.
Slab serif fonts are characterized by thick, block-like serifs – which is why they're great for displays and headlines. Our list brings together 17+, that are available to use for free in personal and even commercial projects (just remember to check the license).
You might also want to check out our list of the best free brush and script fonts.
'Arctic is a modern slab serif typeface. Arctic is based on my original font Ikaros with many changes to make arctic its own, with its own feel. It is built with strong lines witch show in its burly northern feel. It is free for both personal and commercial projects.'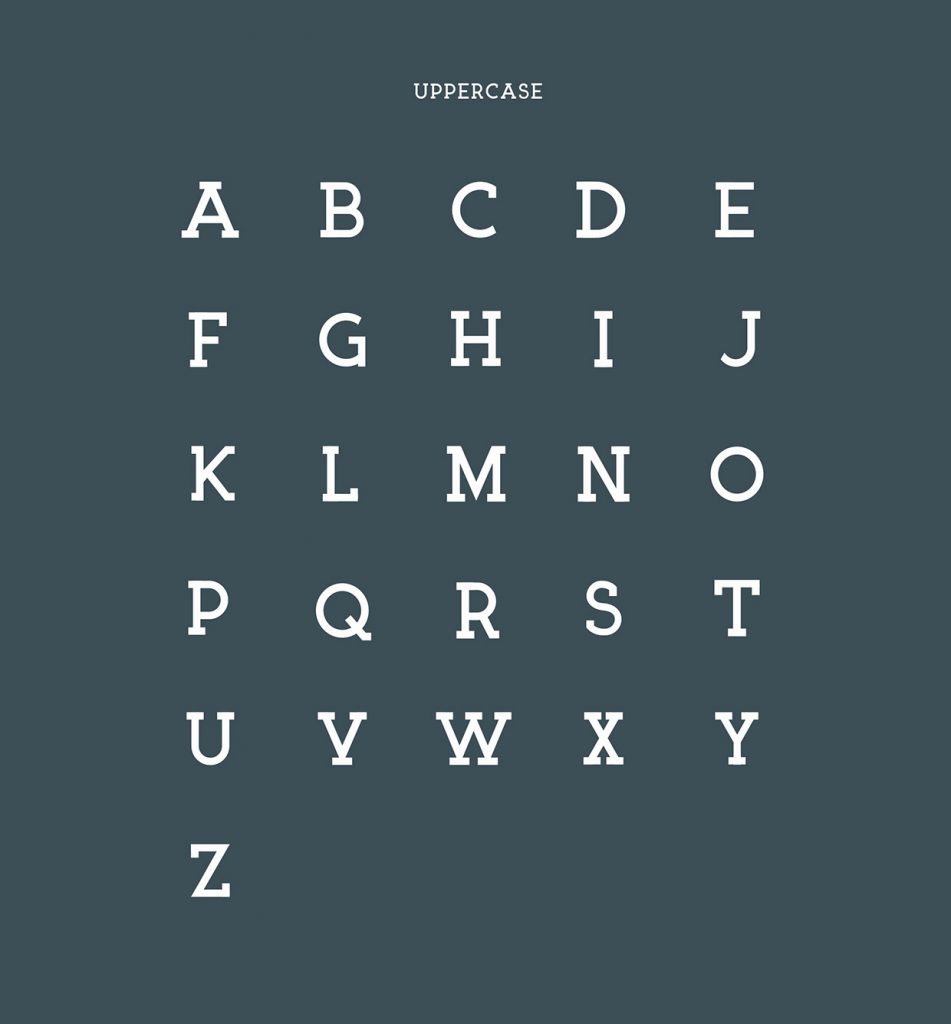 'Amrak is a slab serif created by Rômulo Gobira. Because of the bold appearence, Amrak is made to large headlines and advertisements but seldom used in body text. It comes in one style with +98 characters.'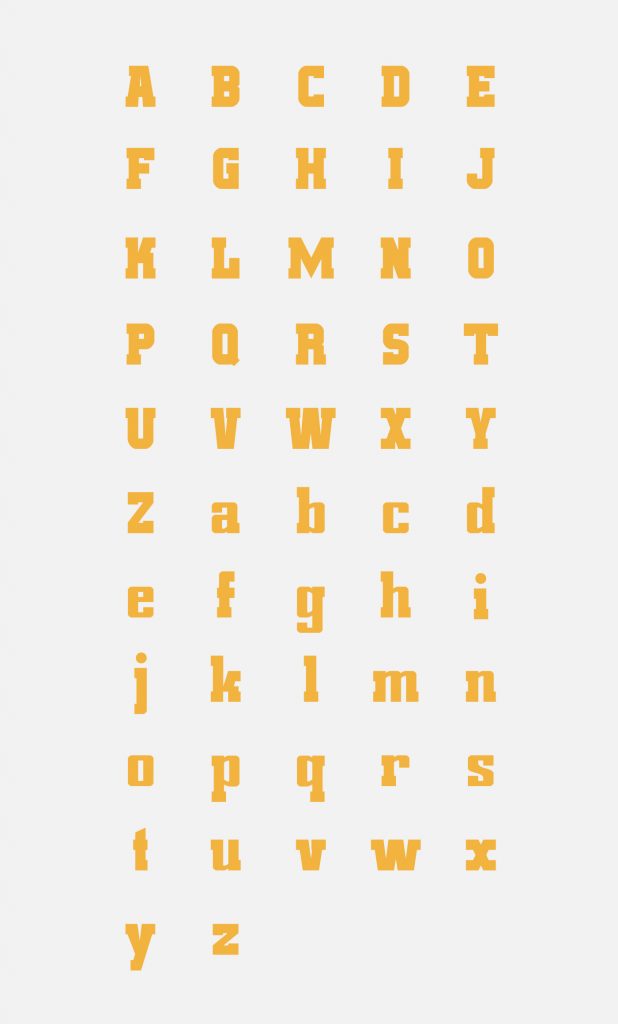 A Free Slab Serif typeface that includes uppercase and lowercase characters created by Filipa Contente.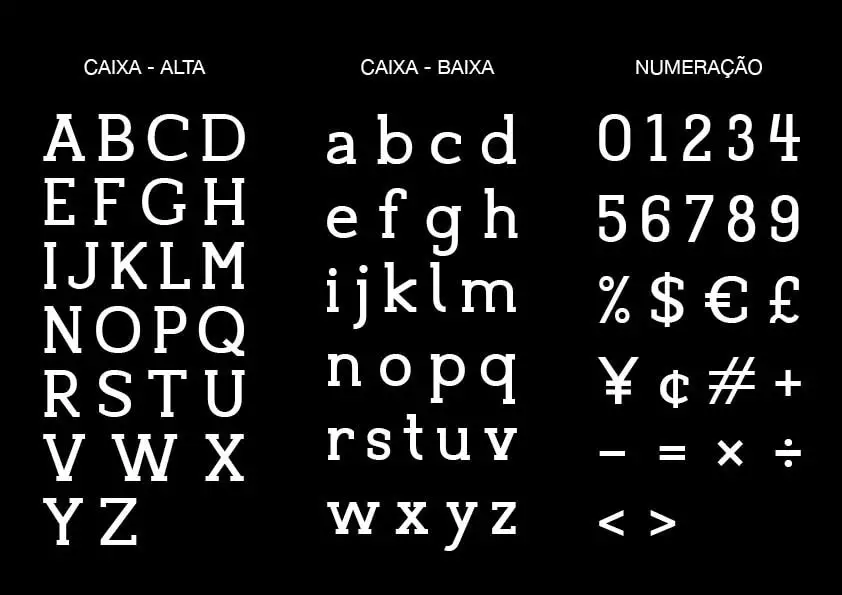 'Nexa Rust is a rough version of the already popular Nexa and Nexa Slab families with added new matching Nexa Script and Nexa Handmade fonts.Along with all of this, you will also discover added groups of extras which could serve as a foundation or add that extra "cherry on the cake" to each unique design.'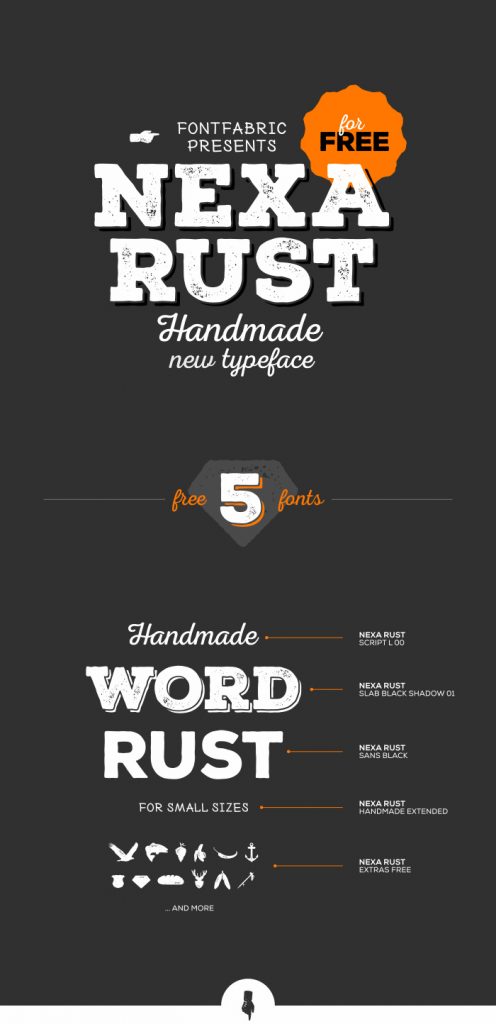 'GistX is a collision between slab-serif and indie script. The standard characters have the most traditional letterforms, while alternates add funk with swashes and script-inspired curves. The result is a unique modern slab with a vintage/retro vibe.'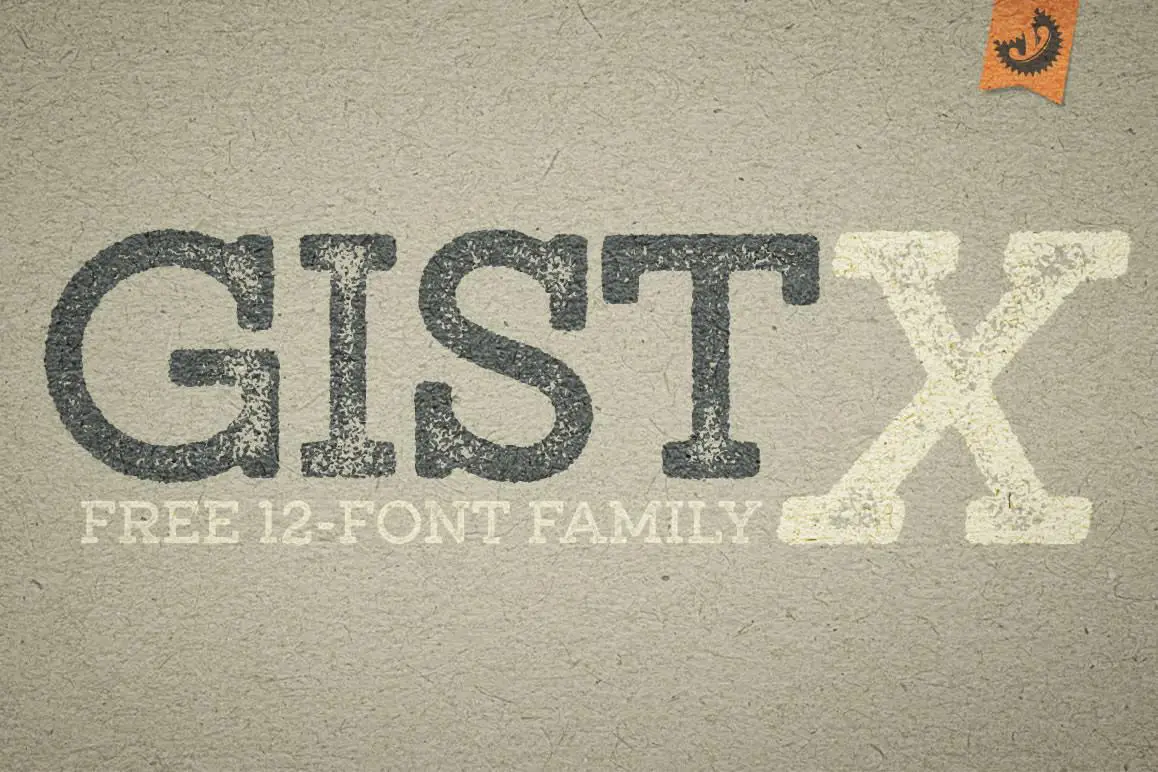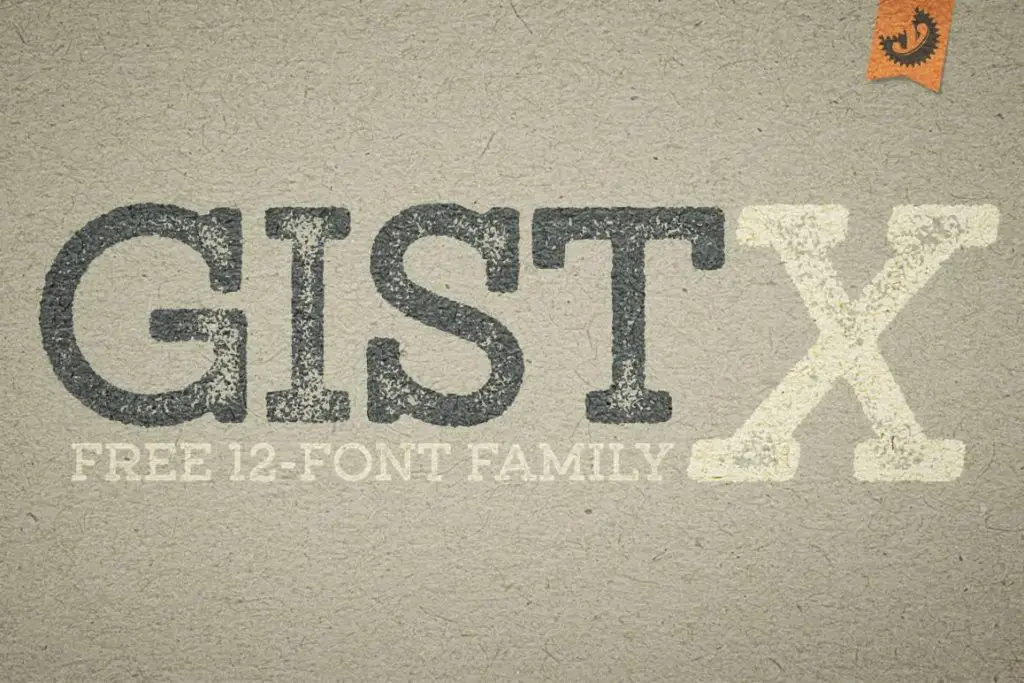 'Ansley Display is a past and modern slab serif retro inspired display font Kady Jesko made when he couldn't finds many free retro typefaces. These fonts are free for commercial and personal use.'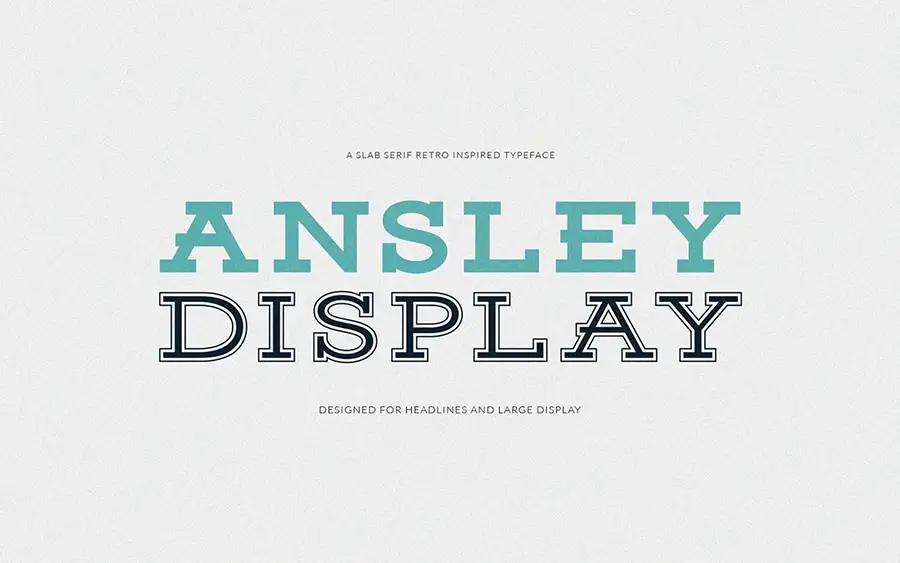 'Corduroy is a hard working and sturdy slab-serif display font designed to make your headlines stand out and be assertive. Enjoy!'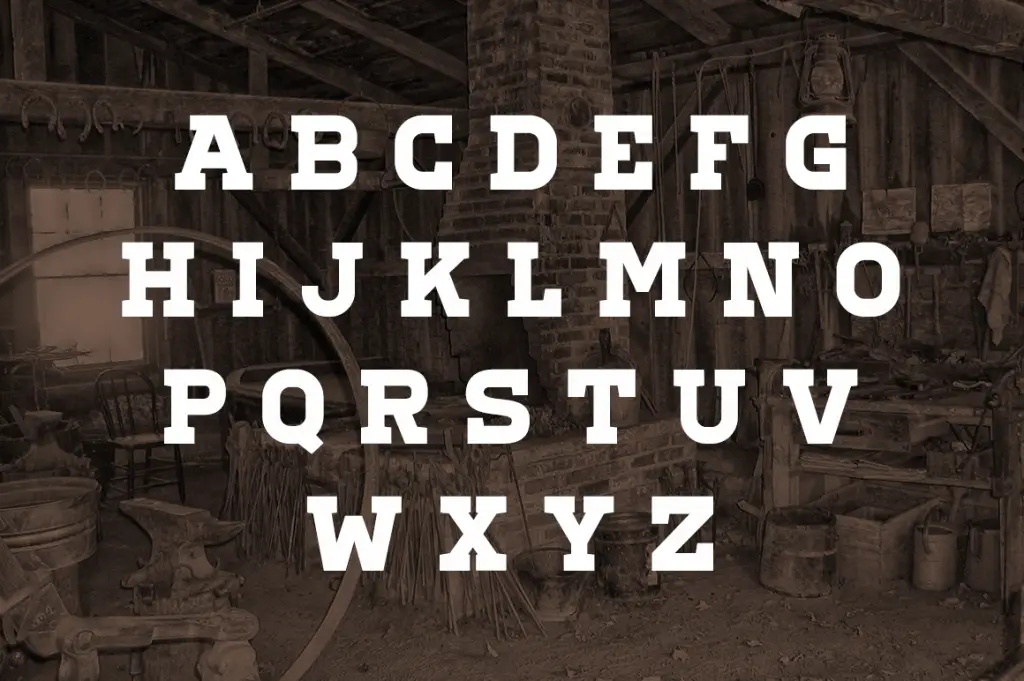 'Polaris is a slab-serif font in a turn-of-the-century style in combination with modern elements and a technical-like drawing style. Available with an extensive character set for free download.'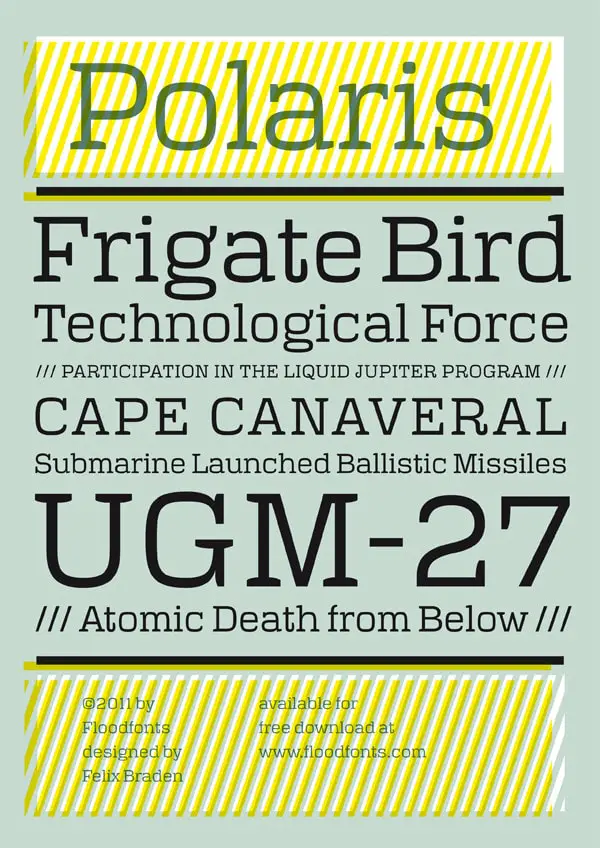 'A contemporary slab serif typeface for text, it is specially designed for comfortably reading on any computer or device.'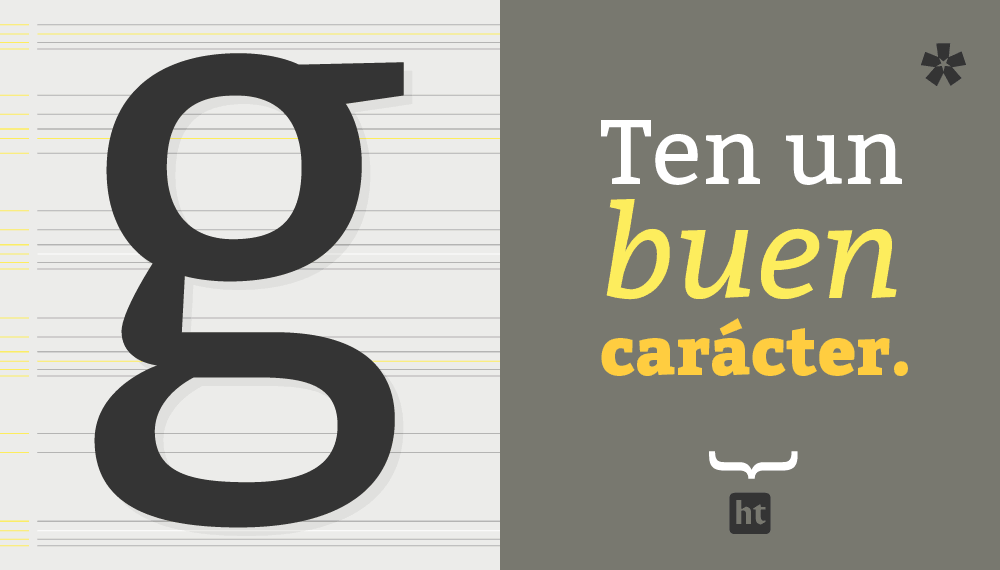 'Superlative is a free uppercase only font inspired by art deco, diners, and yearbooks.'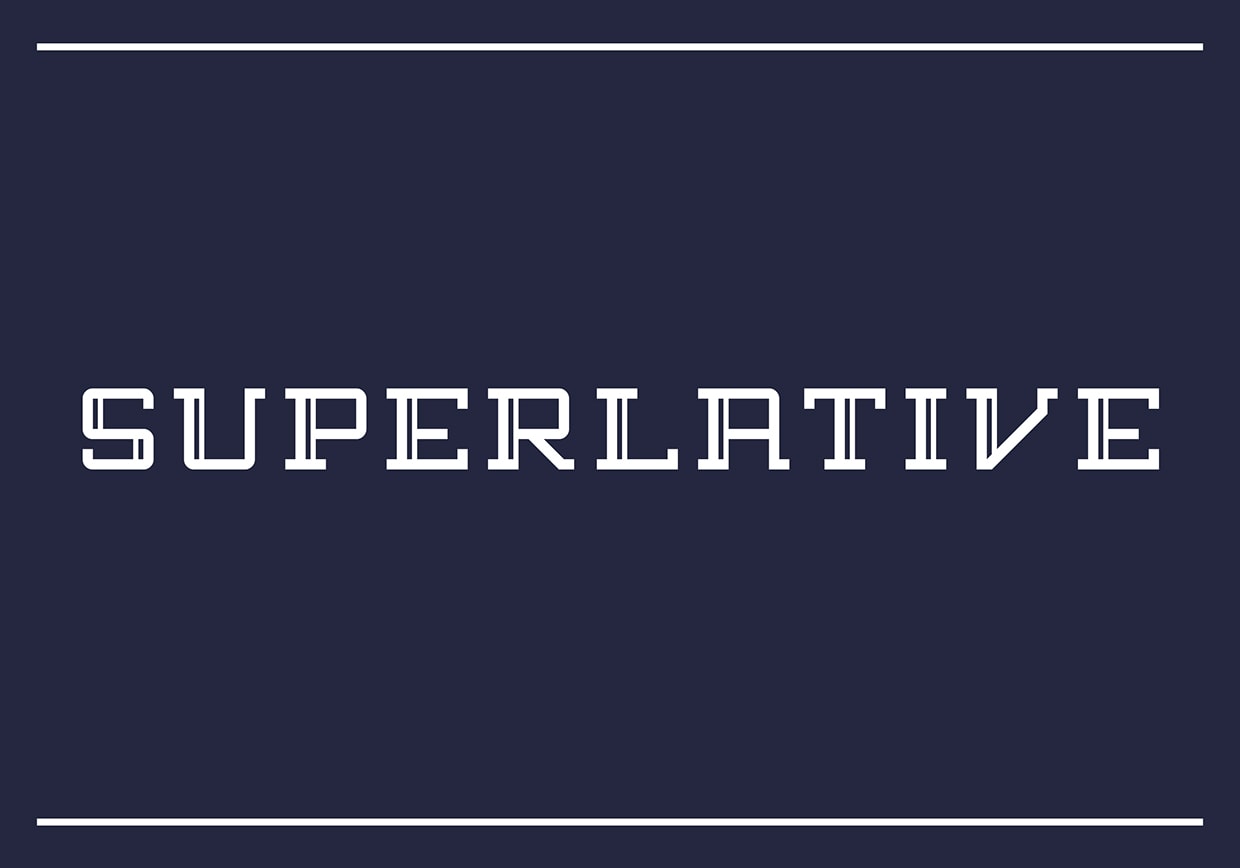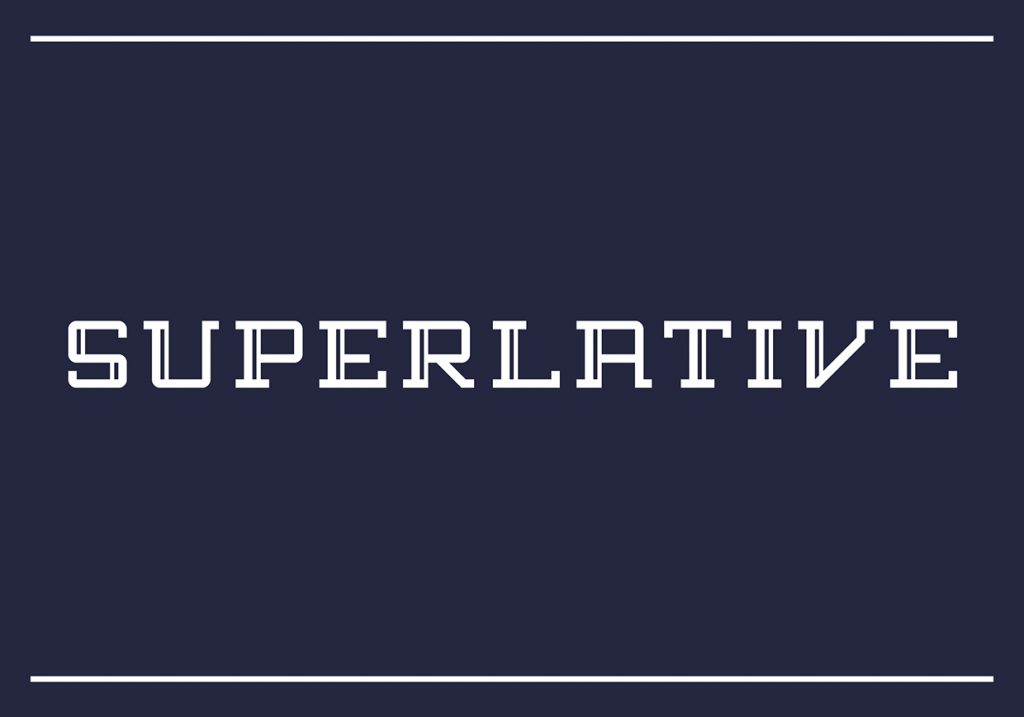 'Aleo is a contemporary typeface designed by Alessio Laiso as the slab serif companion to the Lato font by Łukasz Dziedzic. Aleo has semi-rounded details and a sleek structure, giving it a strong personality while still keeping readability high. The family comprises six styles: three weights (light, regular and bold) with corresponding true italics.'
The Aleo font family is released under the SIL Open Font License, so it is free for both personal and commercial use.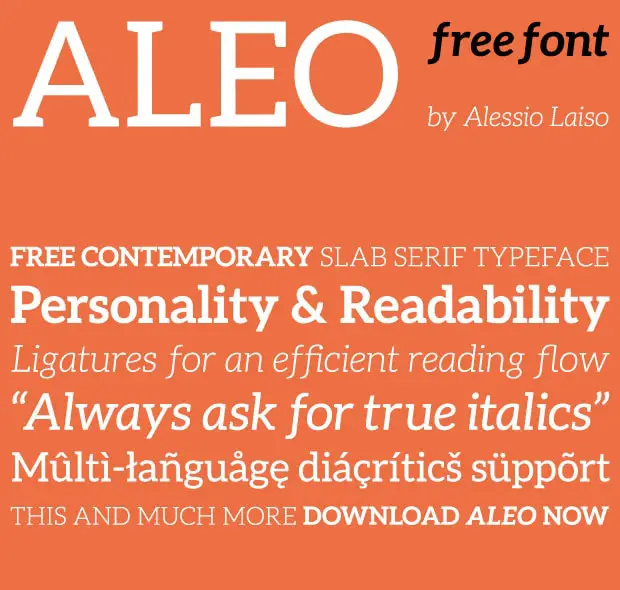 'Korneuburg Slab – A text font with character and great legibility Korneuburg Slab was created as a semester project. It's based on Korneuburg Display, which was influenced by the neoclassicist city Korneuburg in Lower Austria and especially the forms of it's multiple archways.'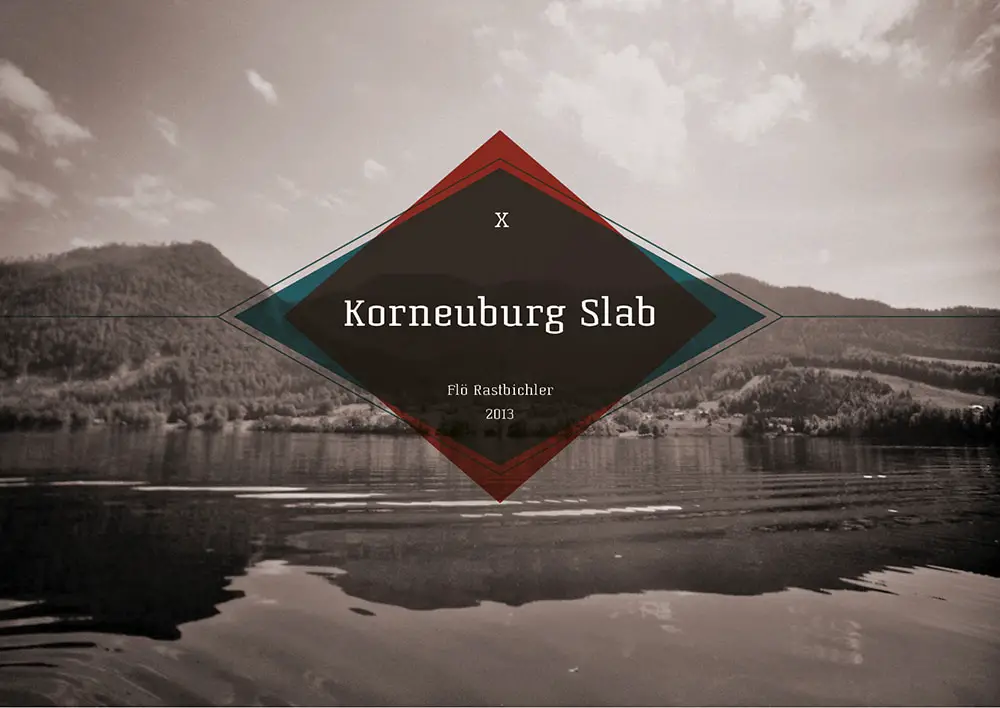 'Musket is a robust and slightly condensed slab serif perfect for heading and optimized for small sizes.'
Musket is authorized for both personal and commercial uses.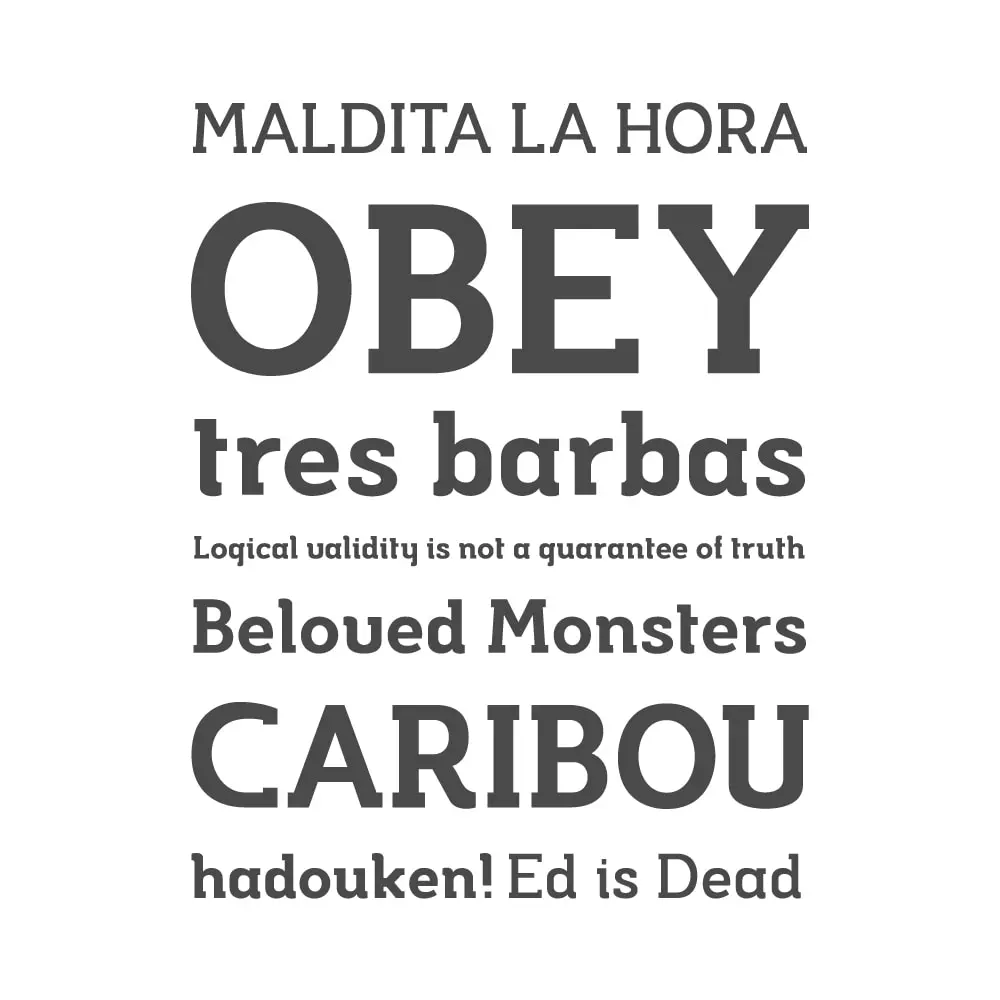 'A narrow slab serif typeface, consisting of Caps, Small Caps, Numerals and Punctuation. With every character fitting inside a rectangular frame, the spaces between each letter are very definite and consistent.'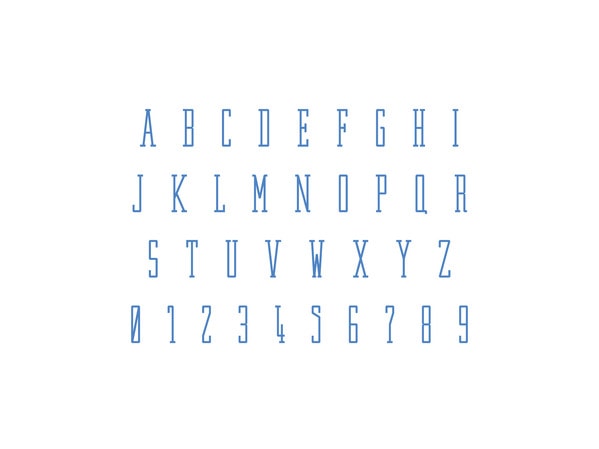 'SLABBO is a bold, messy and strong slab serif font. It's 100% FREE! Download and start playing with it.'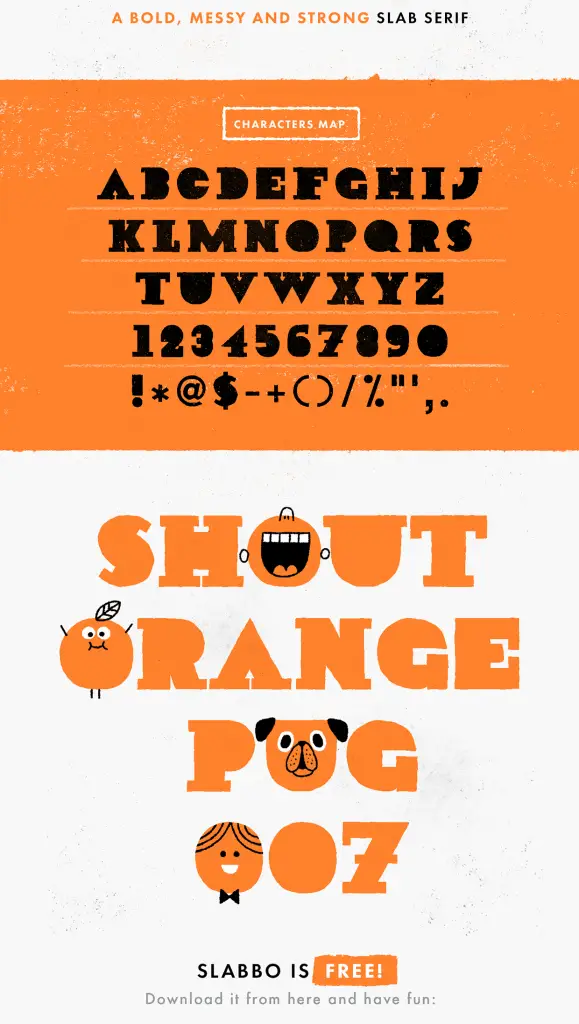 'Silverfake is a new contemporary slab serif wide free font designed Alex Frukta a.k.a MRfrukta. He brings us some unique "old style" feeling which is presented in contemporary curves that make the font applicable for both – retro and modern designs. Silverfake contains only capital letters but also some alternate characters included. Have fun!'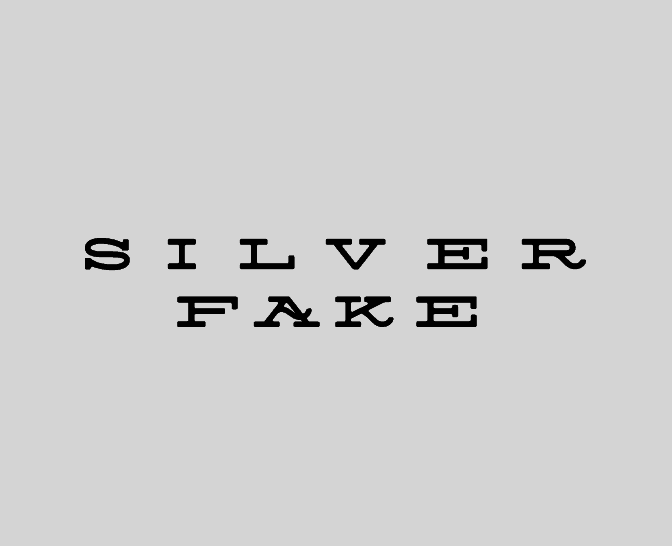 La Maña – Free Font
'La Maña is a Slab Serif or Mecana inspired by Mudejar architecture in Aragon (Spain) that was developed between the twelfth and seventeenth century. The characteristic details of this architecture and its distinctive Mudejar Star have been incorporated in a way meditated and subtle anatomy of this font. La Maña is characterized by a large height of X and a fitting width font that adding to their generous finials and their unique gussets make it perfect for large headlines and advertising.'