Today we are going to talk about 10 of the most beautiful handwriting fonts. There's something special about using fonts that look like handwriting in your designs. It makes them look more personal and give them a bohemian-ish look. 
For a designer, typography is sometimes more important than the design itself. This is true especially when it comes to marketing and need to convey a message. That message should be readable but at the same time attractive. It needs to capture the audience's attention immediately, considering that the attention span of a person is lower than ever.
There are four major types of font we use daily in our designs. First, we have the traditional Serif and Sans Serif categories, which include the typographies we use for longer texts. Then, we have the other two categories of fonts: Display fonts and Cursive fonts.
The handwriting fonts below are our personal favorite. We use them for our designs and we constantly try to find more that you might like.
Pinsetter is not just a font. It's a bundle pack that contains three different fonts that look something like this:
It's a great choice for out of the box designs for DIY projects, gifts and even digital flyers and banners with a specific demographic target that loves to have fun. Also, you can use these fonts for posters and mix them together to create great visuals in just a few seconds.
Another great choice for your design projects is Kristof. This is a display-type font that comes with a full set of doodles that can be mixed with the letters in order to enhance your projects.
As the official description suggests, this is a cool and playful font. It's ideal for posters, DIY projects, logos and of course, any kids related designs. I am telling you, kids will love anything with Kristof, especially if you mix letters with doodles.
Here's another cute and sweet handwritten font. It's called Milk & Honey and it looks like it could mix perfectly with the two natural products as well.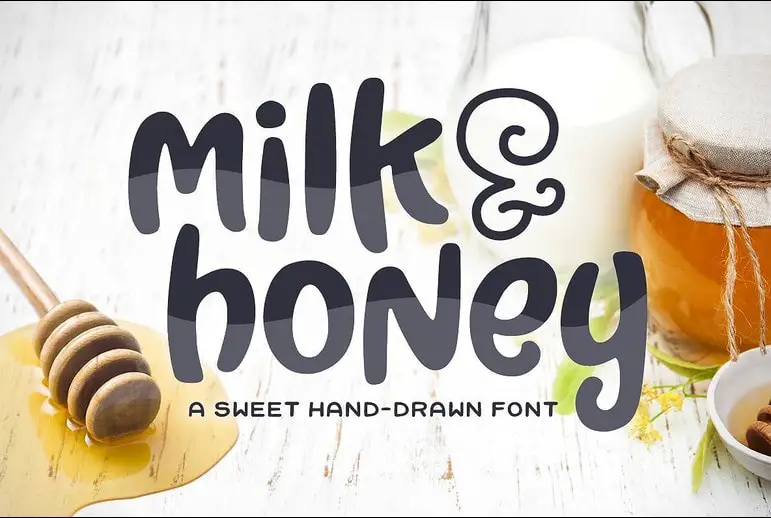 In fact, this font makes me think about chocolate, biscuits or other goodies that made my day in childhood. It's perfect for logo design due to its bold and stylish look but it will also look great with marketing t-shirts, mugs or posters. It adds personality to any personal or professional project and can be turned into a web font which is a great thing, considering that almost everything we do today, is also available online.
Skinny Jeans is yet another great font for designers, one that can add height to your projects. As the name suggests, the font is tall and skinny.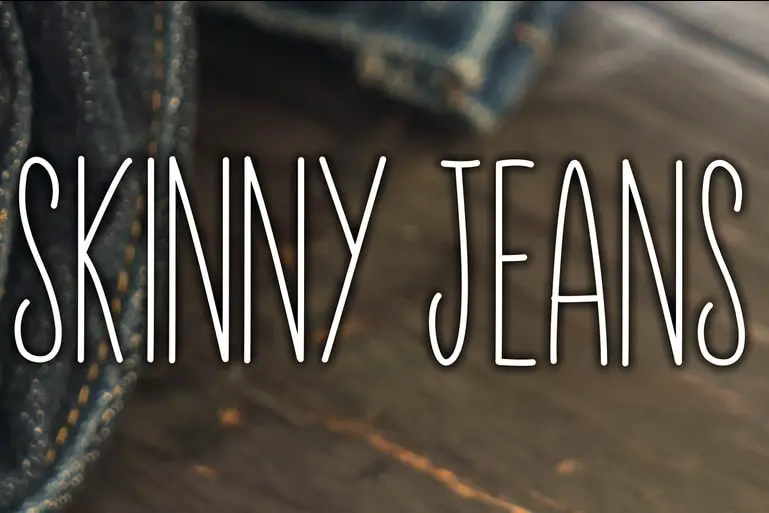 I suggest using this font to add style to your titles. Pay attention, however, to where you use it. It looks great on ample designs but it loses in readability if you place it on small banners. Therefore, it would be perfect for posters and brochures, and even for flyers.
Our list of the most beautiful handwritten fonts continues with a simple yet stylish font called Super Hero. It looks something like this: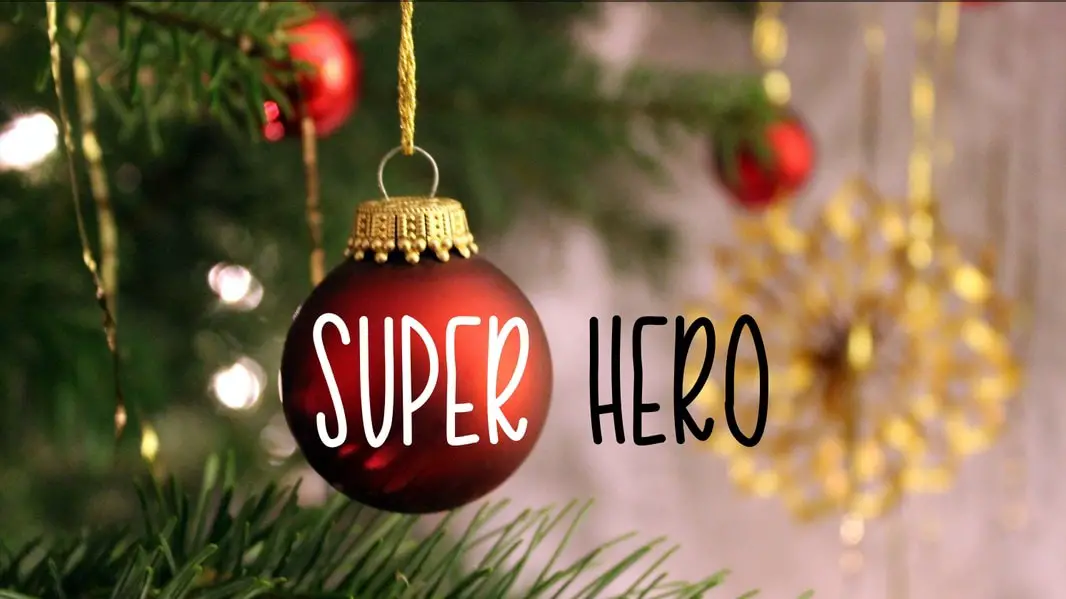 What makes this font a great choice? Well, it's stylish enough to allow you to use it in almost any type of design projects you may have. At the same time, its elegant look can make it perfect for gift cards and logos.
Here's the first font on this list that is not only a handwritten font but also a cursive typeface. Cursive means that most of the letters that compose the words are connected, just like they would be in a text written by hand.
I would recommend this beautiful font for any design project regardless of its type or destination. In fact, this is a typeface that should not miss from your collection. It should be kept at hand at all times because you never know when you'll need it. And there's another thing that makes it special: you can add a mermaid tale to the last letter of every word.
How do you imagine that a flyer promoting a summer event should look like? Well, let me tell you. With Sunny Beach typeface, it doesn't need anything else than a couple of clipart images or doodles and a short copy text.
When you look at these letters, you instantly imagine sunny beaches, sand, sunglasses and a cold drink. You can almost hear the sounds of the ocean waves and the seagulls.
If you want to make a statement, Succulent it's your perfect choice when it comes to handwritten fonts. It looks great on any design project and if you want to print a message on a t-shirt, it looks even better.
I like "Succulent" because it is a cute and fun looking font with a plus on readability. This is quite important for a designer, especially when you have important messages to convey to your audiences.
Rosabella is yet another beautiful font with ligatures and alternates that is easy to read in any circumstances. This makes it perfect for display banners and flyers but also for any type of home projects, including textile prints.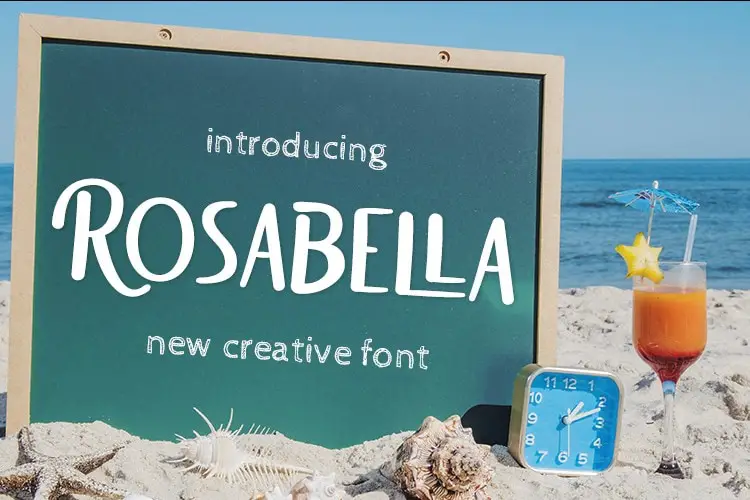 I would recommend Rosabella due to its simplicity and elegance.
Another great font for banners and gift cards, Pickleberry comes with a unique style that allows you to give your designs a unique look. It looks modern enough to be featured on creative designs dedicated to young audiences.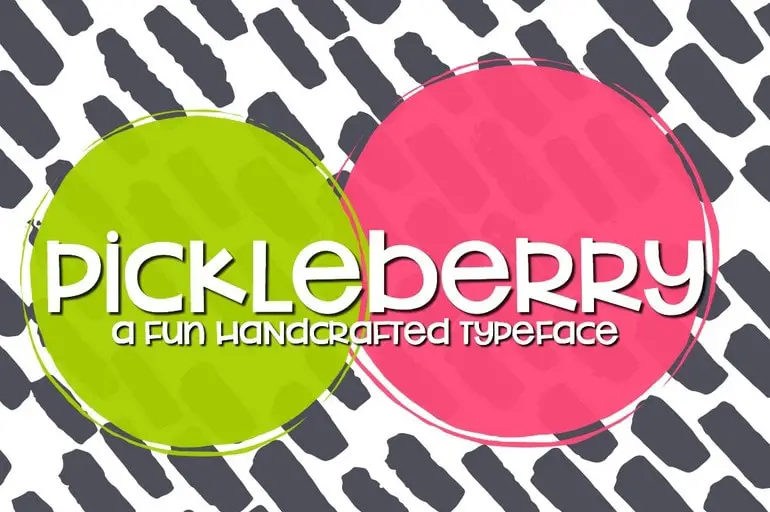 Pickleberry ends our list of beautiful fonts but it's not the last on our top. In fact, all these beautiful typefaces can be considered as a number one pick. They are all worth being downloaded and stored in a special folder. I am talking about that special folder which you get to browse when you need to create something really special.
What do you think about our selection and what other typefaces you would have included in this list?