One of our favorite old-school fonts is Typewriter fonts. Typewriter fonts embody that classic serif looks with a vintage homey touch. These fonts are perfect to use on your retro-themed projects, or if you're sporting vintage branding on your business, you can never go wrong with a typewriter font!
We fancy typewriter fonts so much, which is why we decided to come up with this list of typewriter fonts that you can use all for free! We also sectioned our posts on where you can find these fonts in different platforms that are all easily accessible.
But before we dive into our list of typewriter fonts, what exactly is a typewriter font? Are all serif fonts typewriter fonts? Does space matter in a typewriter font? Which font looks like a typewriter font? Well, let's find out!
What are Typewriter Fonts?
Generally speaking, Typewriter fonts are basically the fonts that typewriters used in the day. But if you're referring to the typewriter fonts in this day and age, it is a kind of font that simulates the fonts that old typewriters use through its design and style.
Are All Serif Fonts Typewriter Fonts?
To answer that real quick, no. Not all serif fonts can be called typewriter fonts. Yes, typewriter fonts may have serifs on them, but serif fonts are a wide range of designs and permutations, therefore, not all serif fonts are typewriter fonts.
Which font looks like a typewriter font?
A typewriter font can have certain qualities such as the serif, and slab serif style as well as the fixed pitch spacing from a monospace font. Nowadays there's a lot of different fonts that can be considered as "typewriter fonts" To answer this question if you're interested to find out, keep on scrolling to see our list of typewriter fonts!
Typewriter Fonts Photoshop
Photoshop is definitely one of the best photo editing and creative tools out there. Since font
American Typewriter ITC Font
This typewriter font was designed by Tony Stan and Joel Kaden. It was also published by ITC. This is one of the most popular typewriter font style fonts out there because it's easily accessible and gives that subtle casual feel on a typical typewriter font style.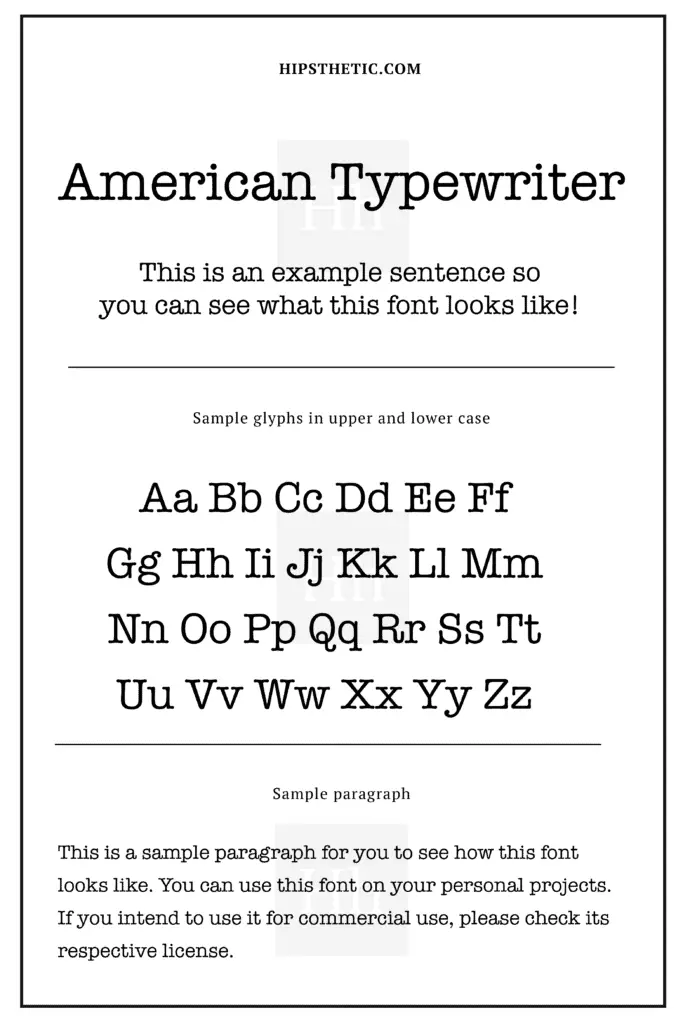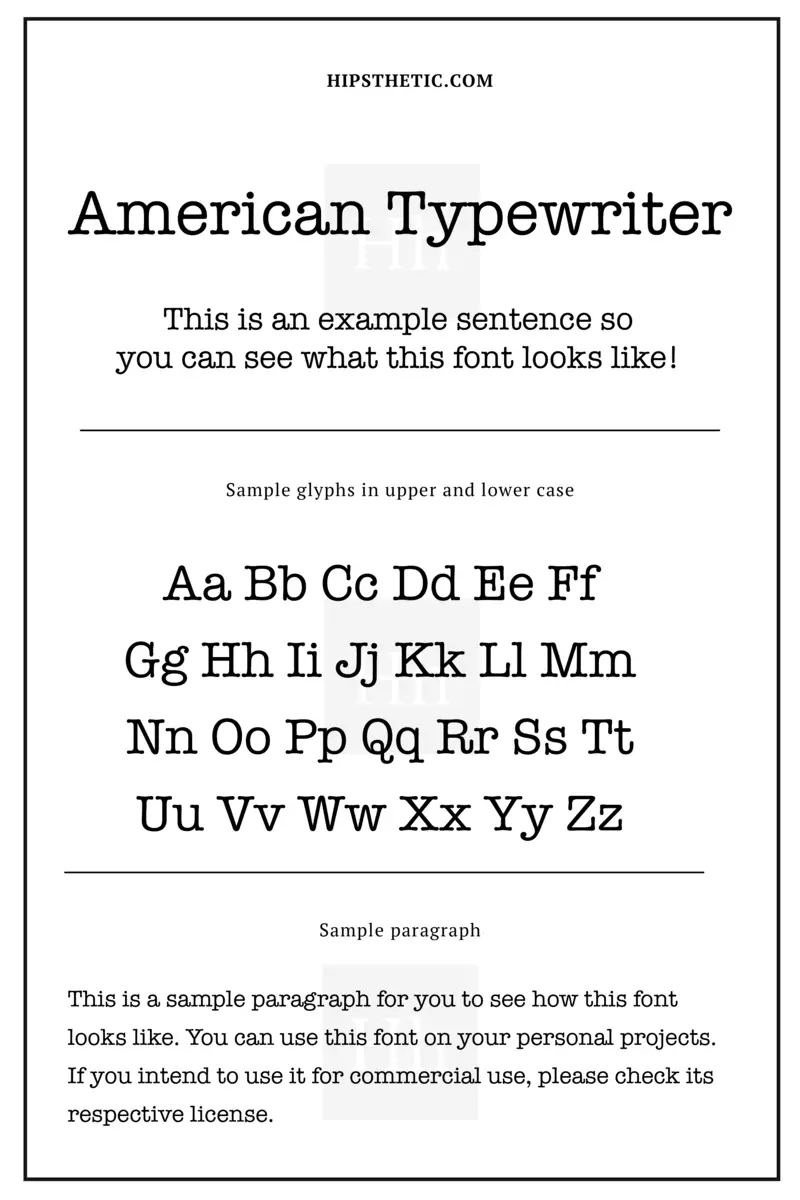 Dico Typewriter Font
The Dico Typewriter font is designed by Pieter van Rosmalen. The font comes in 4 different styles, featuring a regular, italic, script, and slab variation. Dico gives that instant typewriter font feels through its identical spacing and serif design which makes it a great font to use for that full old-school retro vibe.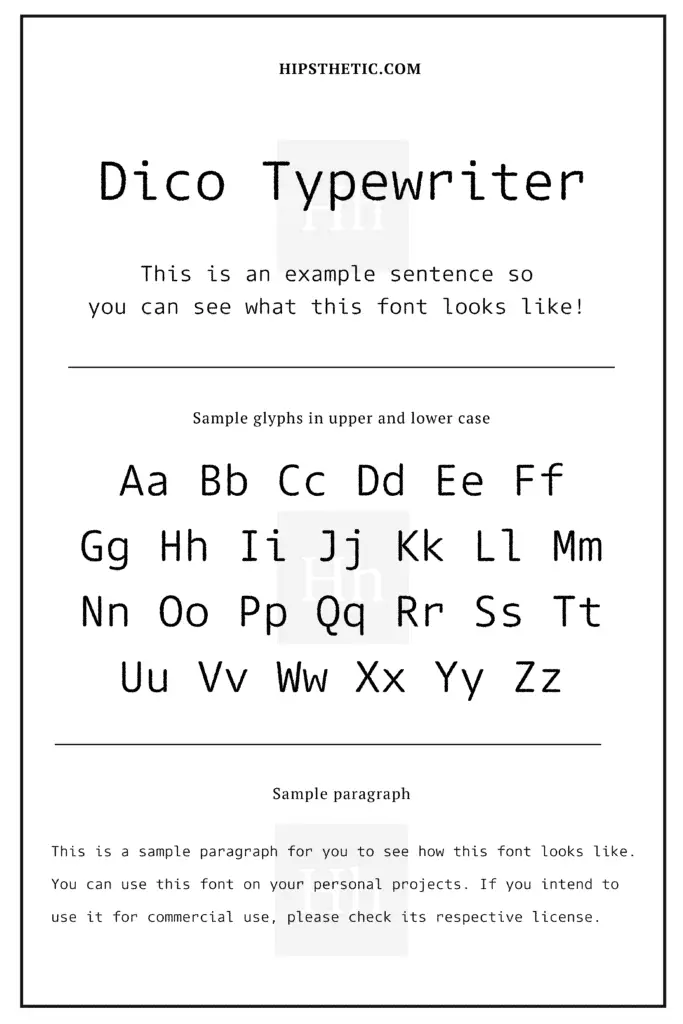 Nexus Typewriter Font
This nexus font is designed by the Dutch type designer Martin Majoor. This typewriter font is great to use for logos, branding, and creative projects! It also comes in 4 different weights that you can use.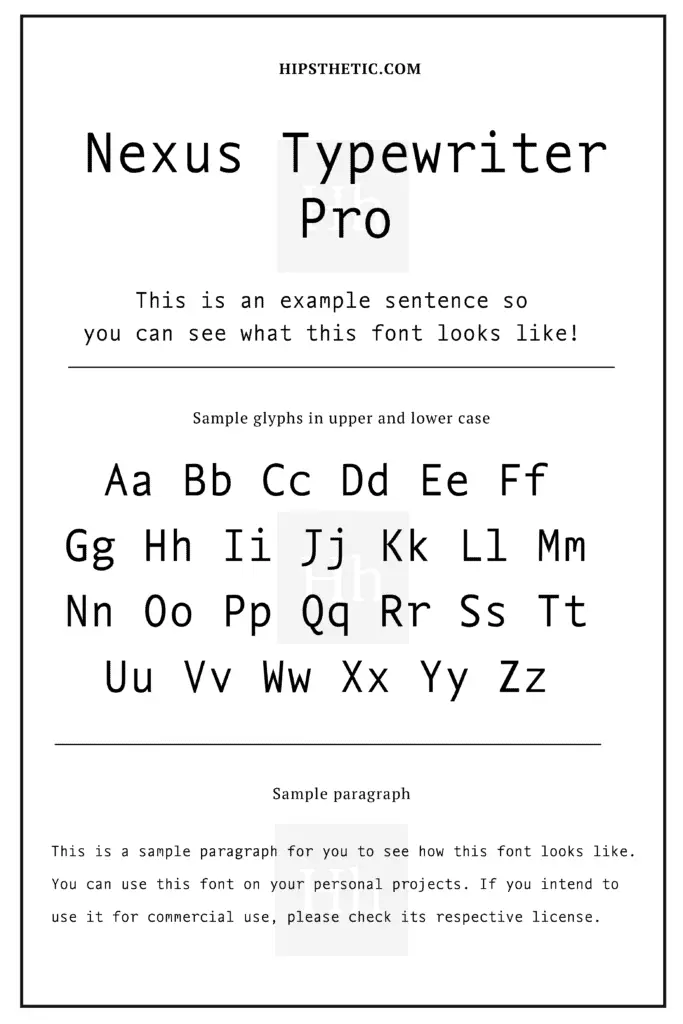 PT Mono Font
Because of its monospace and easy-to-read features, the PT Mono font was primarily designed as a business font or a formal font for its specific use for worksheets, forms, tables, and lots of other documents that needed calculations. Despite it being designed for more serious uses, we think that PT Mono captures that typewriter look and feel, and can still be used for more creative projects. The font currently has only one regular style, who knows they might come up with something in the future!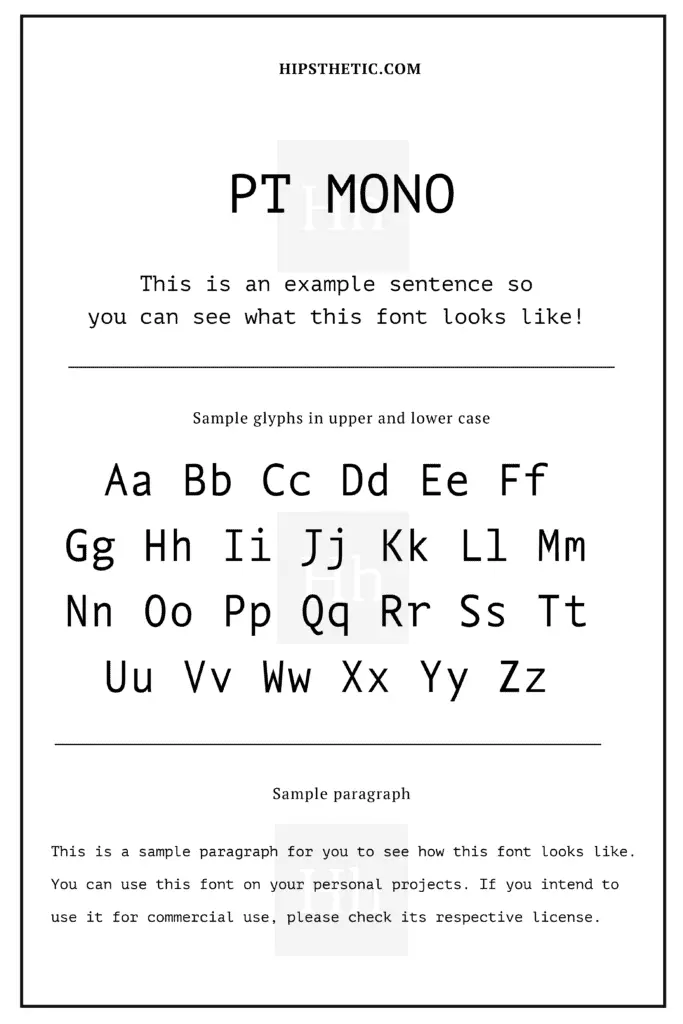 Yorkten Slab Font
One of our favorite things about this slab serif font is how it projects both an elegant and rustic vibe. It's a great typewriter font to use on both print and web designs.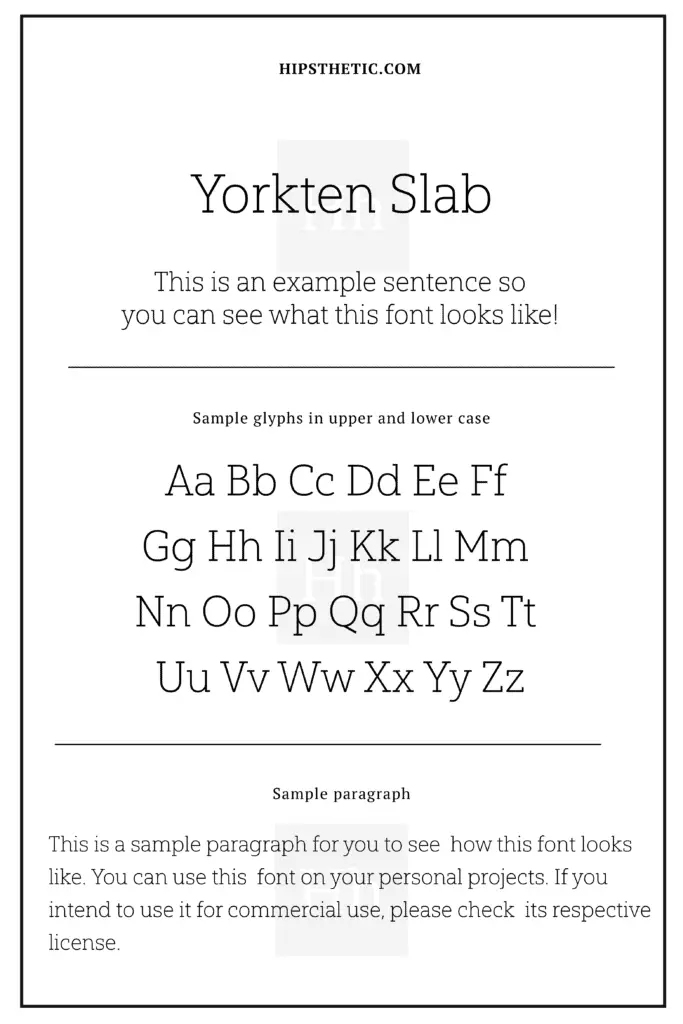 Typewriter fonts in Canva
Courier Prime
This font was derived from IBM's Courier which encapsulates a monospaced style made specifically for screenplays. Courier prime shows bolder weights, firmer serifs and is faintly lighter than its predecessor. Definitely a great font choice for that typewriter monospaced aesthetic.
Lumios Typewriter New
A soft slab serif style font that looks like a typewriter font. We recommend you use this on projects with a whimsical vintage look.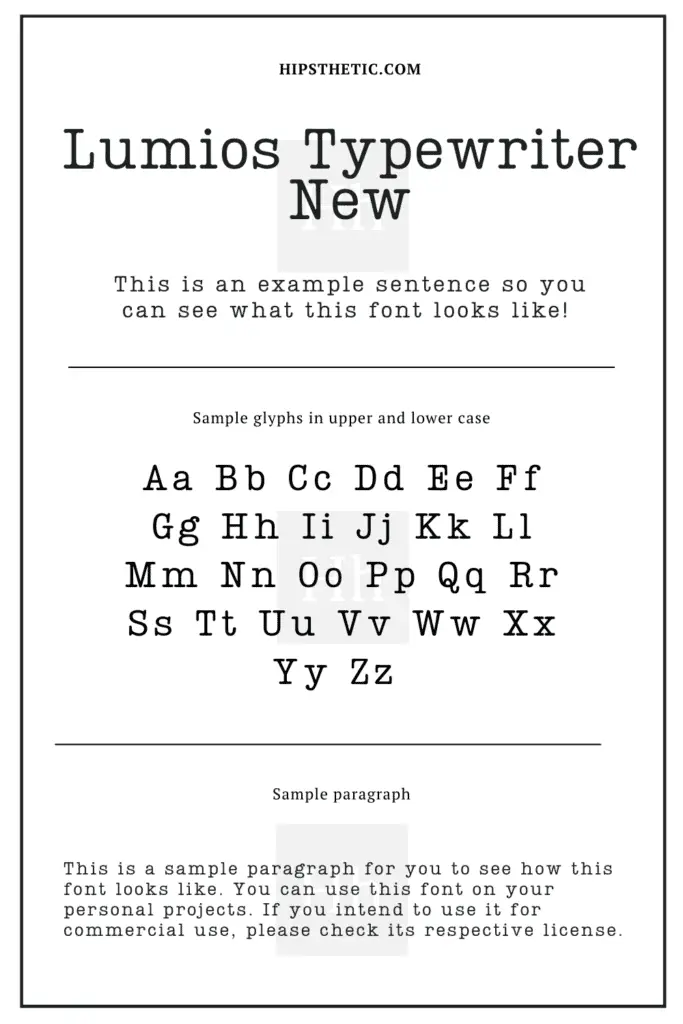 True Typewriter
This typewriter font mixes that slab serif look with a subtle spray paint detail. Its overall rugged look makes it look vintage with a modern touch. It also has narrow letters, making it good to use as an accent text.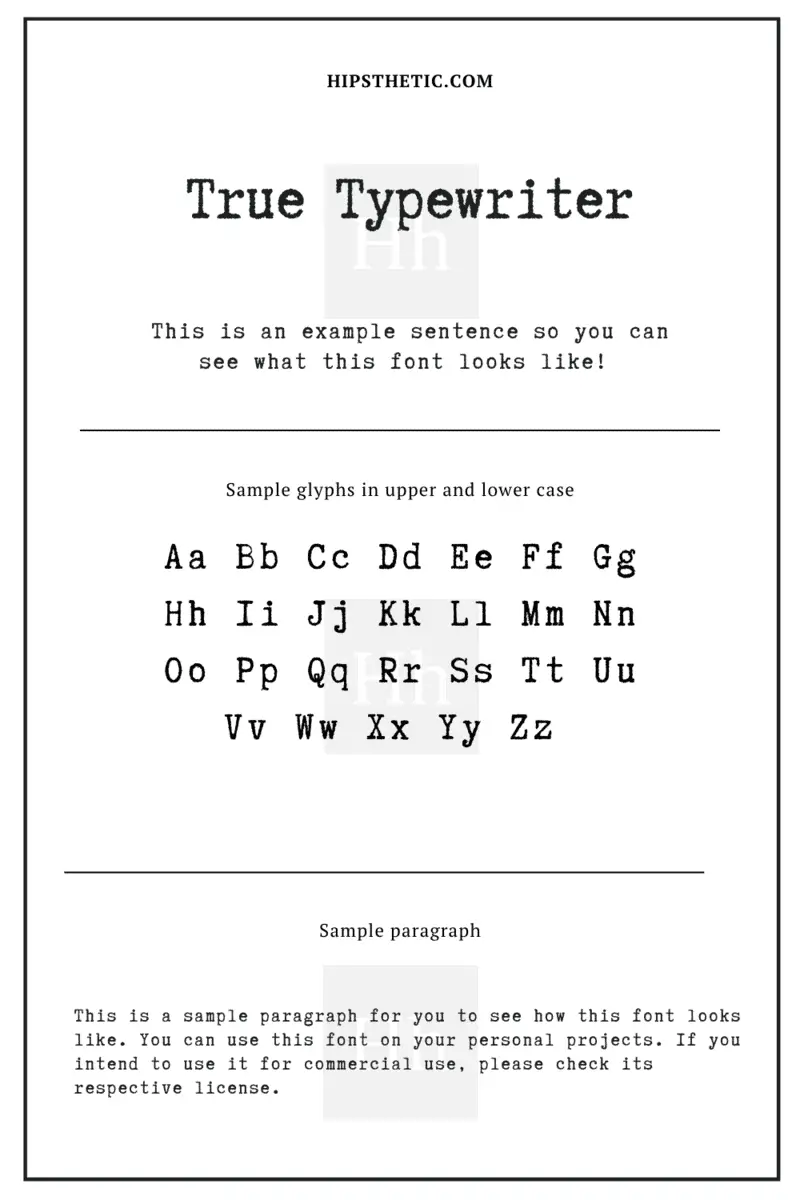 29LT Makina
This expressive typewriter font's main characteristic mimics the rugged ink prints of a typewriter machine. Its goal is to capture the uniqueness and randomness of that typed text on paper from an actual typewriter. This is a great font if you're looking for something expressive and has all of the right vintage touches.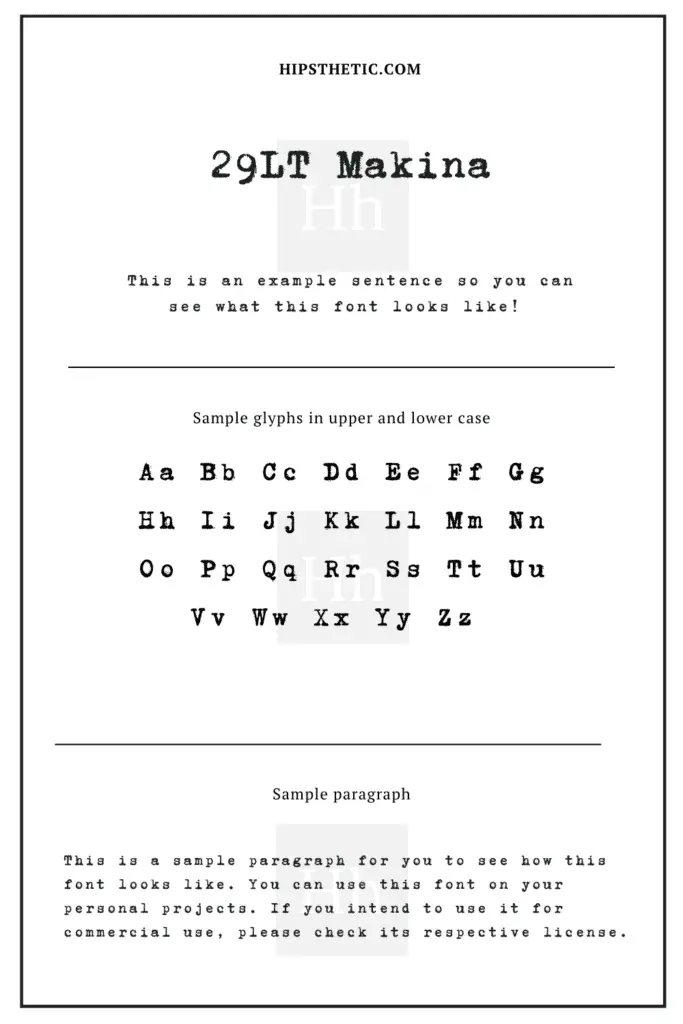 TLWG Typewriter
TLWG Typewriter is a wide, bold font that looks very much like a typewriter font that's great to use on headings and bigger text sizes. This font is definitely easy on the eyes, has a bit of a modern touch yet still keeps that old school aesthetic.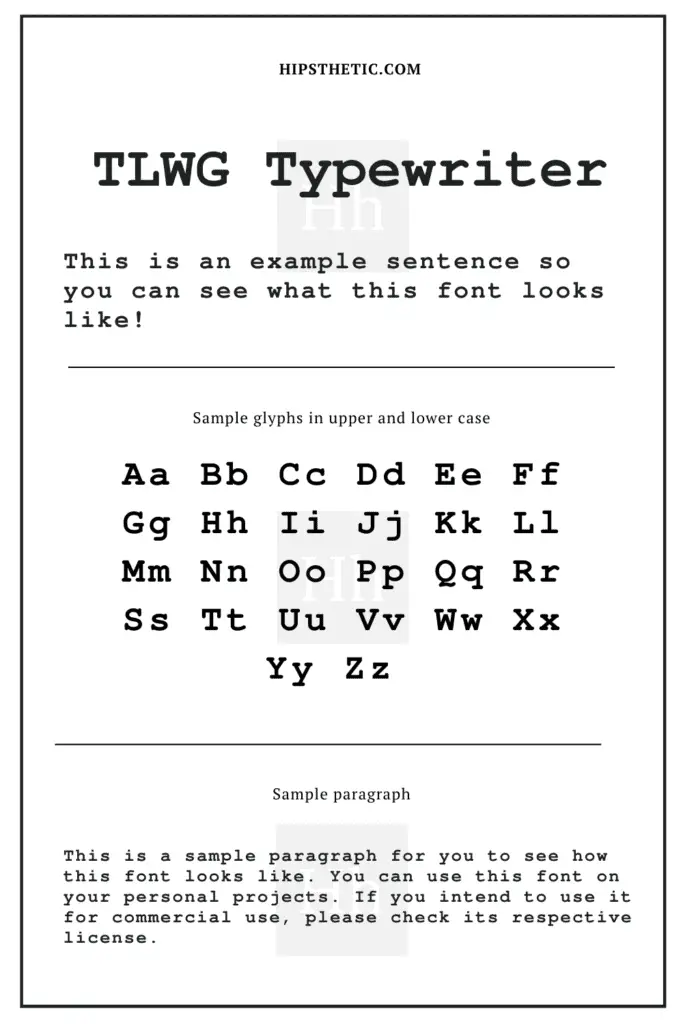 Typewriter Fonts on Word
Courier New
This font is a staple typewriter font on word that's pretty much most people's favorite. Courier New is actually a revised or reworked version of the Courier Font. This font projects higher line spaces, hefty punctuations, and has an evidently thinner and lighter weight.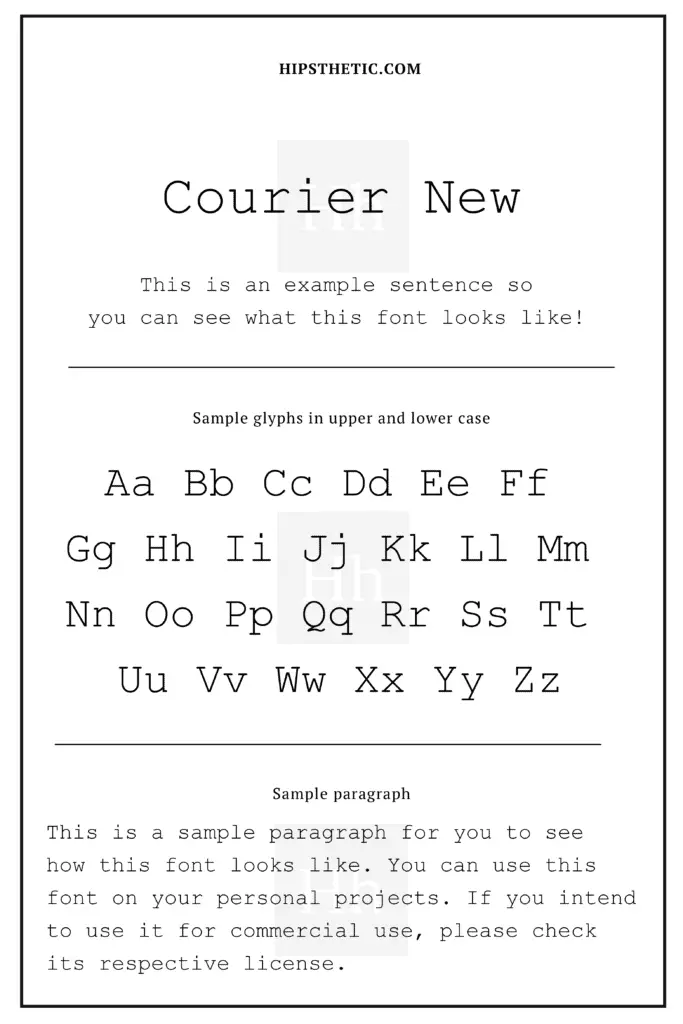 Lucida Console
An interesting thing about the Lucida Console font is that, at first it was intended for functional use only. Specifically, to be used as a professional font for business documents and the like. The Lucida Console's distinguished feature is its short capital letters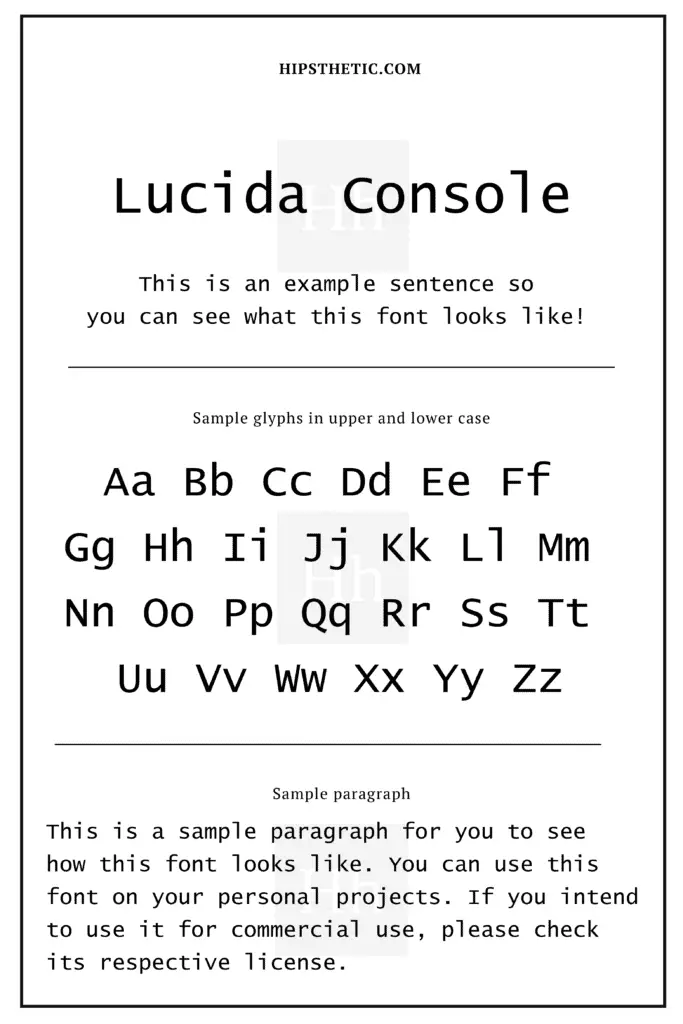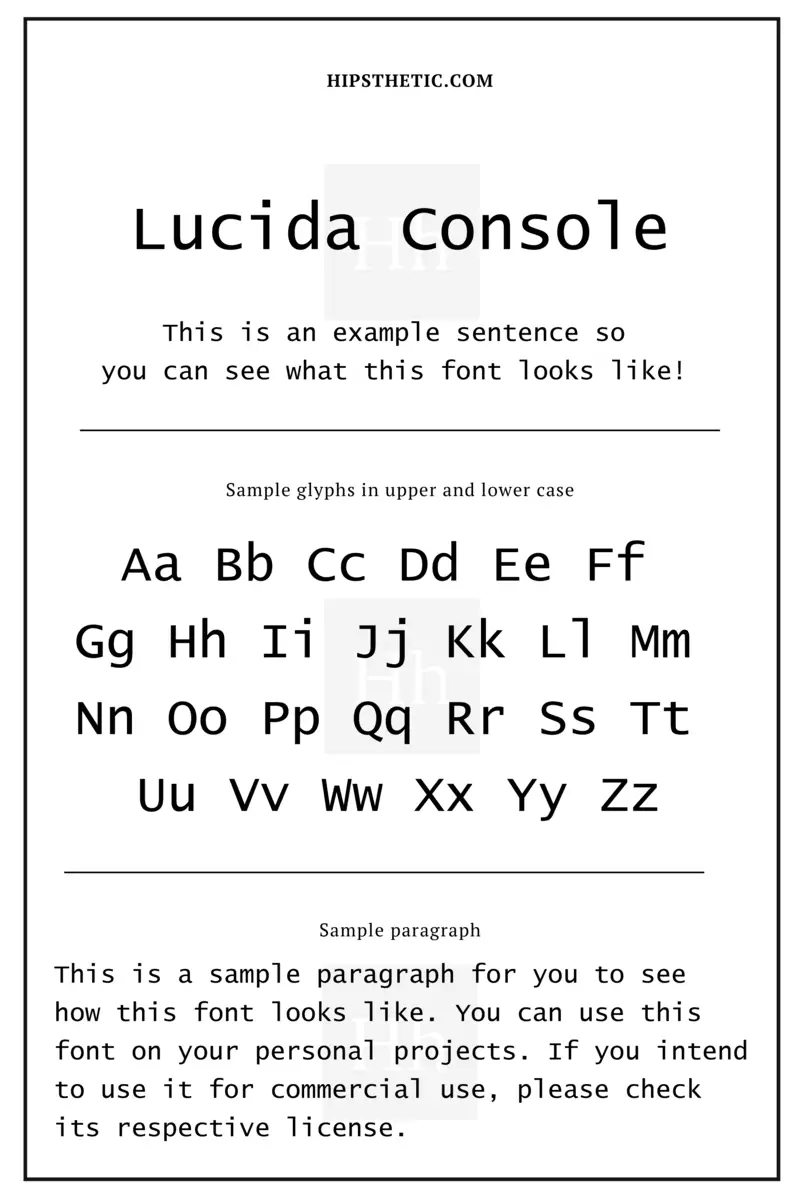 Andale Mono Font Family
This simple monospaced font was called "Monotype.com" as it was particularly used on an internet explorer add ons page. They decided to revert it back to its original name, which is Andale.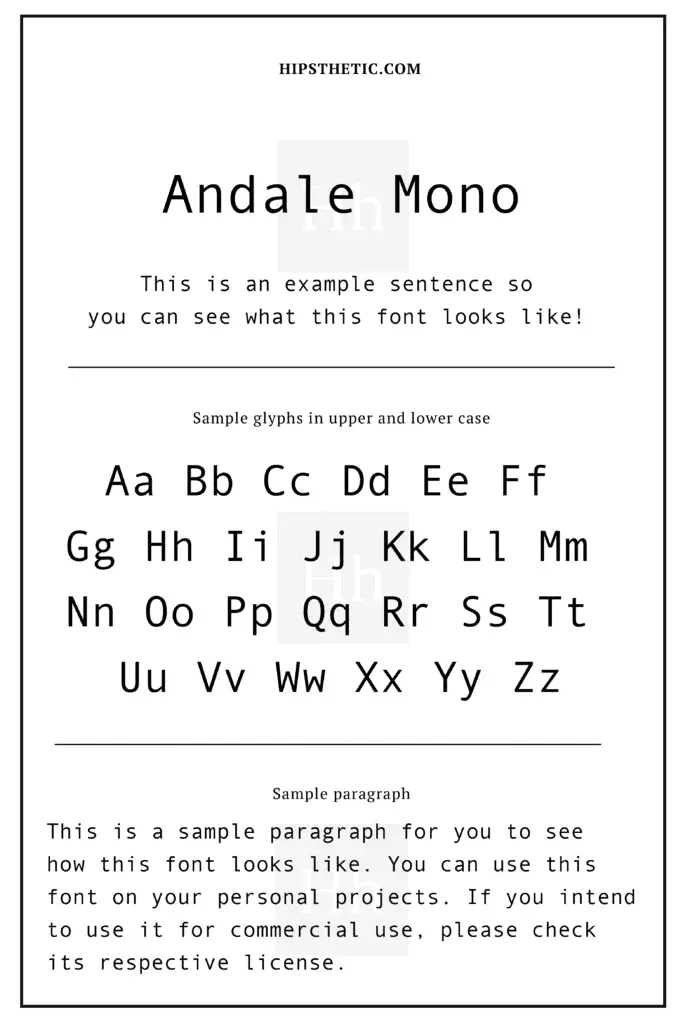 Typewriter Fonts Copy and Paste
Typewriter Font Translator
This seamless, easy-to-use font translator lets you transform your normal text into a cool typewriter font! This is yet again one of the effortless copy and paste font generator tools that are readily accessible online for everyone to use.  Click here to check this out!
Vintage Typewriter Fonts
This font generator houses a handful selection of typewriter font styles such as slab serif, serif, and monospace font styles. It's easy to use and free of course! To check them out, click here.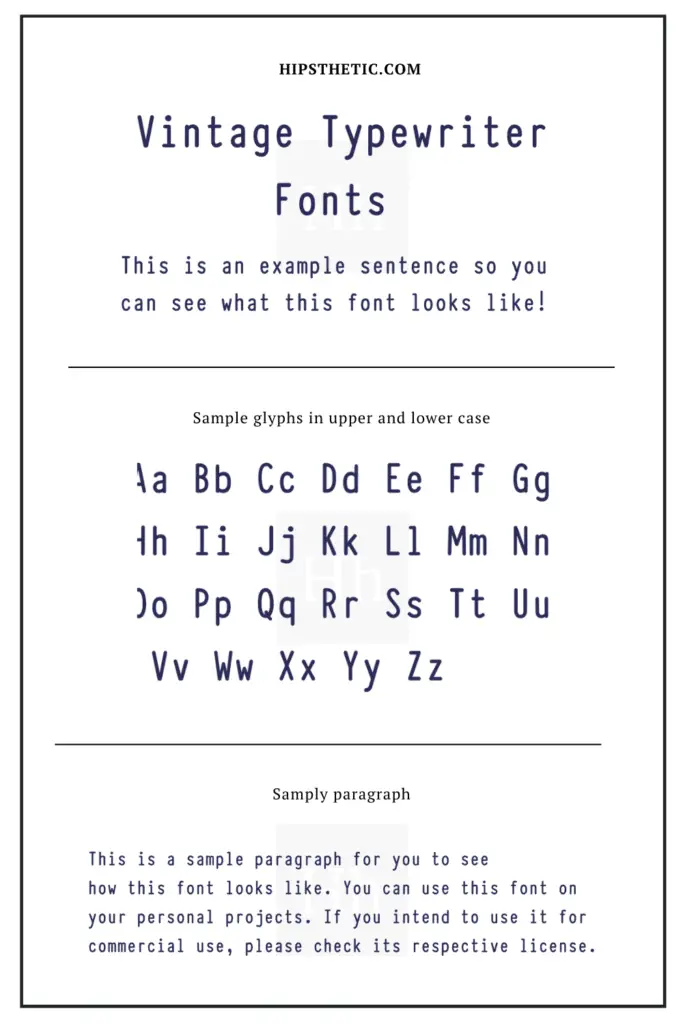 Typewriter Like Fonts
If you're looking for options, this font generator is for you since it offers you 20 different font styles! You can even download your generated text into a pdf, jpeg or png. It also allows you to choose your desired text color and size. If this is something you want to try you can check it out here.
Monospace Font Copy and Paste
This copy and paste typewriter font easily allows you to incorporate that monospaces text on your social media bios or even on a regular text message. This font generator is easy to use and also houses other font styles that you can easily copy and paste. To check them out, click here.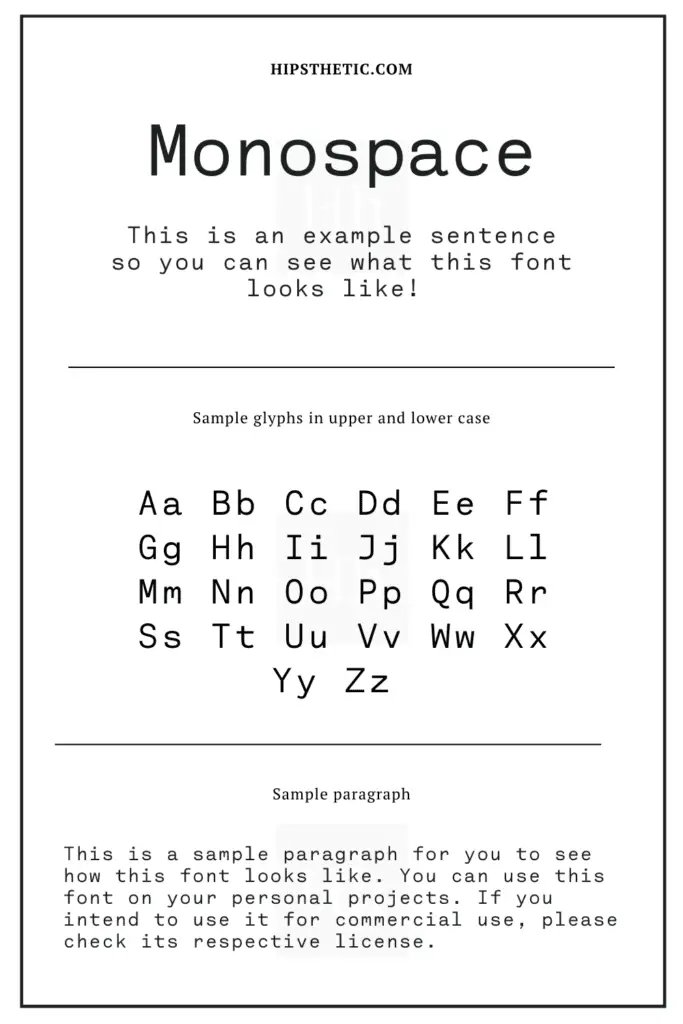 Typewriter Font Tattoo
This font generator will perfectly help you envision what that typewriter font will look like in a "tattoo size"! The generator provides you with 7 varied typewriter font styles that you can choose from! Check it out here.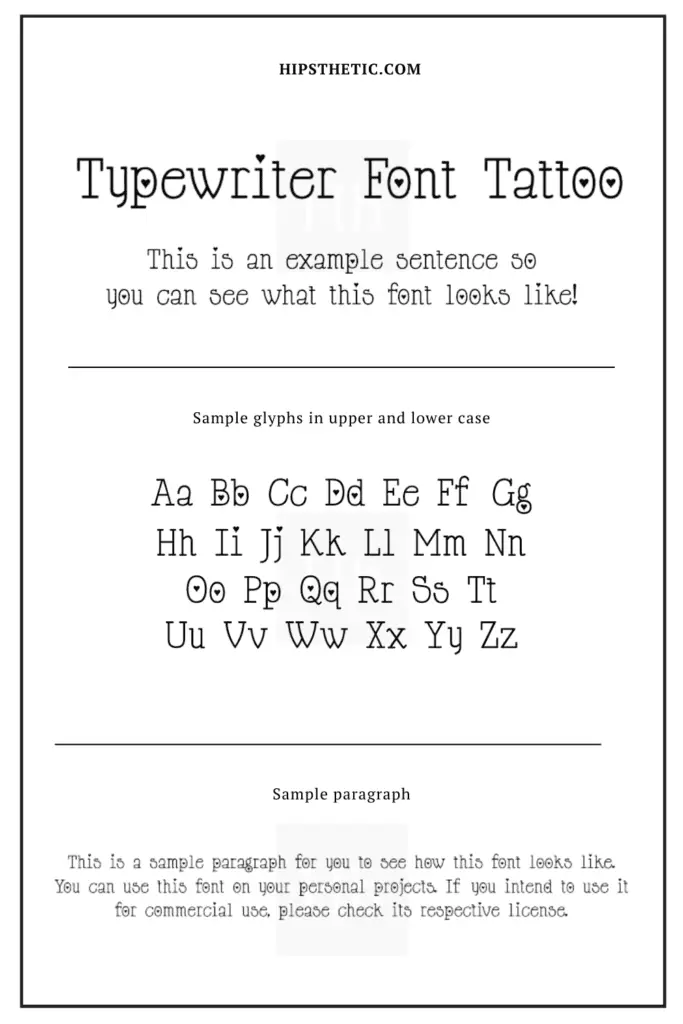 Typewriter Fonts
We hope you enjoyed our varied list of typewriter fonts and where you can get them. The typewriter font look is definitely something that's timeless and a great font to use in a plethora of creative projects. If you're looking for more typewriter fonts check out our post on copy and paste typewriter fonts and typewriter fonts on word.