There's just something about typewriter fonts that give you that nostalgic feel, which is why it's really fun to use it on your personal projects. We found a way for you to use these typewriter fonts on your smartphones or tablets without having to download them and install them on your device. You just simply have to copy and paste! These are the typewriter fonts copy and paste which is very very easy to use! To make things easier for you, we round up a list. of the best place you can find these typewriter fonts copy and paste so you can now easily incorporate that nostalgia on your text messages or on your social media bios!
What Makes a Font look like a Typewriter?
Before diving into our list of copy and paste typewriter fonts, let's first talk about what exactly are the characteristics of typewriter fonts for them to become a "typewriter font"?
Font Spacing in Typewriter Fonts
An evident characteristic of a typewriter font is seen through its spacing. A typewriter font generally has a "fixed pitch" or a "mono-space" which basically means that every character or every glyph takes the same amount of space.
Serifs in Typewriter Fonts
Generally, a typewriter font has serifs, and some of them you encounter in a slab serif style. What is a slab serif? It's basically a serif font with bolder, and thicker serifs! Modern typewriter fonts are usually seen in a slab serif style, which adds to that vintage retro font touch!
Typewriter Fonts Copy and Paste
Monospace Font Copy and Paste
You can easily get that monospace font just by a simple copy and paste! Yay Text offers this copy and paste font generator that's super seamless and easy to use! They also have a ton of font styles for you to choose from. To check them out, click here.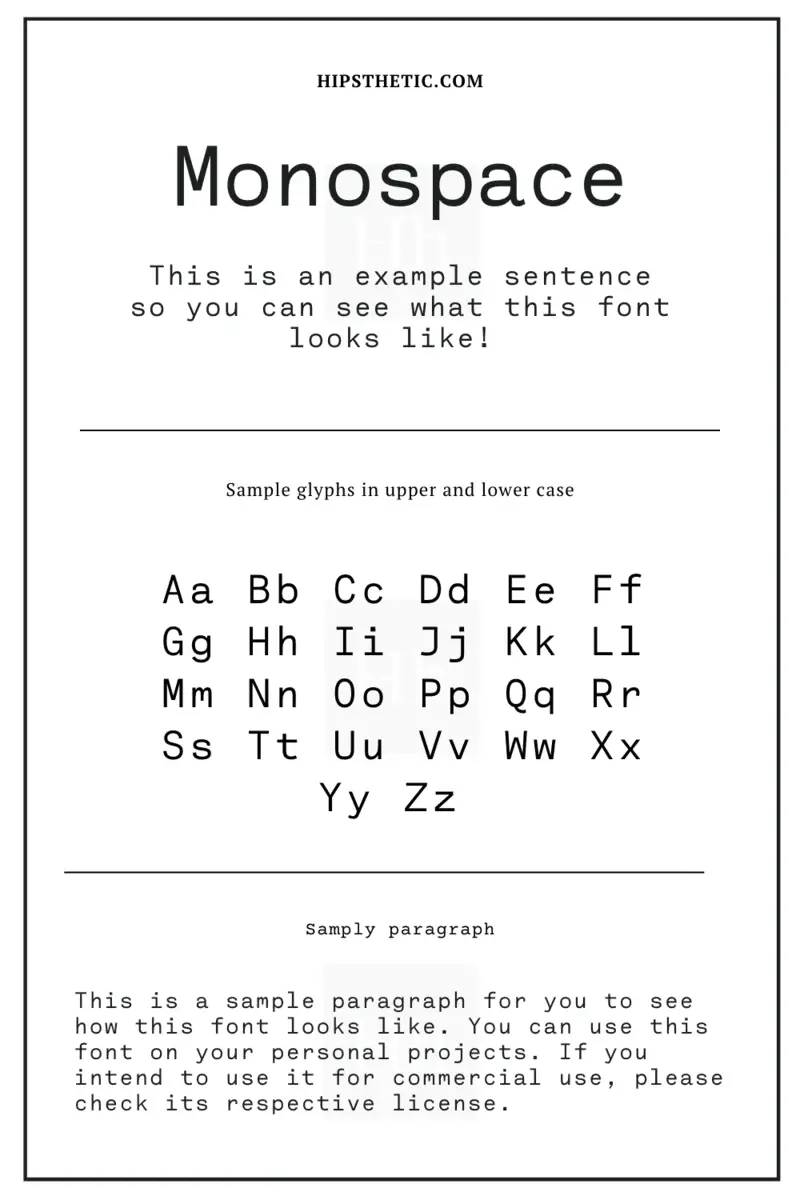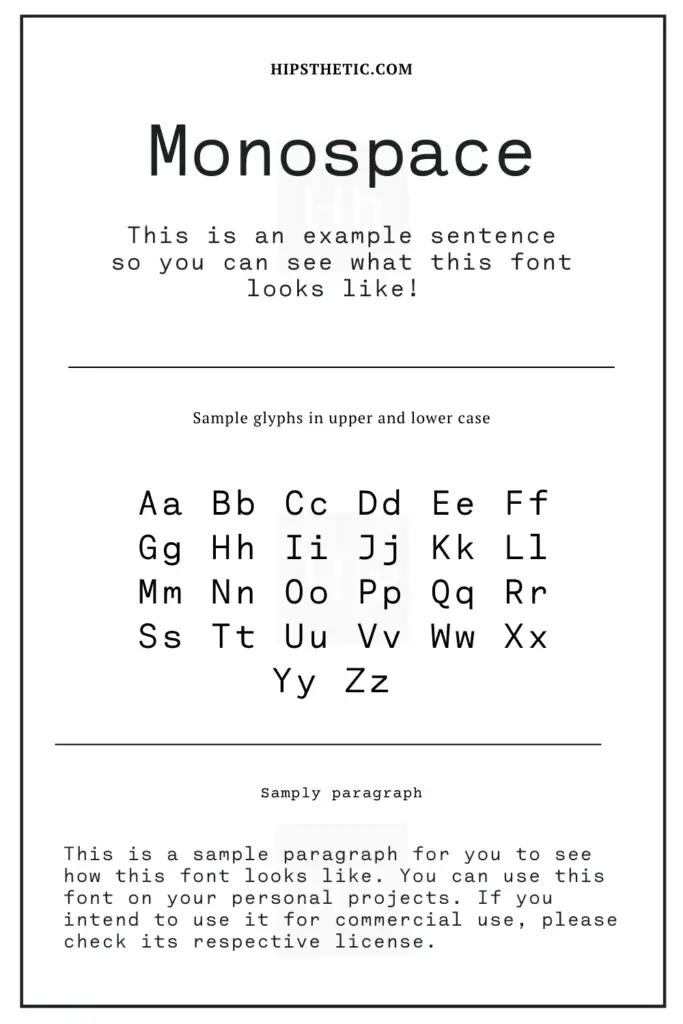 Typewriter Font Translator
Lingojam offers you to transform your normal text into a typewriter font! It's easy and seamless to use, and perfect to add that nostalgic vintage feel on your social media platforms! Click here to check this out!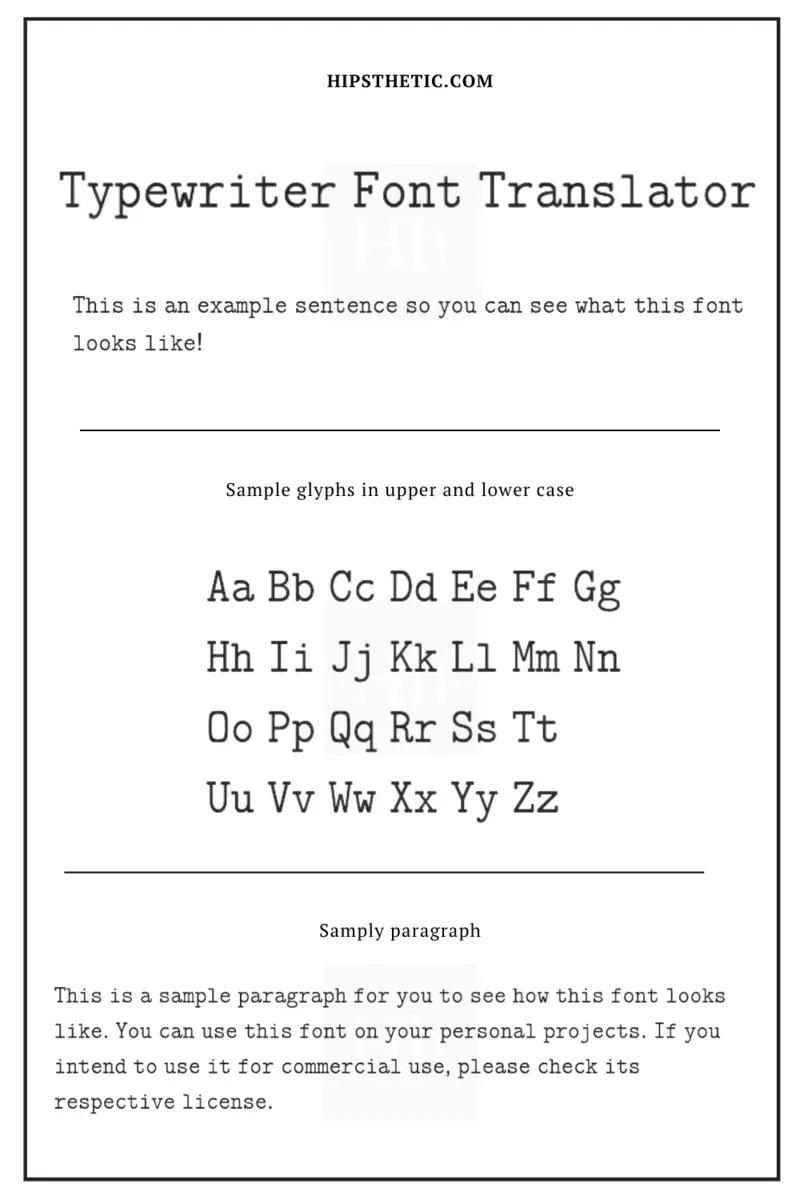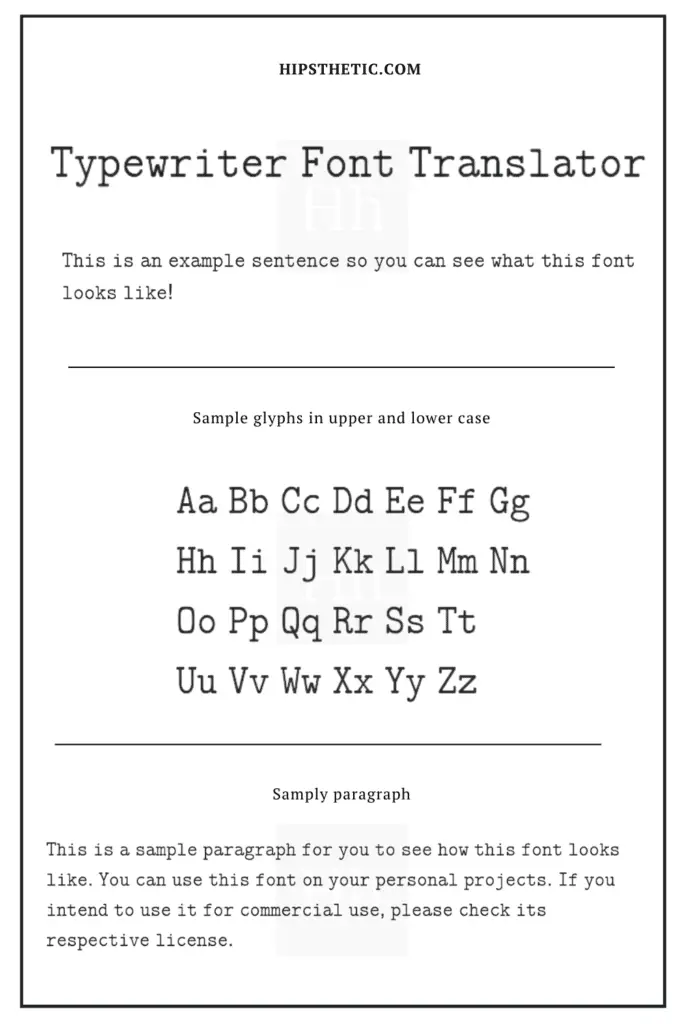 Typewriter Like Fonts
This font generator offers you 20 different typewriter font styles! Yes, 20! Font-generator .com allows you to download your generated texts in a jpeg, png, pdf, and more! You can choose your font's color and size. There's also a background color option if you're looking for something colorful. If you're interested, check it out here.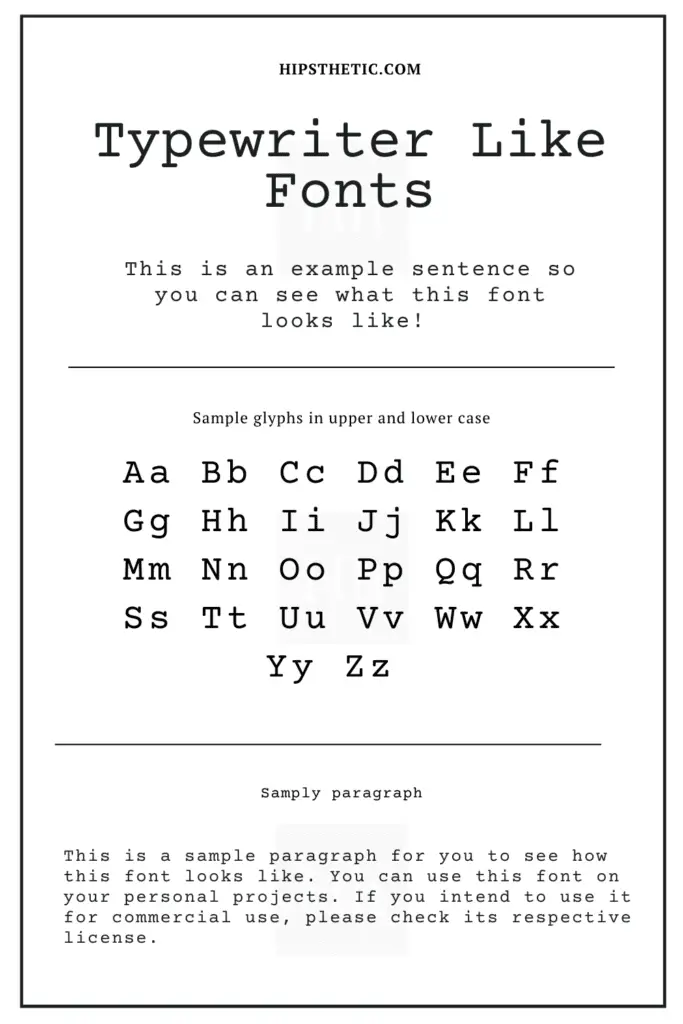 Vintage Typewriter Fonts
Font Meme allows you to turn your regular text fonts into typewriter fonts! It houses a hefty selection of styles such as slab serif, serif, and monospace font styles. To check them out, click here.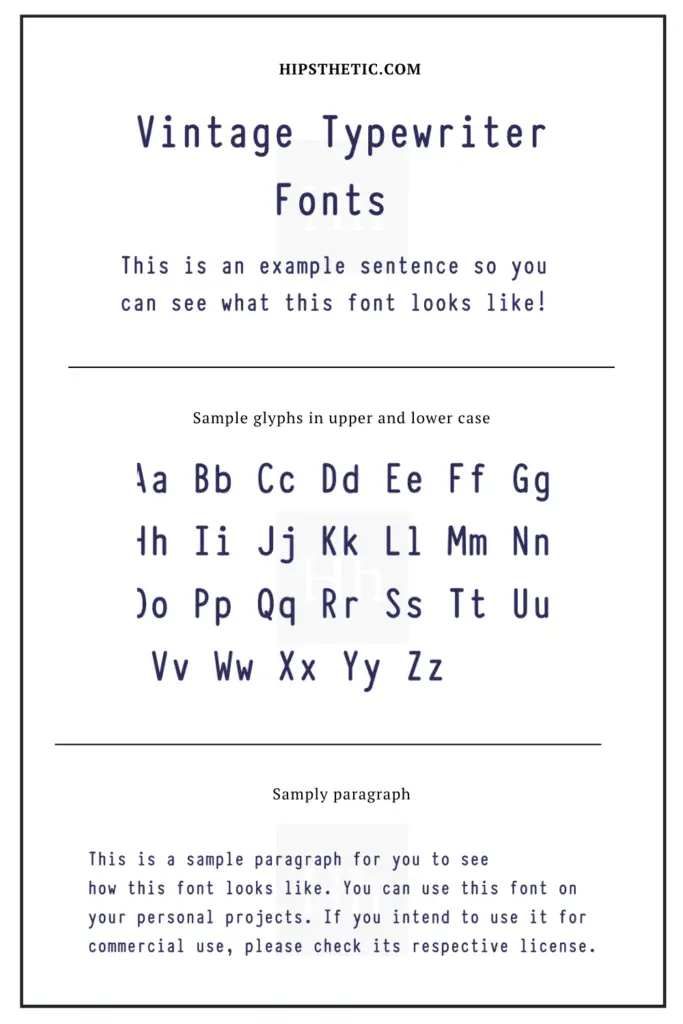 Typewriter Font Tattoo
If you're looking for the perfect typewriter font for a tattoo, then this typewriter font generator can help you envision what it will look like in a "tattoo size"! The generator provides you with 7 different typewriter font styles that you can choose from! Check it out here.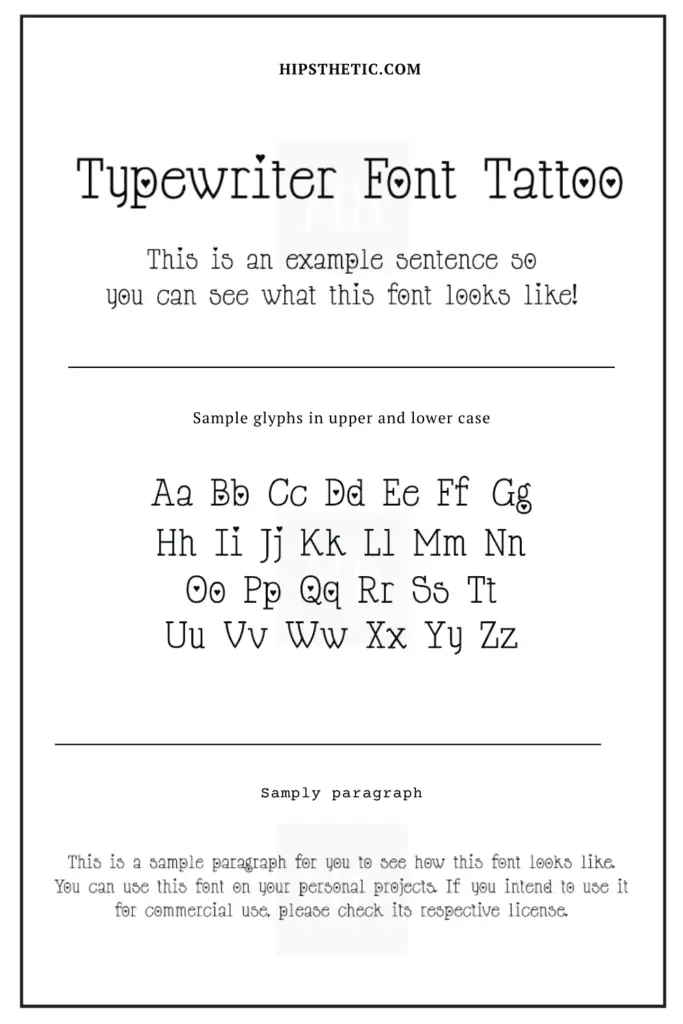 Finding Typewriter Fonts
If you enjoyed our list of typewriter fonts copy and paste and you want to find more typewriter fonts. You can head over to our Typewriter fonts in word list, you might find something that you'd want to try in your next nostalgic project or design!
More Copy and Paste Fonts
If you're interested to know more about font generators or copy and paste fonts, head on to our posts on the best cursive copy and paste fonts and The Best Copy and Paste Font Generators.