It's not that easy to hunt a job these days, and unfortunately, resumes in MS Word are not working anymore. A hiring manager spends a few seconds looking at your CV, and you need to make it stand out from the crowd.
Create an eye-catching, creative, impressive resume, and your chances to get a job will dramatically increase.
In this collection, we have handpicked 70 beautiful, fantastic, creative resume designs that you can use to get inspired. Here you are going to find resume examples for a designer, developer, manager, photographer, art director, and many others.
Here is a stunning yellow and white resume of a designer with a portfolio. It features lots of portfolio samples.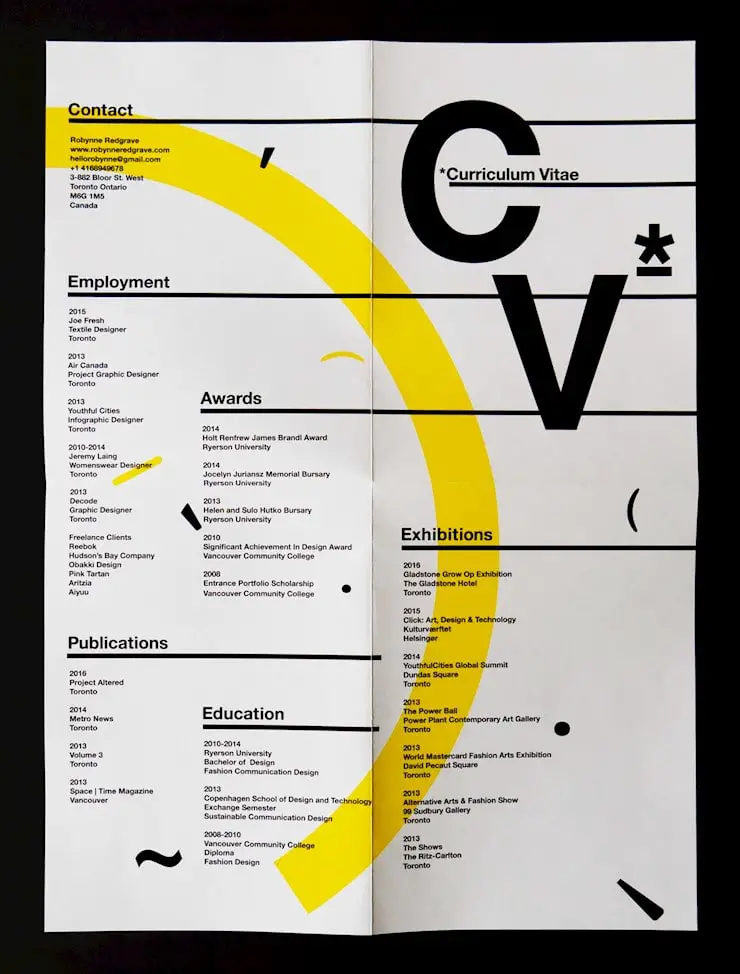 This is another designer CV created by Tibor van den Brink with a timeline.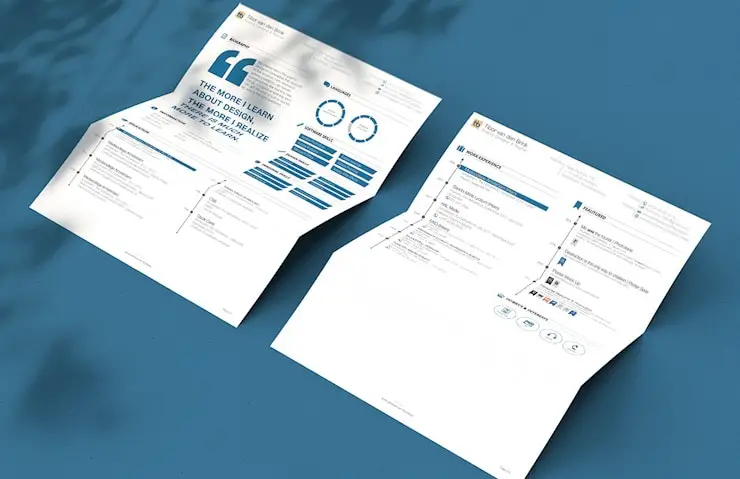 "Everyone loves interesting post days. So, to break the mold, I reinvented the typical traditional CV and portfolio that beats simply attaching a copy to the end of an email"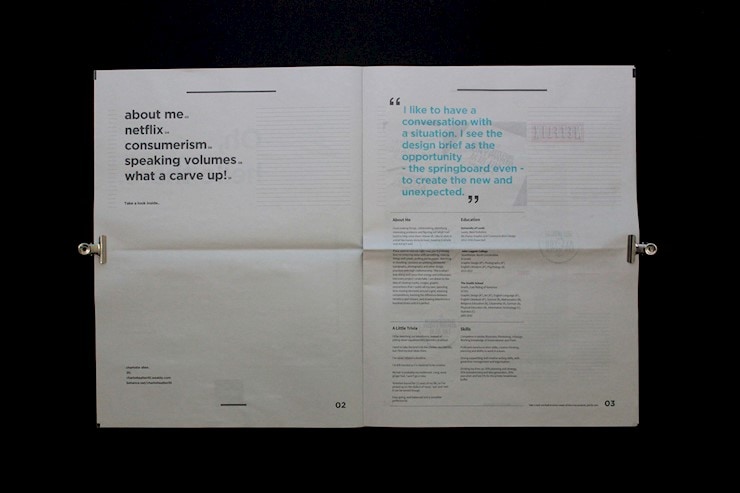 Black and white resume of a graphic designer that uses Helvetica font.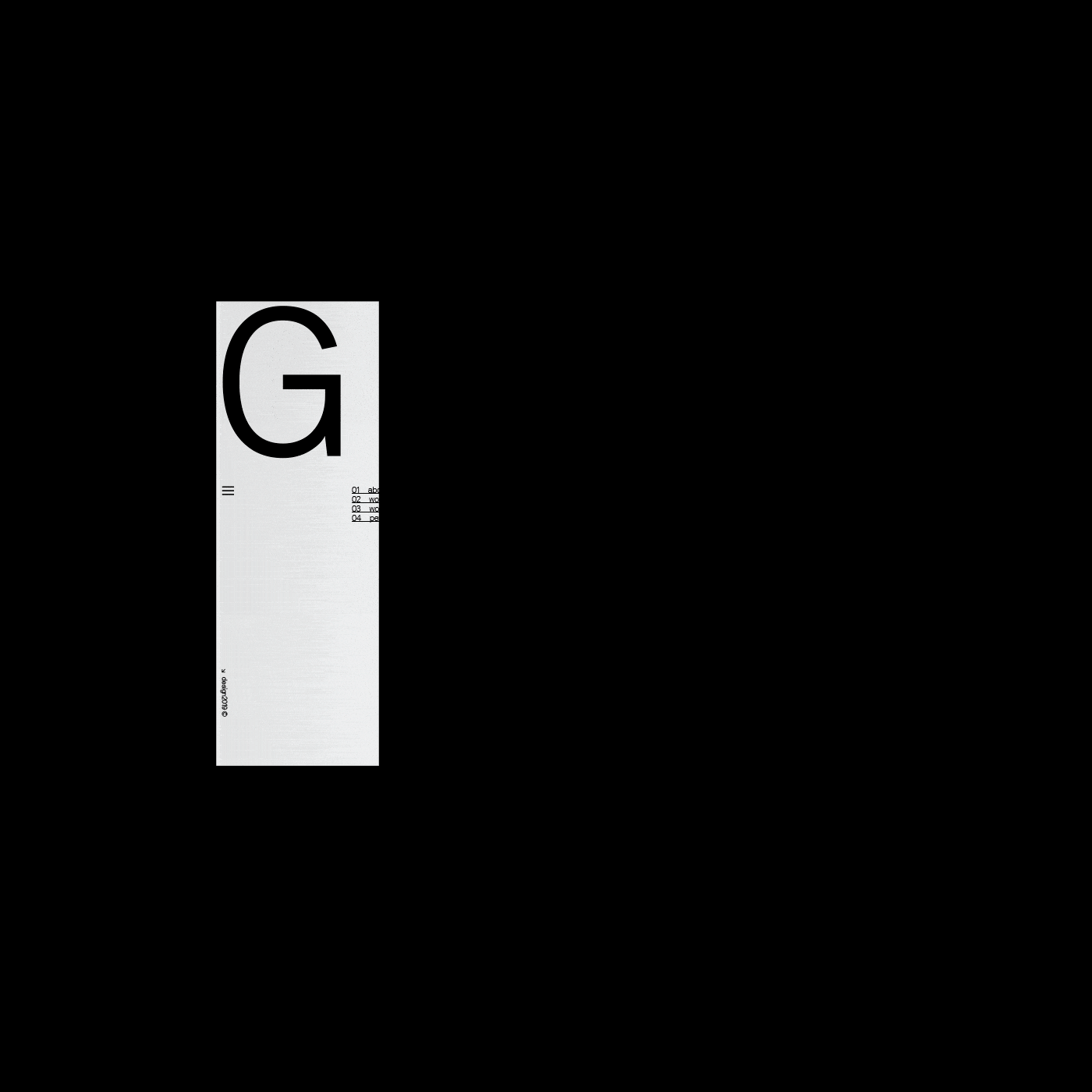 A minimalist graphic designer resume and portfolio with colorful yellow elements.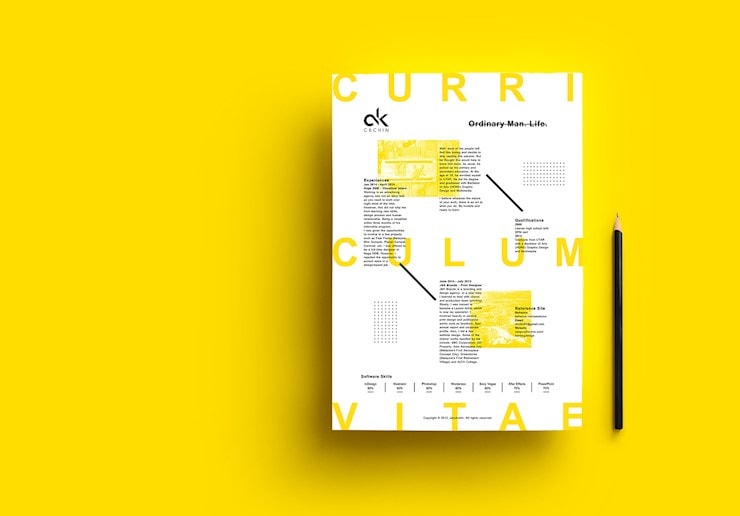 Here is a branding identity of marketer and multimedia artist designed by Pauline Kaye.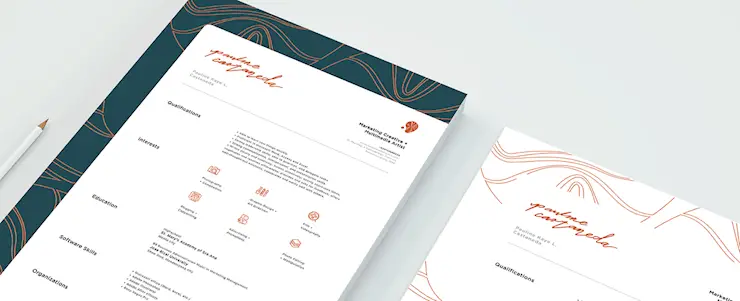 This colorful resume features pink, red, and purple colors with all relevant sections, such as work experience, education, and skills.
This designer decided to go even further and created a resume website with a clean, modern layout.

An amazing infographics CV with two columns. The left one is blue with lots of design elements.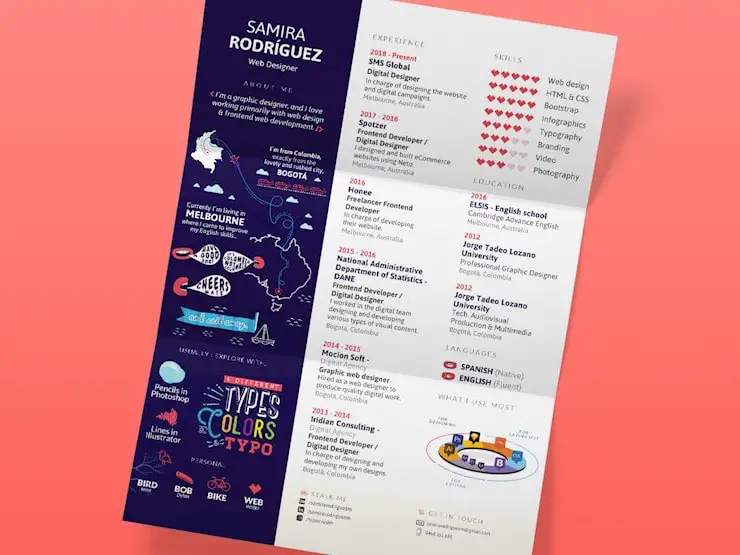 Thom Nguyen designed this resume. It is a perfect example when monochrome CV can stand out from the crowd.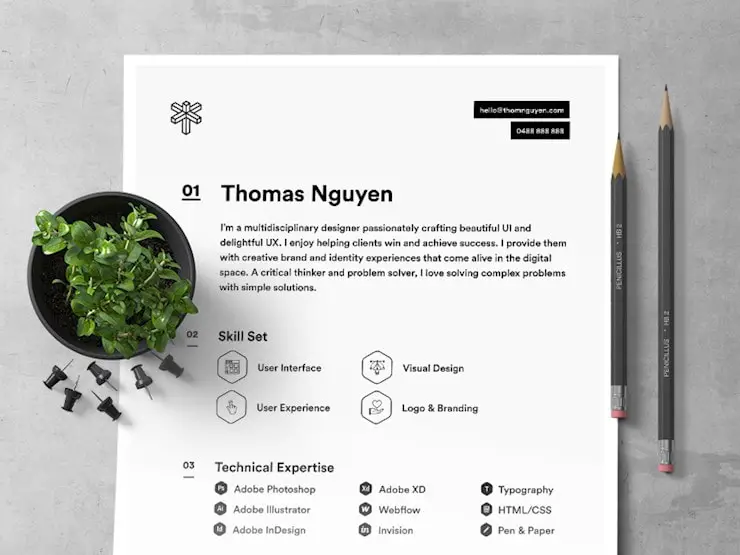 This is a free resume template with a modern, clean design for self-taught people.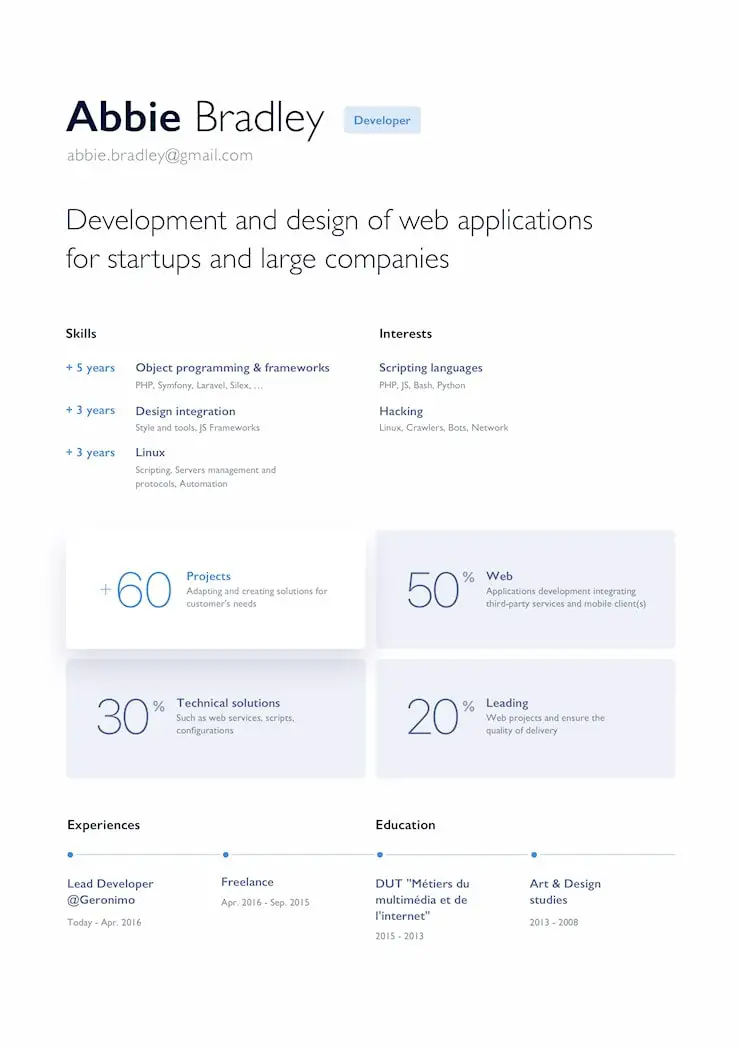 Creative resume folder with a portfolio that features a palm of a hand with name and contact info.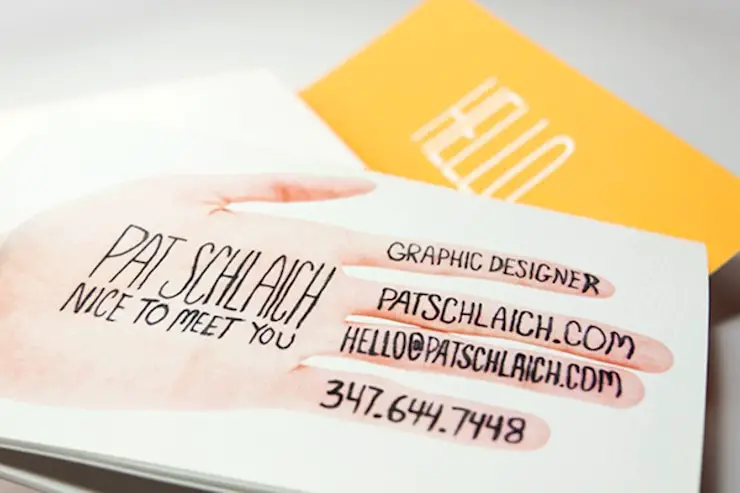 Green resume of a designer and developer created in minimalist, modern style.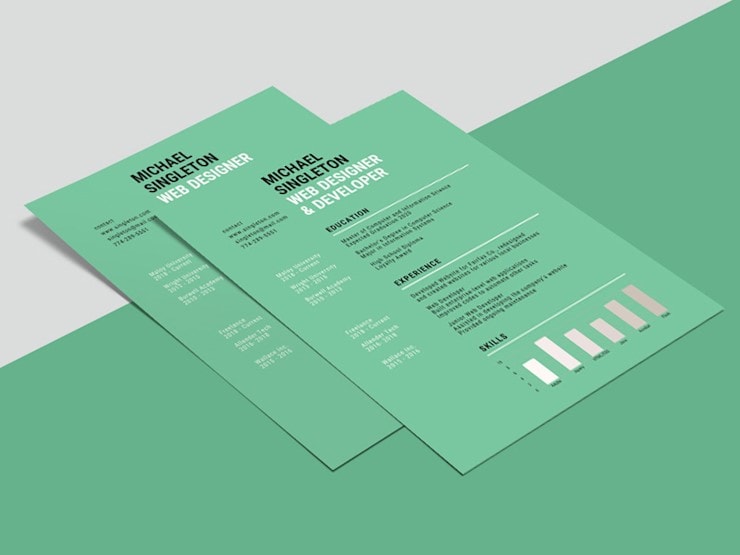 A creative resume by Ashley Spencer that says: "You are thinking… just another Graphic Design graduate, but please take 5 minutes and find out why I'm not just another Graphic Design graduate."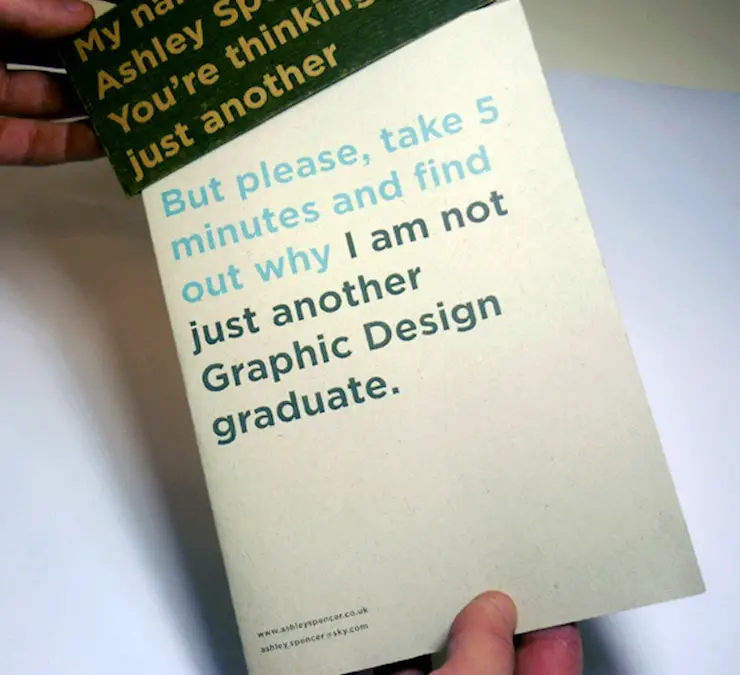 This is an infographic resume of an art director with a beautiful, pastel color style.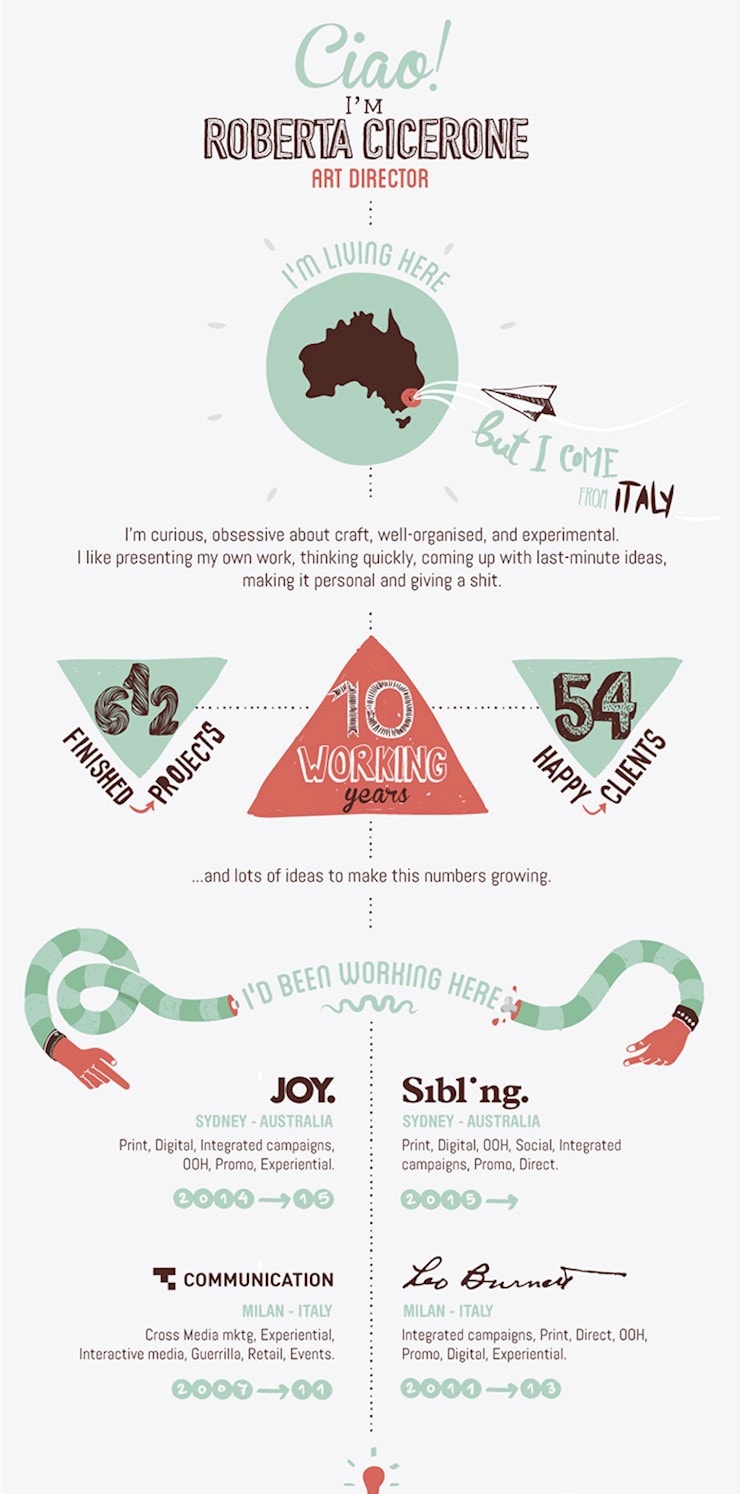 «Here we go with another yellow shot from about section. It is a bunch of skills divided into two categories: theory and practice. Each percentage indicator will appear on hover so that it will be focused, and a user won't be overload with extra numbers"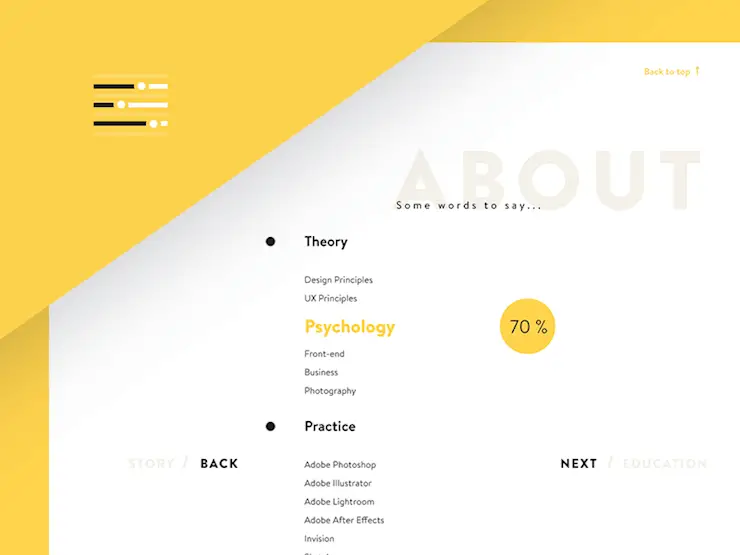 A pink resume with purple text designed by Helena Olson.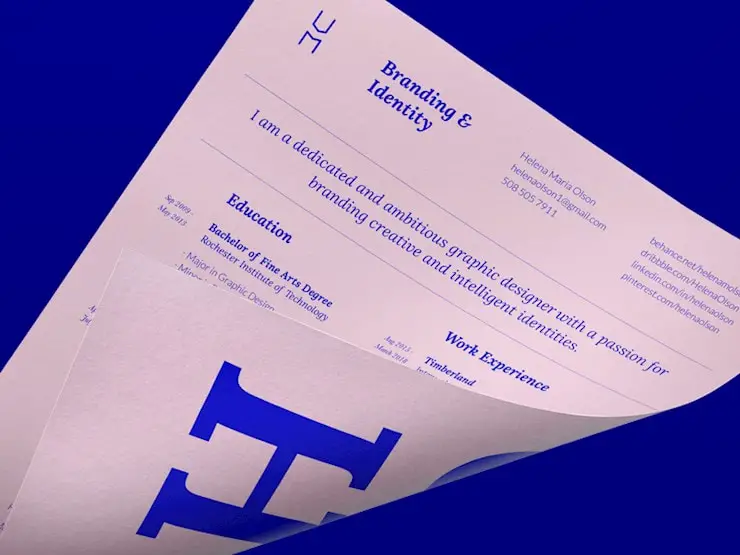 Stylish modern resume by Gabriel Ghnassia with a beautiful diagram that shows skills.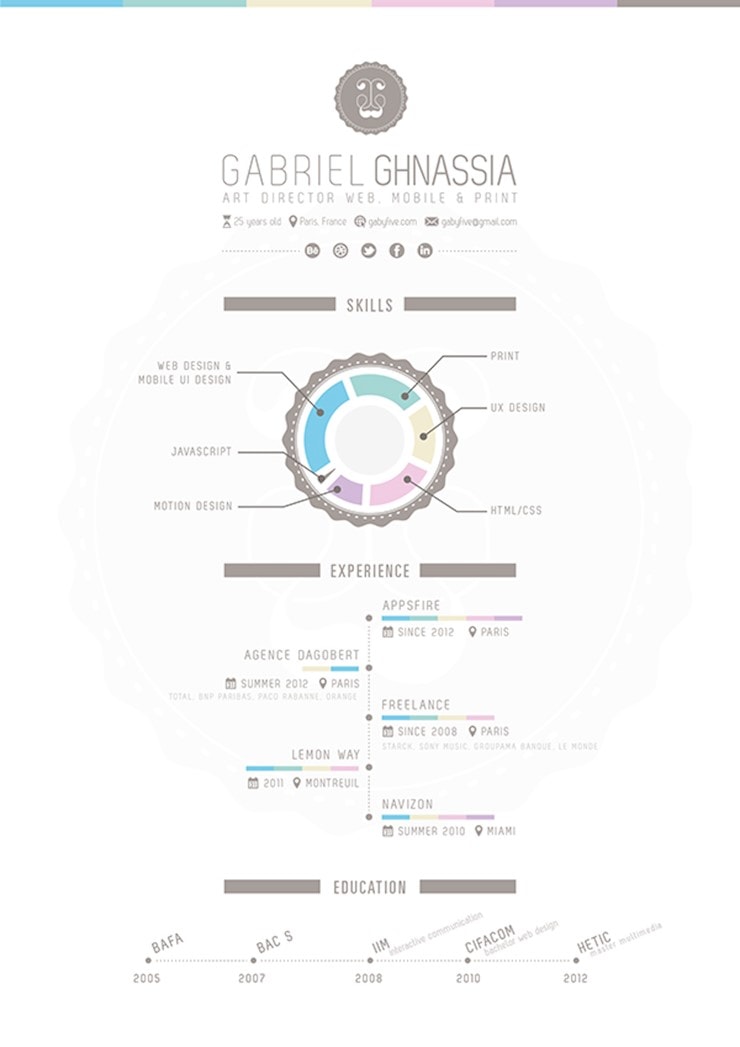 Great creative resume with a detachable top that works as a business card.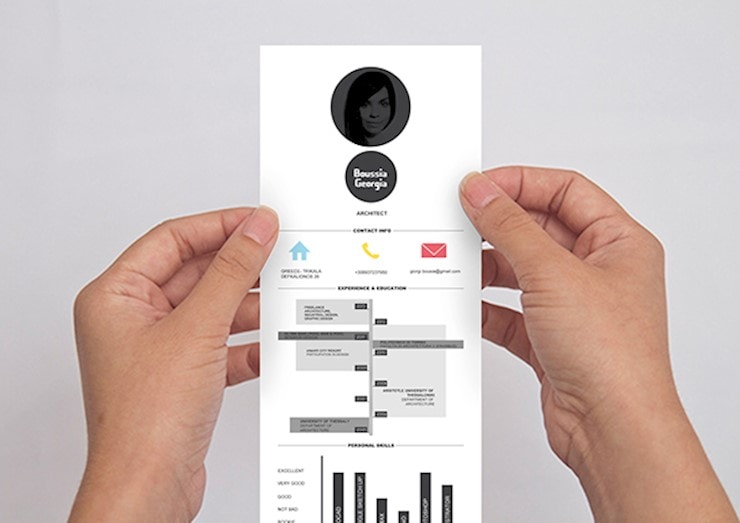 "A semester-end assignment to create an infographics resume. I decided to go minimal and uses a pencil as an indication of a graphic designer."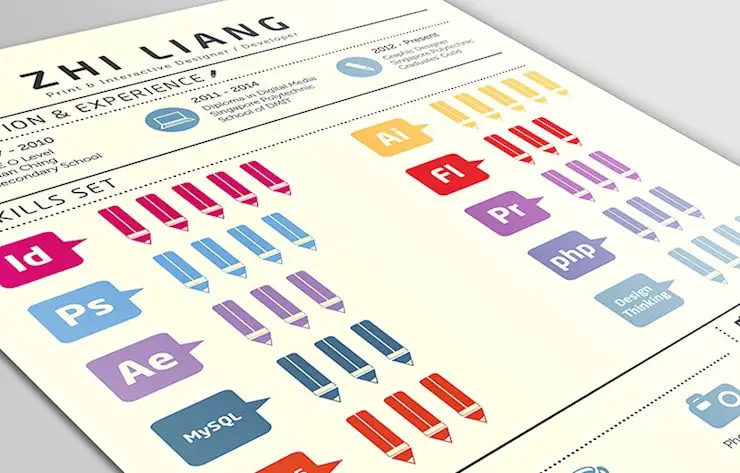 This is a fantastic dossier "file" resume of a graphic designer.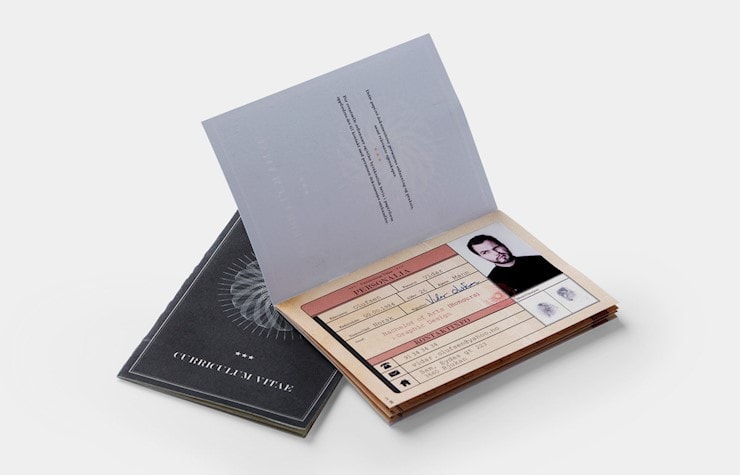 A resume inspired by a newspaper grid system. Icons and graphics assist it for better reading.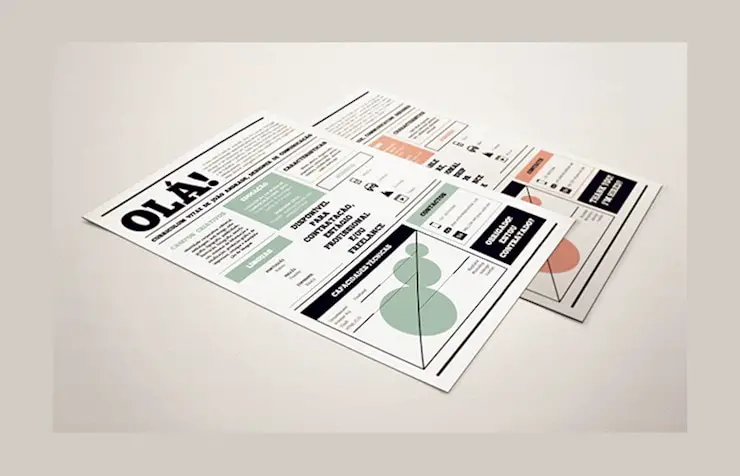 Eye-catching resume with a photography left side and minimalist text.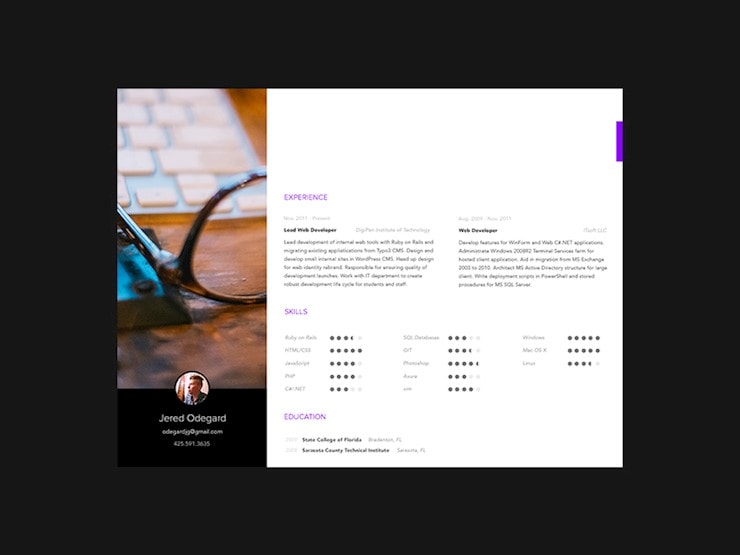 A clean, minimalist CV designed by Romain Sourdiaux with serif fonts.
Resume and a covering letter with two columns. One of them can be designed in different colors, depending on your goals.
A colorful resume that looks like a school drawing with all required sections like education, skills, and experience.
Resume template for Word and Apple pages with clean, modern style.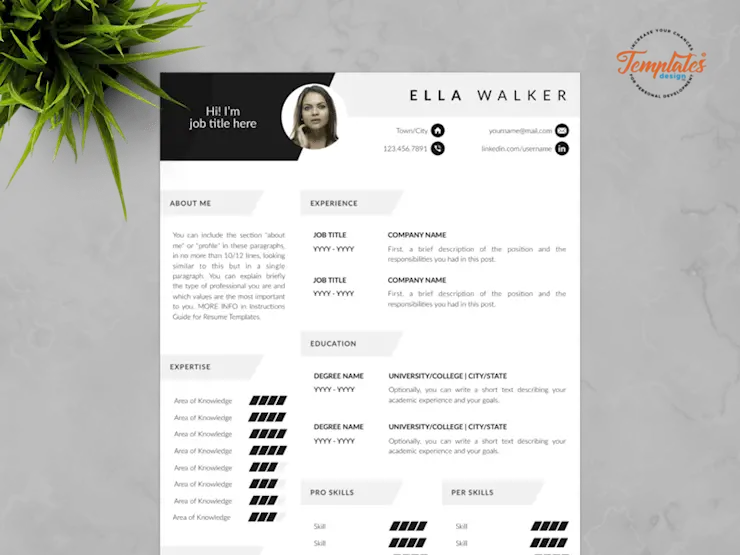 " The present project was developed as a self-promotion piece and also as an admission project for the Master of Communication Design and New Media Course at the Faculty of Fine Arts of the University of Lisbon.»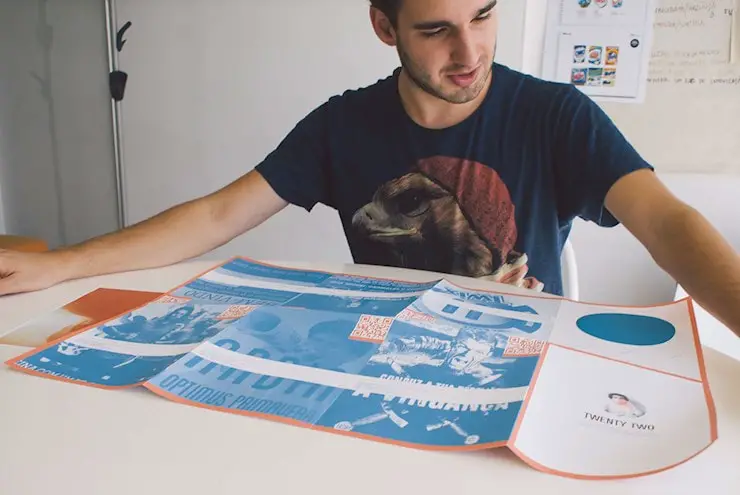 An elegant resume with pink elements and clean typography that will be the best solution for girls.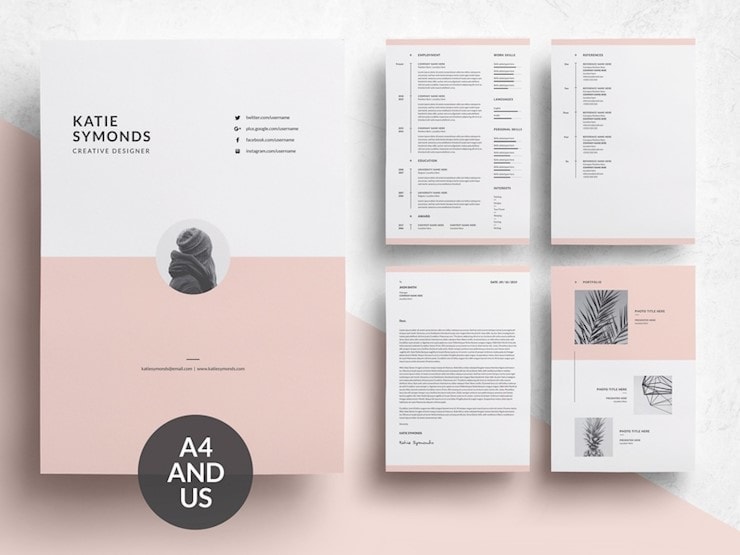 This is the resume of an experience designer with eye-catching purple elements.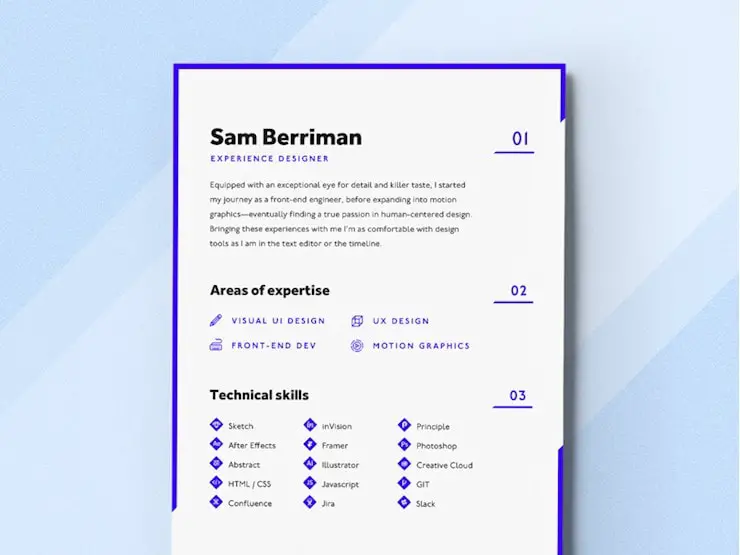 Stylish resume with creative skills section by Alysa Choudri.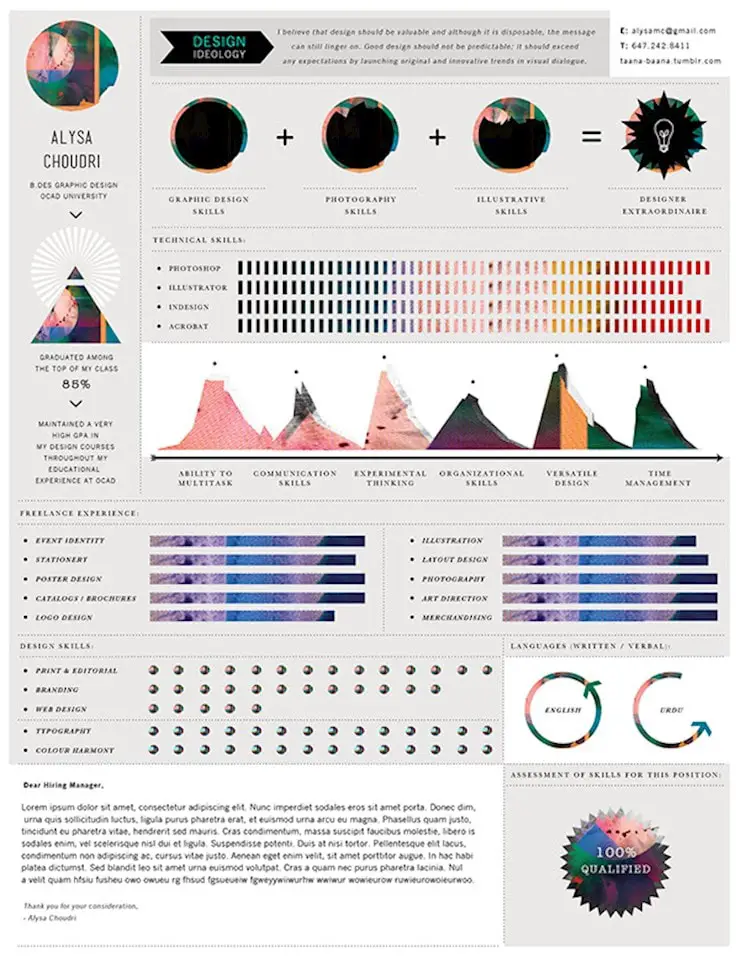 Another resume template with blue design and a headshot on the left top corner.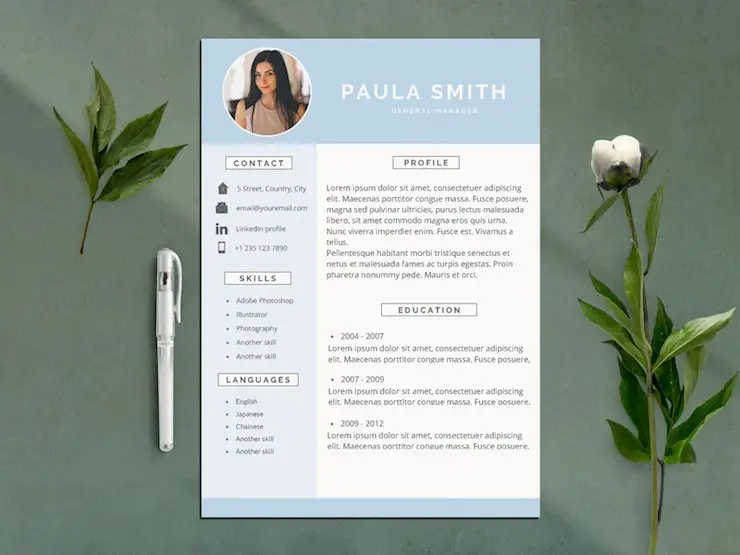 A timeline of work experience is a great concept that can be used by many professions.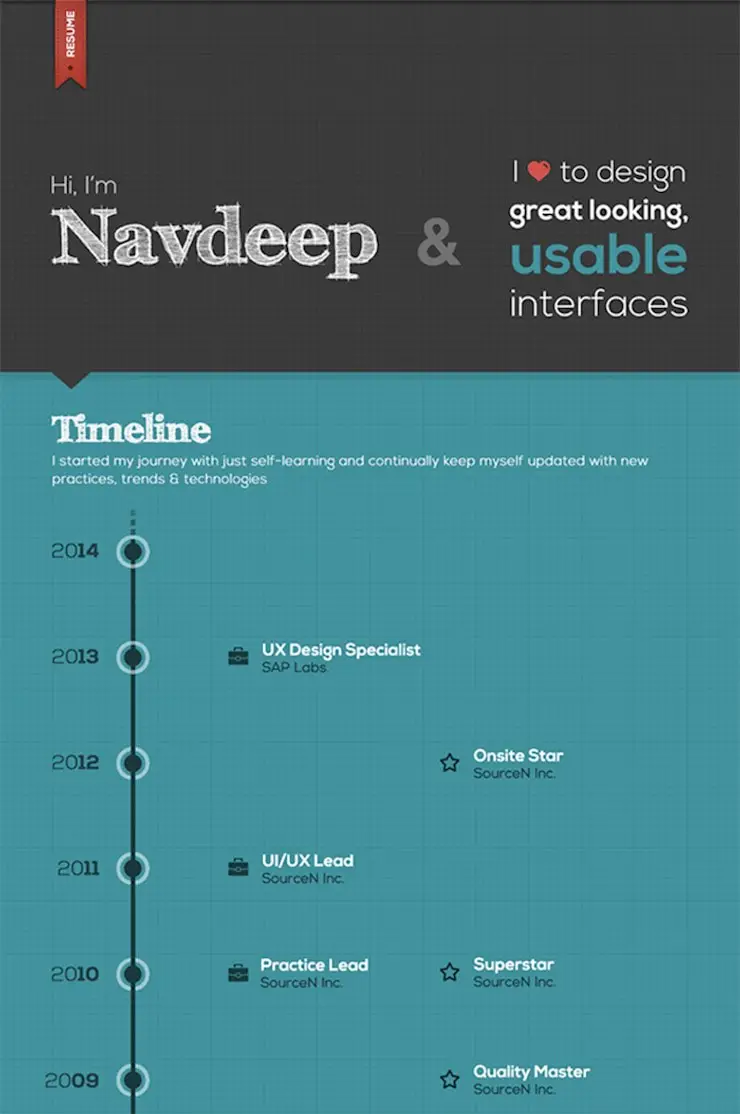 This is the resume of a graphic designer Daniela Milier with lovely hearts on the top.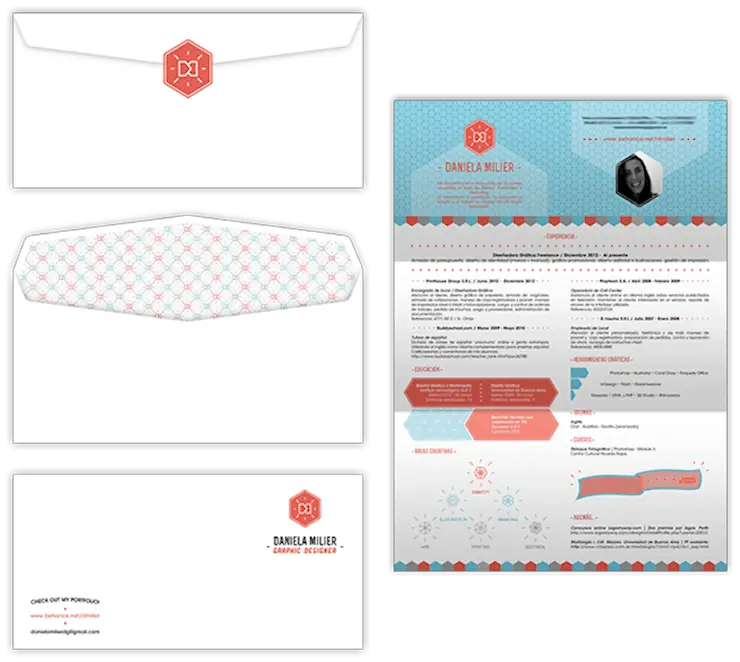 Modern, elegant resume for a marketing manager with thin fonts and a big name on the header.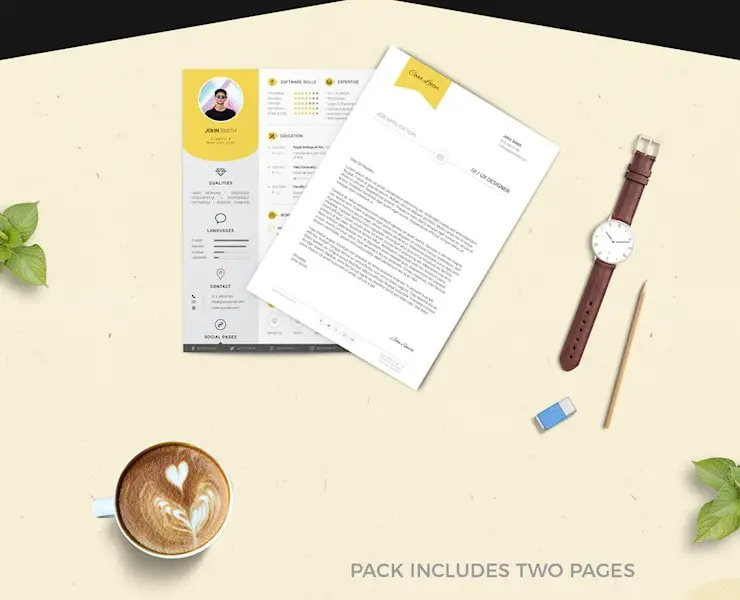 Personal identity and resume of Nico Lopez with amazing loading bars that present skills.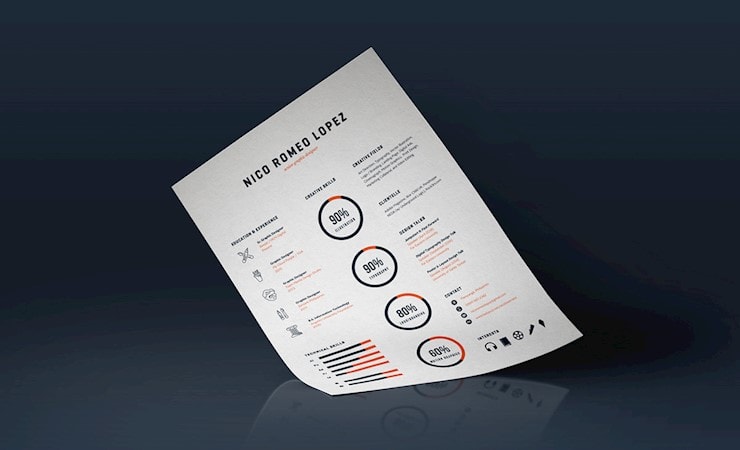 " From the beginning, the development of CV was raised under a critical standpoint, because working life is in constant development, full of experiences, stages, cycles, etc. Reference was made to the plant world and finally finished using the tree as a visual metaphor and theme of the piece."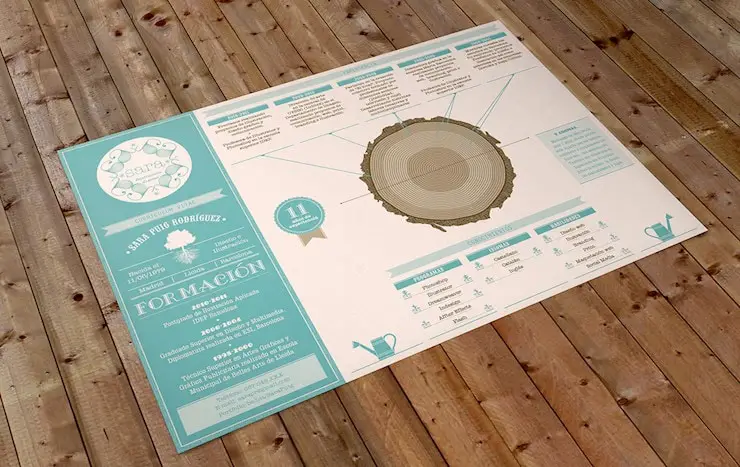 Visual communication for self-promotion, including logo, infographics CV, name card, stationery, and posters.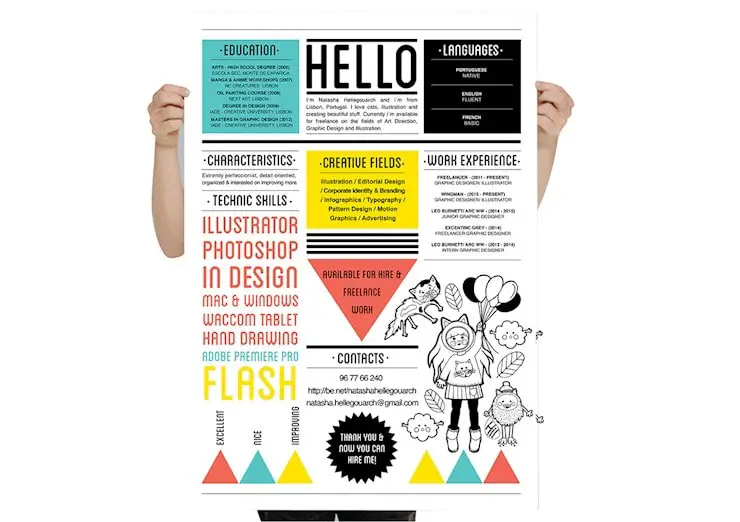 A stunning red CV designed by Paiheme studio with anime style.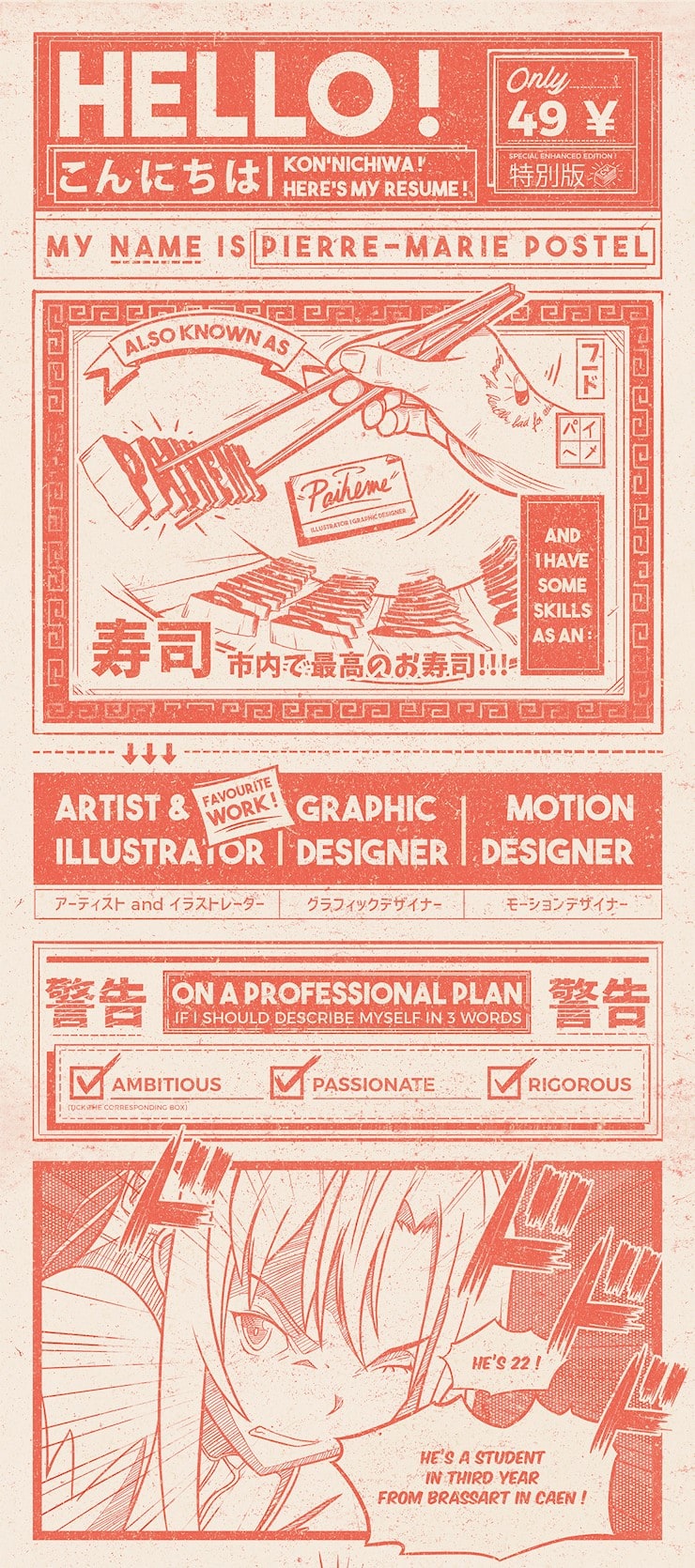 Alessia Tatulli creates this graphic designer resume that expresses her personality.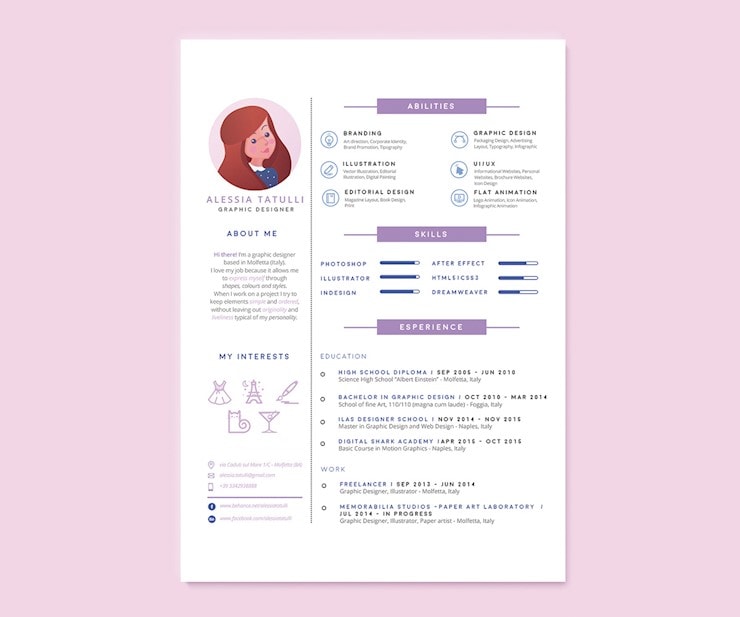 An infographics resume with huge, eye-catching typography.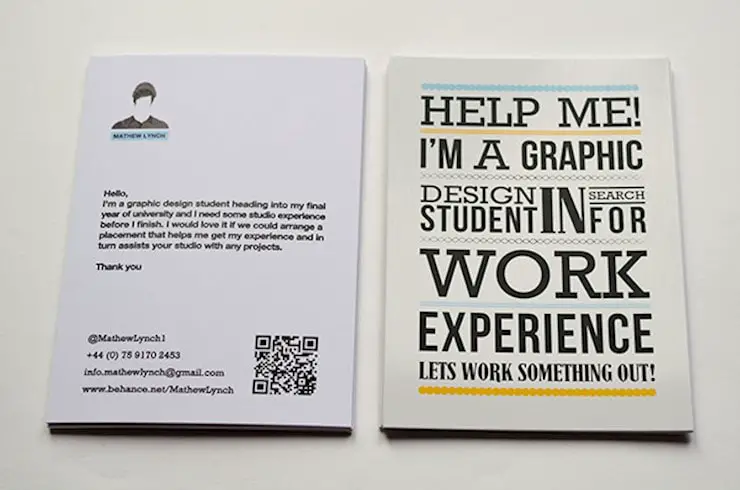 A simple, elegant pink resume for a girl with a traditional layout.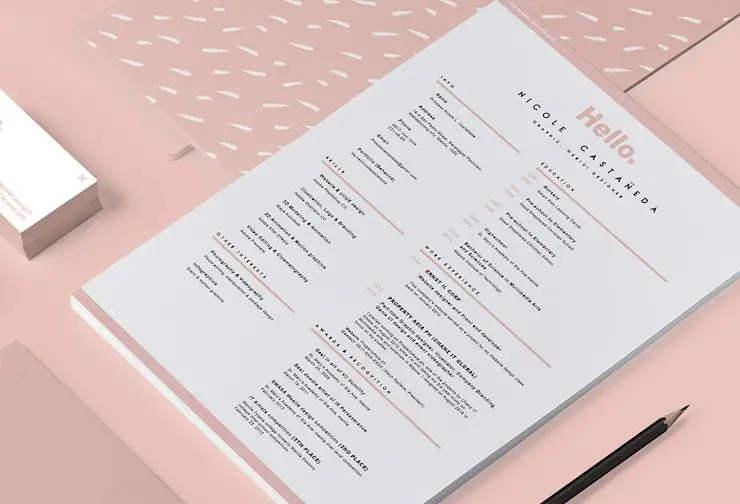 Here is a modern resume template that you can download and customize to design your CV.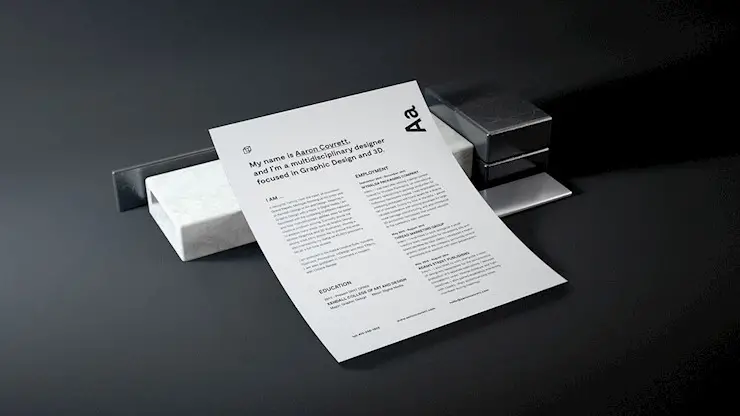 A fantastic, stunning resume with color splashes that draw attention.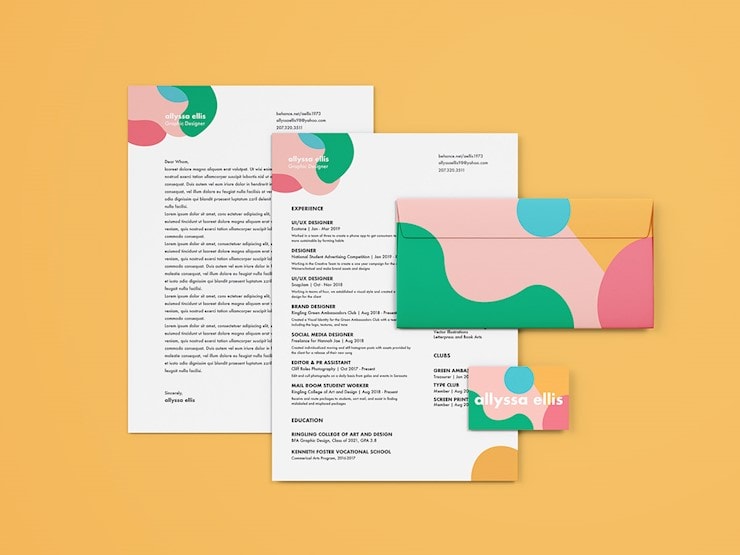 CV designed by Eva Hageman with a portrait and big, beautiful name written with calligraphy font on the top.
"Sharing my resume with you. Minimal and flat design with my mascot character."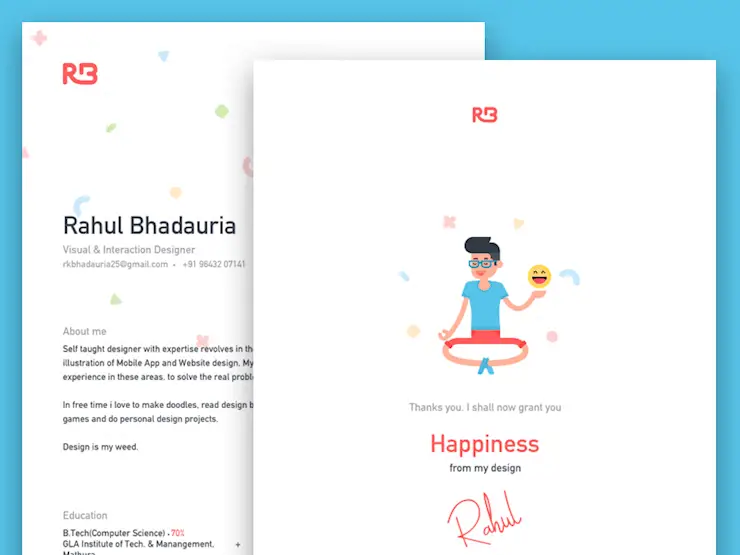 Traditional, stylish resume with a yellow circle and a name on the header.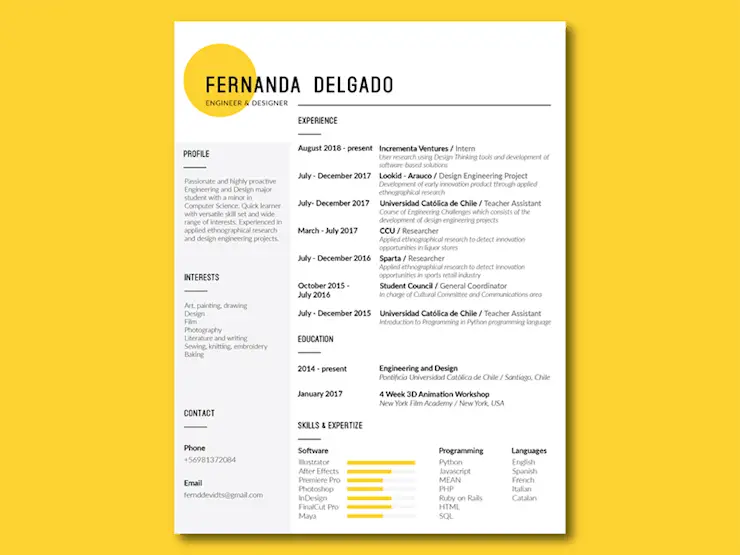 Another Curriculum Vitae that looks like infographics. It helps to understand and remember information.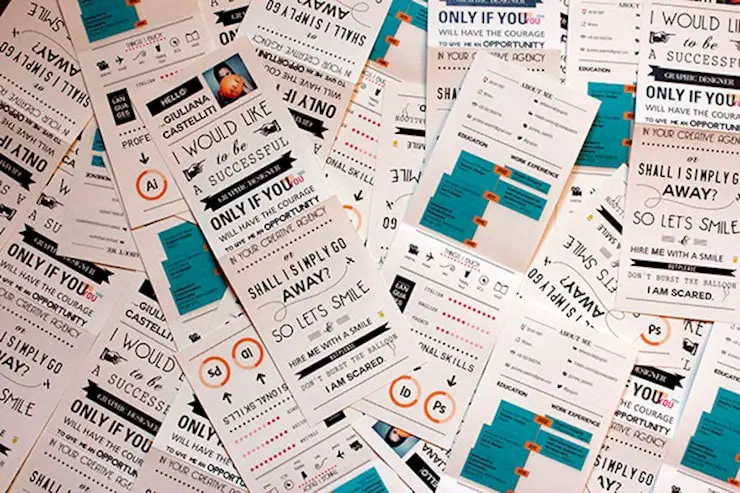 This is a two-pages resume template that you can use for your own job hunting.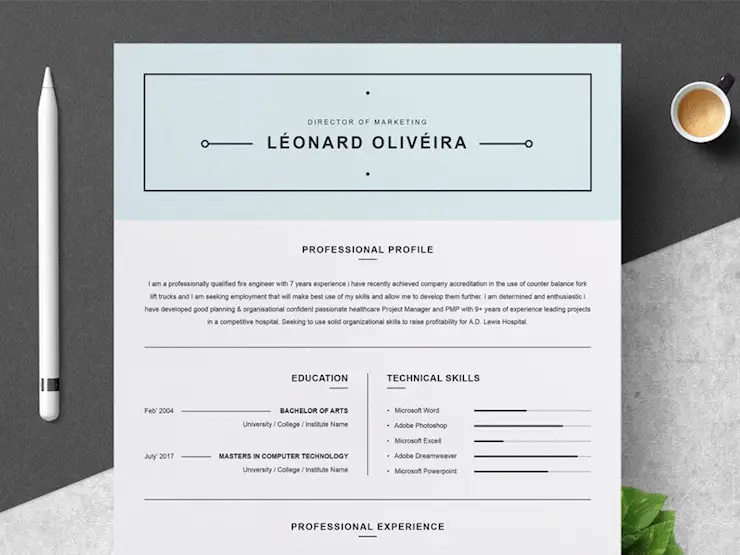 "From my years looking at resumes from designers, most are templates. They usually contain too much information. I've taken seminars on this topic. It boils down to – Keep it simple."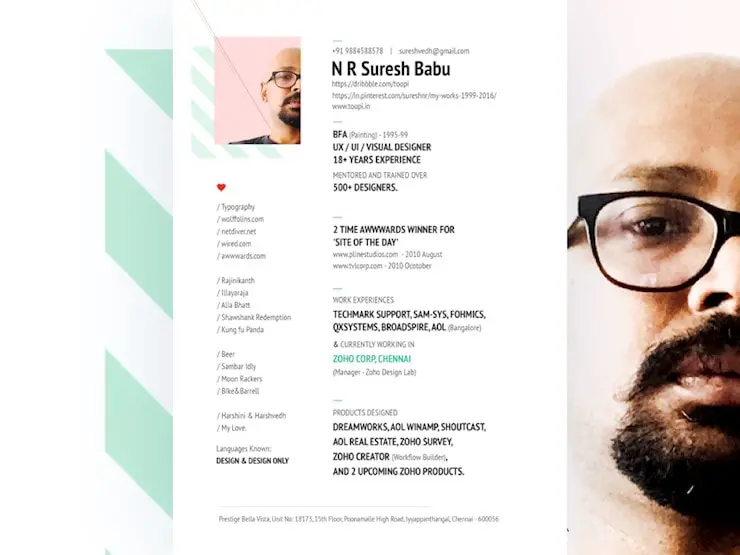 An infographics resume with orange elements and a beautiful blue folder. These two colors create an ideal combination together.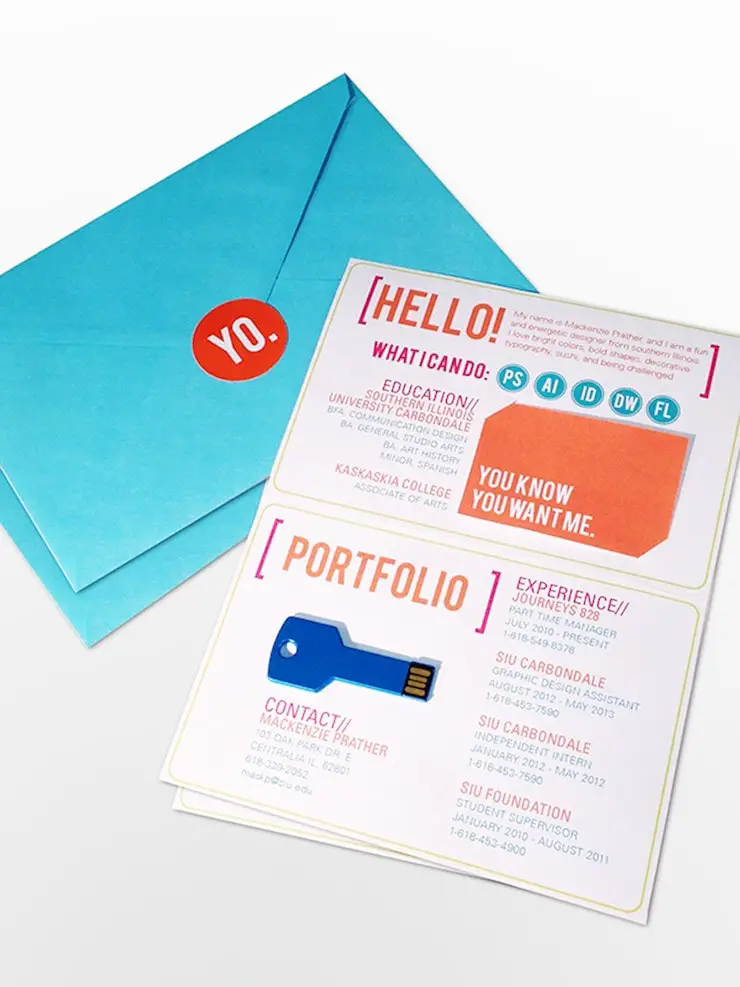 Anton Yermolov built a great resume with an illustration of himself and clean separated sections.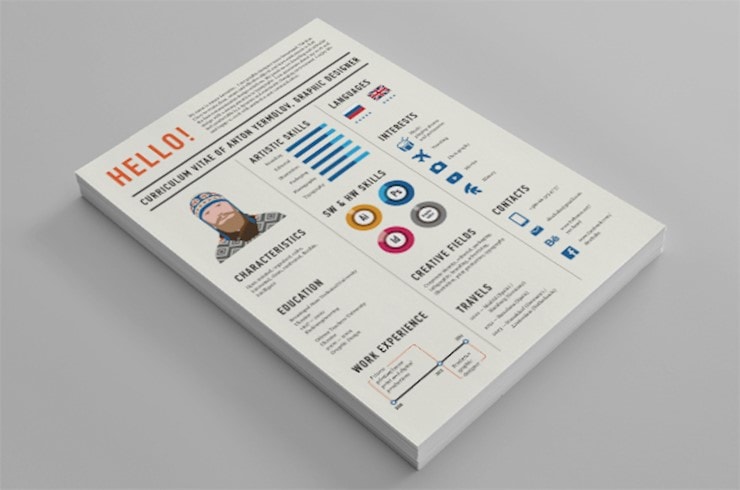 Designer and illustrator Laura Méndez a drawing of herself and an excellent pink timeline.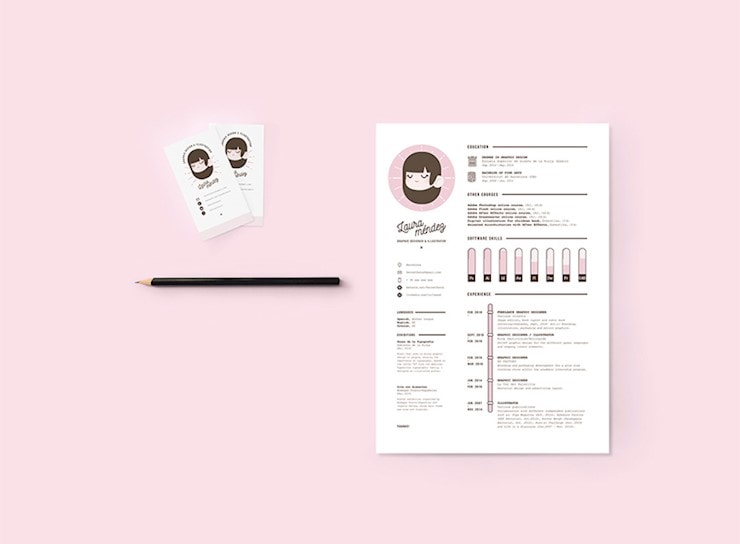 This CV with purple elements, a nice headshot in a circle and interests icons will drive the attention of any recruiter.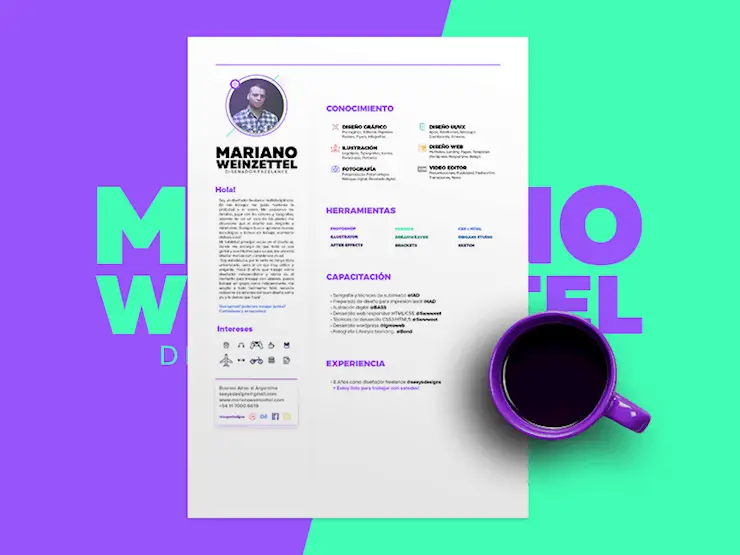 Website designer Jérémie Chiavelli from Saint Denis decided to make an abstract illustration of himself with color splashes in the middle of a resume.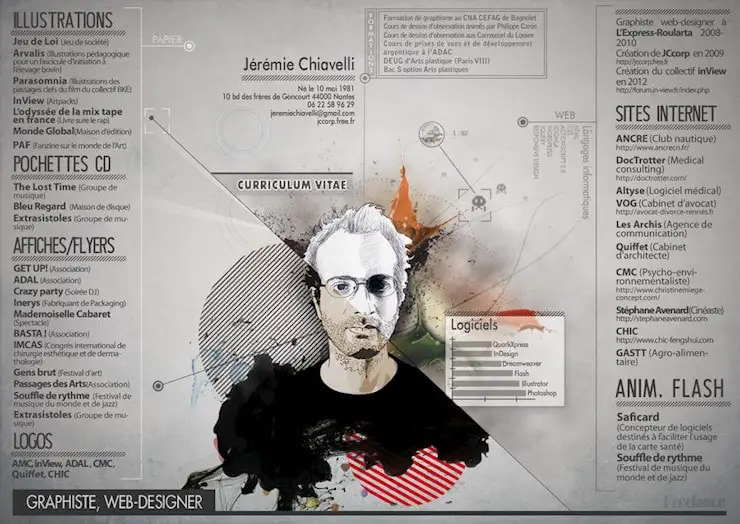 A beautiful, funny illustrated resume of a UI designer Wap Martinez-Mercader.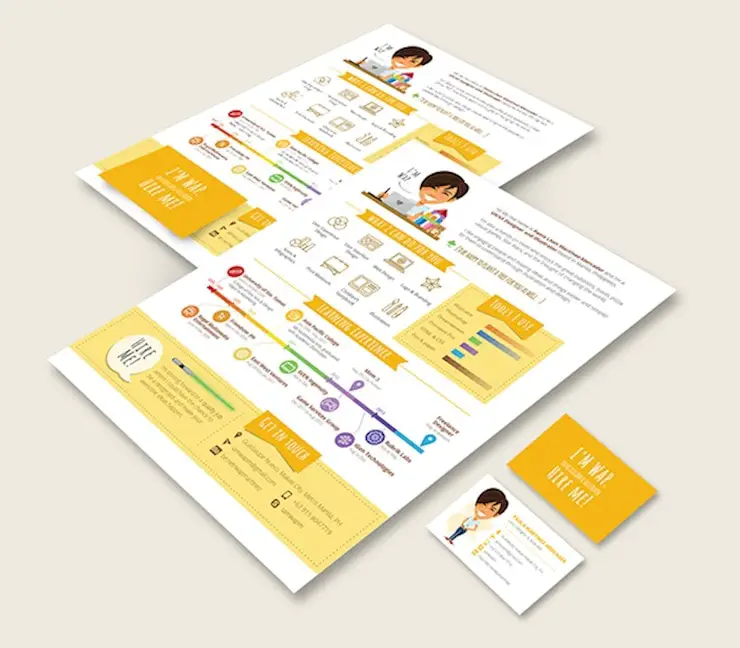 Here is 4-pages resume in a newspaper style that you can download and use.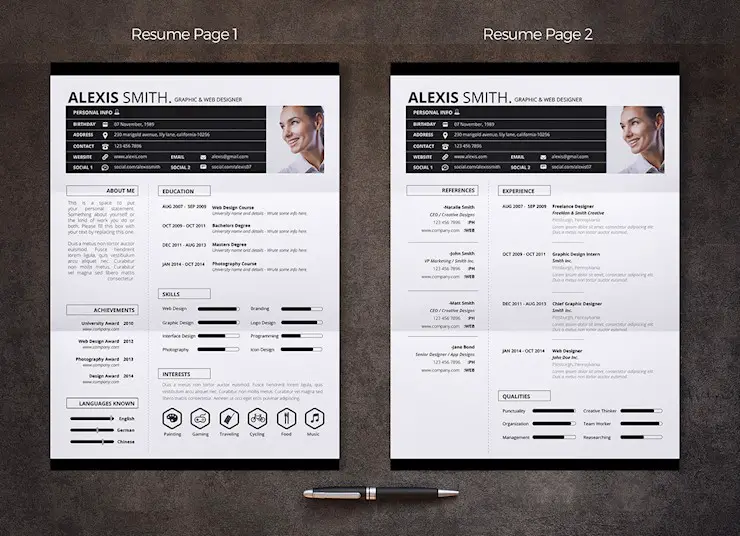 Here is an interactive resume by Matt Stucky with an eye and complicated concept. I have not seen anything similar before. When you open a folder, a branding identity kit shows up.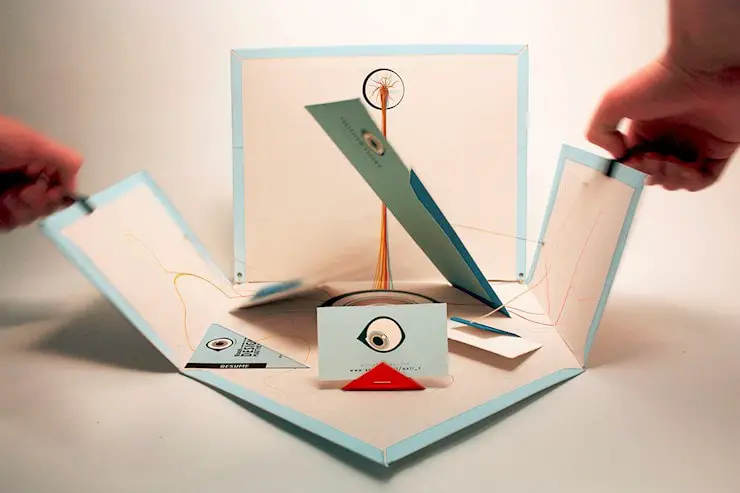 Brochure resume designed by Maria Gabriella Aronne.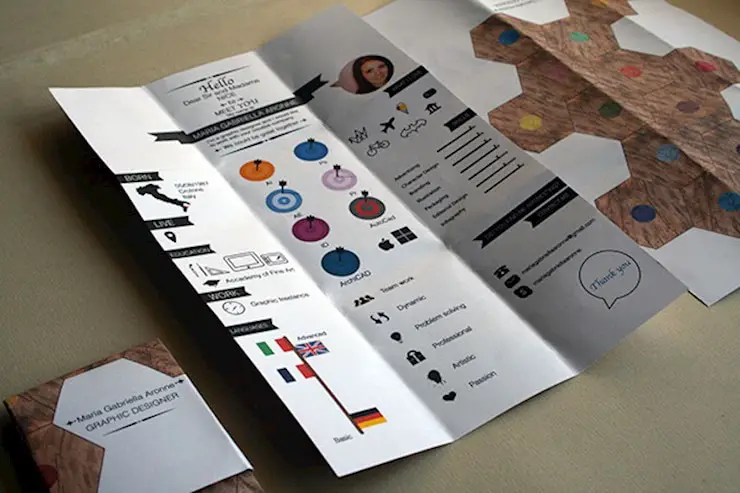 This is a portfolio and resume newspaper with a timeline and a pie chat with skills.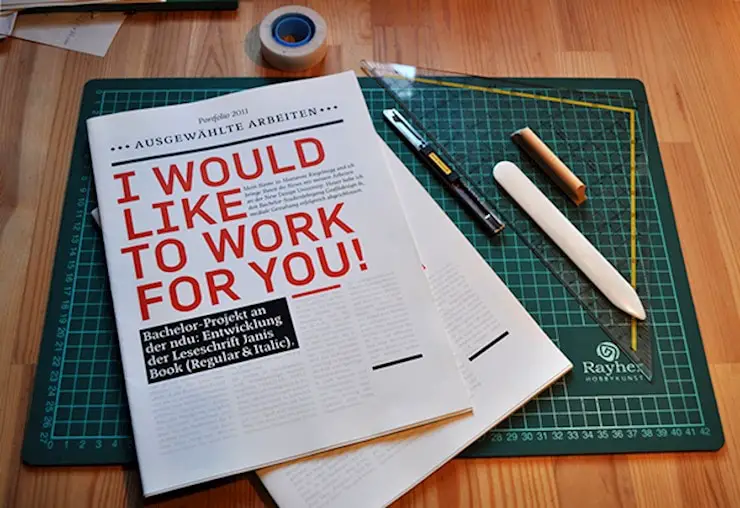 Here is free clean resume template for job seeker in PSD file format. This free resume template will make you stand out from the crowd.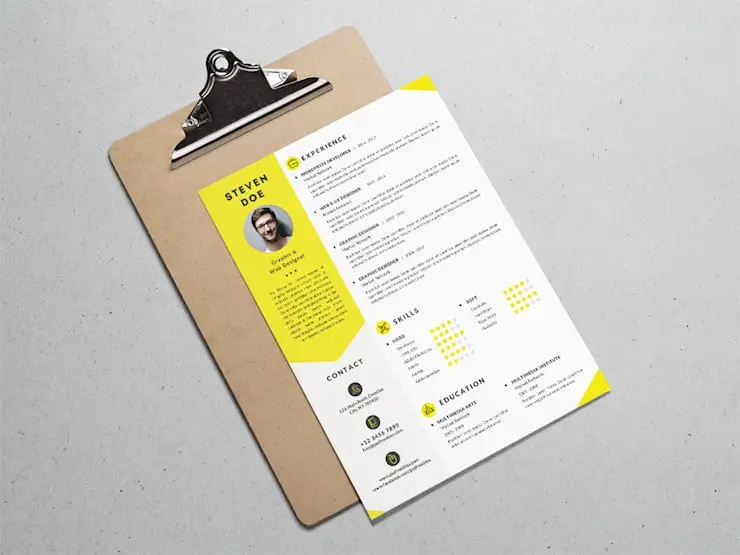 This is a stunning, modern two-pages resume with a timeline and nice illustration.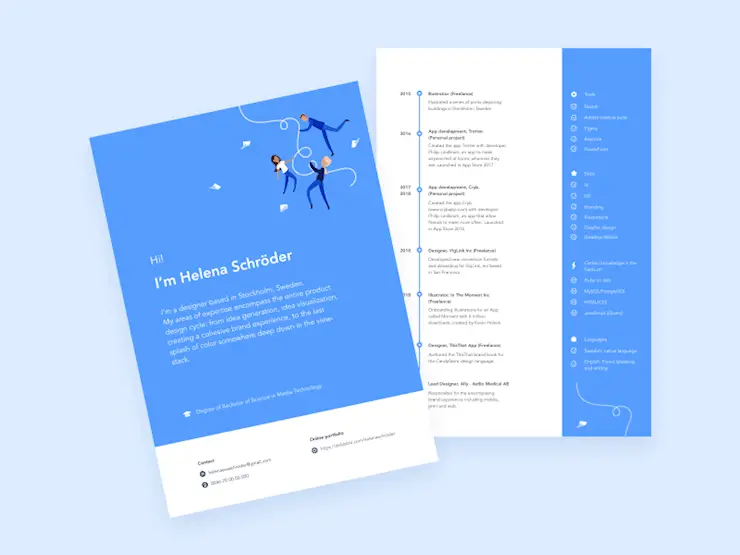 If you are looking for an elegant, minimalist resume idea that suits serious professions, take a closer look at this design.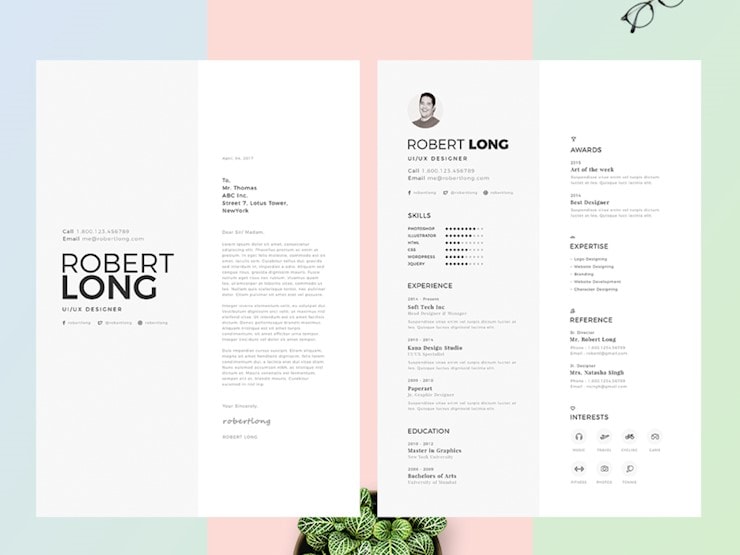 A hand-drawn resume that looks like a kids treasure map.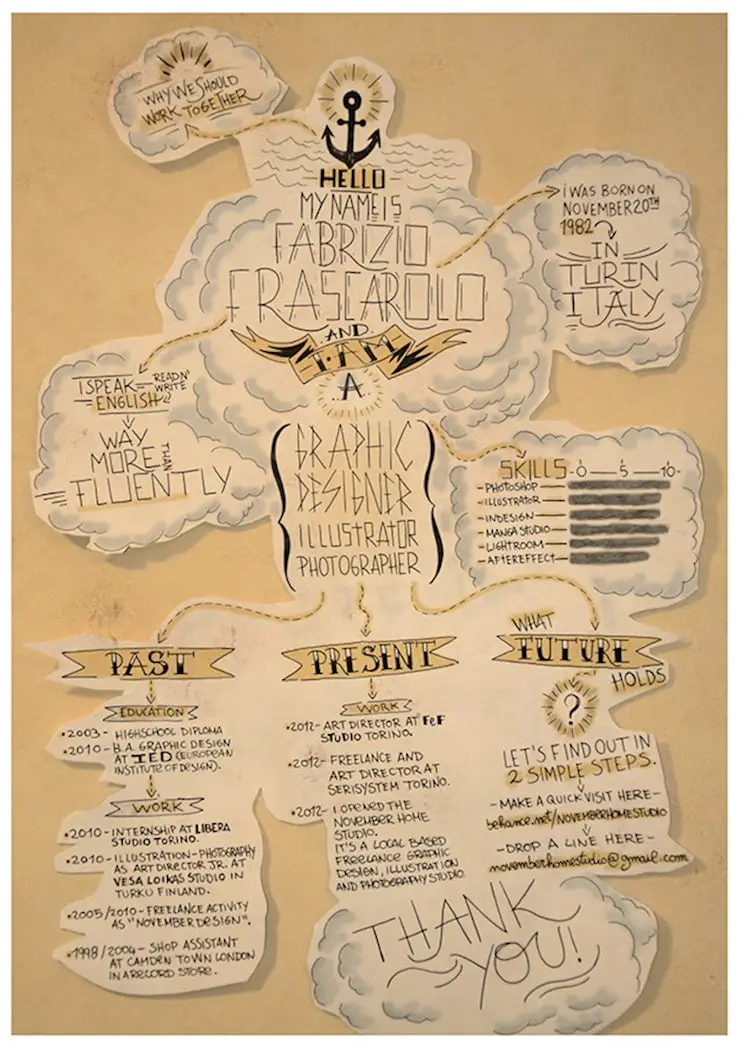 Graphic designer CV created by Thanuja Rajesh.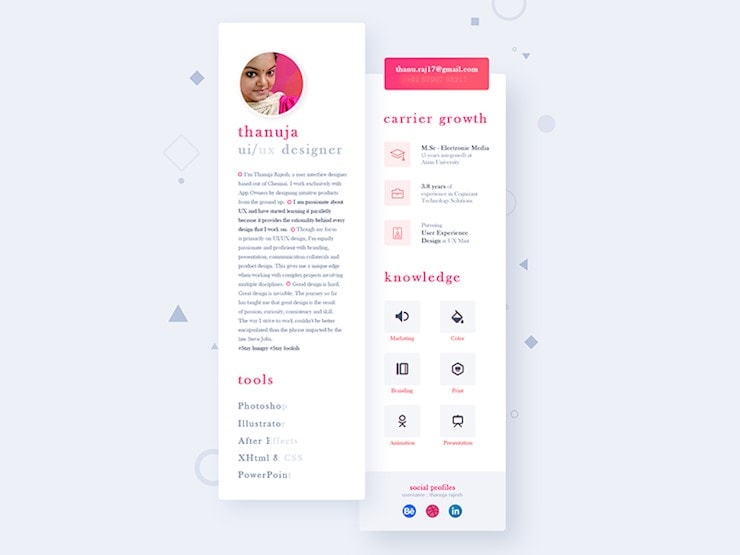 An elegant girlish resume with a floral frame that will be the best option for women.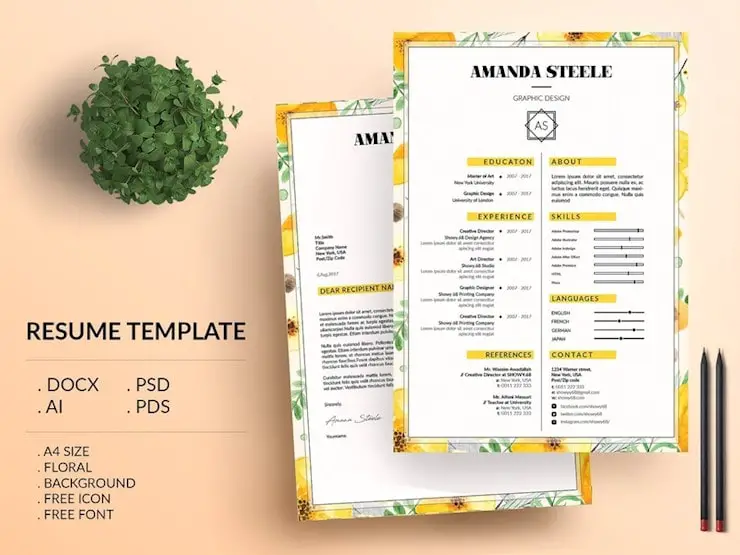 A creative resume that shows the anatomy of a graphic designer.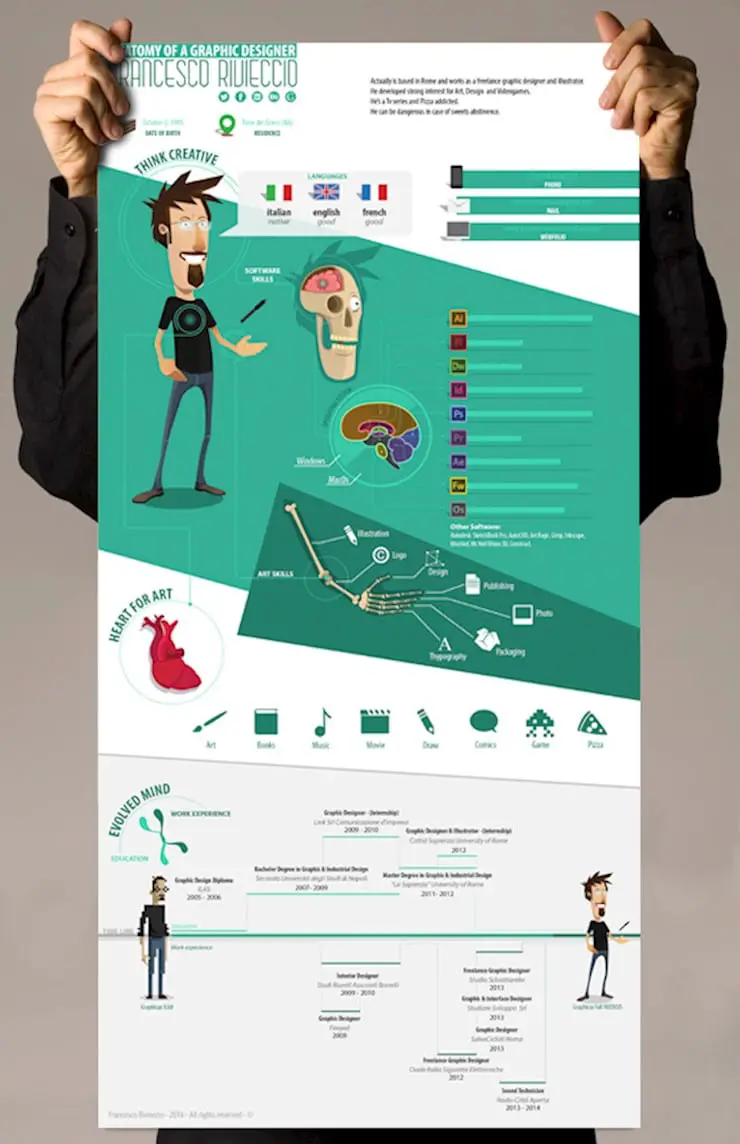 Floral designer's resume with a fantastic pattern on the left side.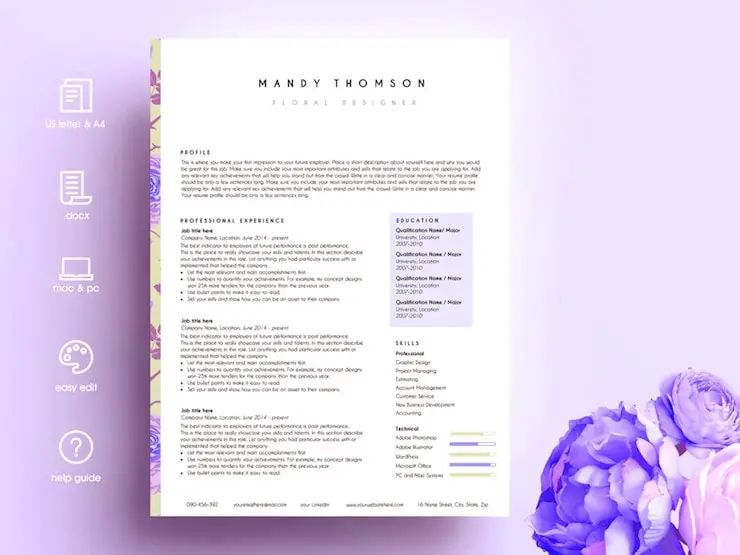 A modern resume that looks like a traditional CV but it features a pink cover.
An interactive infographics resume created by Matteo Innominato.