We all have to create reports for work, school, and businesses. Whether or not it's the holidays, reports are not an exemption and you would still have to do it. Reports may be boring, but it doesn't have to be! You can incorporate fun templates to use on your reports that can match the current holiday. In this post, we'll be talking about Halloween Slide Templates that you can use to add some fun, and maybe a bit of spookiness to your slides and reports! These Halloween slide templates are all free to use and easy to download. Check out our list below!
Halloween Powerpoint Templates Free
Your PowerPoint presentations do not have to be boring! Our list of our favorite Halloween PowerPoint templates for free are easily downloadable and ready to use!
How do I Install Downloaded Powerpoint Templates?
The templates that we have on our list do not need installation at all! You just download the template, and when you open it it's already in PPT format which opens into a PowerPoint presentation. From there, you can already use the template and edit the contents to your liking. You can customize it more, depending on what you like. It's that easy!
Happy Halloween Halloween Slide Templates
We absolutely love this festive Halloween slide template! It has all things Halloween, witches, pumpkins, ghosts, and even bats! We love how this template incorporates both spook and fun with its colors, illustrations, and even font choices! This will surely keep the fun and interest in your reports. Download and try out this template for free here!
Pumpkin Halloween Slide Template
This free pumpkin-themed Halloween slide template keeps it formal with a touch of fun! The slide sticks with gray, and orange tones keeping the template looking clean and pleasing to the eyes. This would be something perfect to use if your report still calls for a lot of serious talk, and you just want to add in some Halloween fun to it. Click here to download for free.
Watercolor Pumpkins Free Halloween Template
Here's another pumpkin free Halloween template for PowerPoint! From its name, the template features a watercolor aesthetic, with a cute pumpkin and Halloween design. Surely this template is kid-friendly, and great to use on reports that call for more treats than tricks during Halloween! Click here to download and try out this template.
Halloween Google Slide Templates Free
If you're working on a group report google slides is the best option for you! It's the most accessible, cause for sure everyone has a google account and it's free! It is also interactive and friendly and really just a breeze to use.
How do I install Google Slide Templates?
The templates on our list do not need any sort of installation. Once you've clicked the download button, the template will open in another tab or window. From there, click the "Use template" button in the upper right-hand corner and just wait for your template to load on your google slides account. Make sure you are logged into your Google account before clicking the download button. Take note, you won't be able to use this template if you are not logged into your Google account.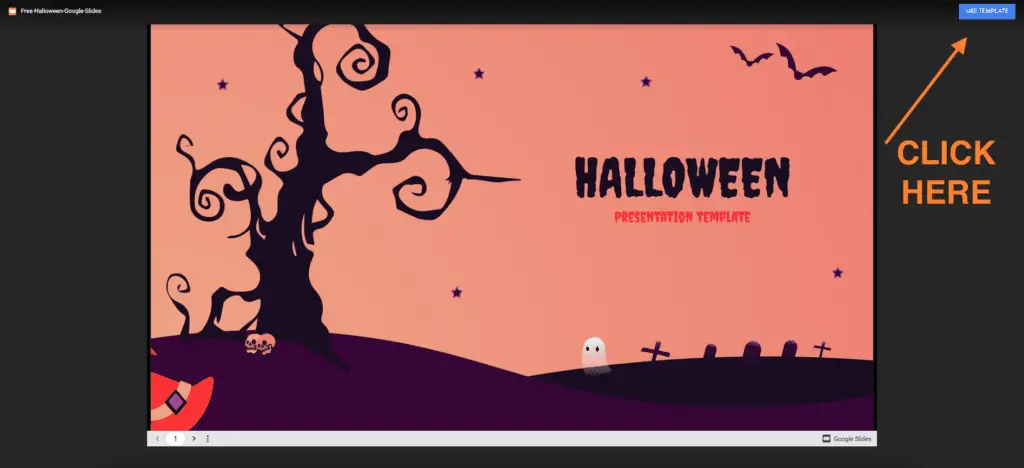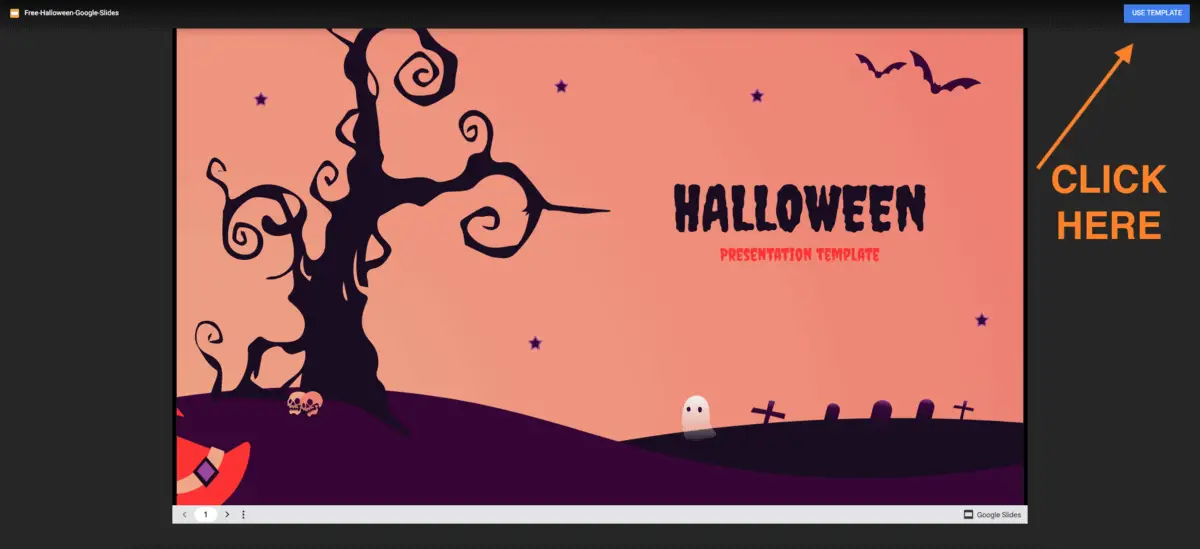 Halloween Google Slide Template
This google slide template gives that classic Halloween vibe with a good mix of scary and fun! The template uses muted orange tone as the primary colors of the slides, accented with some deep purple and black hues. It also has some cute and spooky Halloween elements all over that will surely keep Halloween fun alive. Click here to download this template!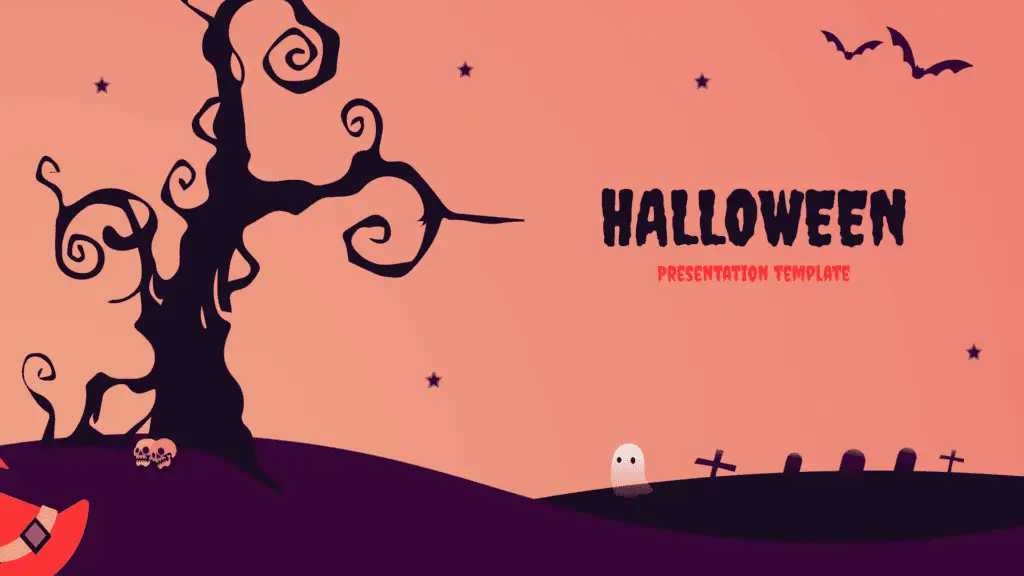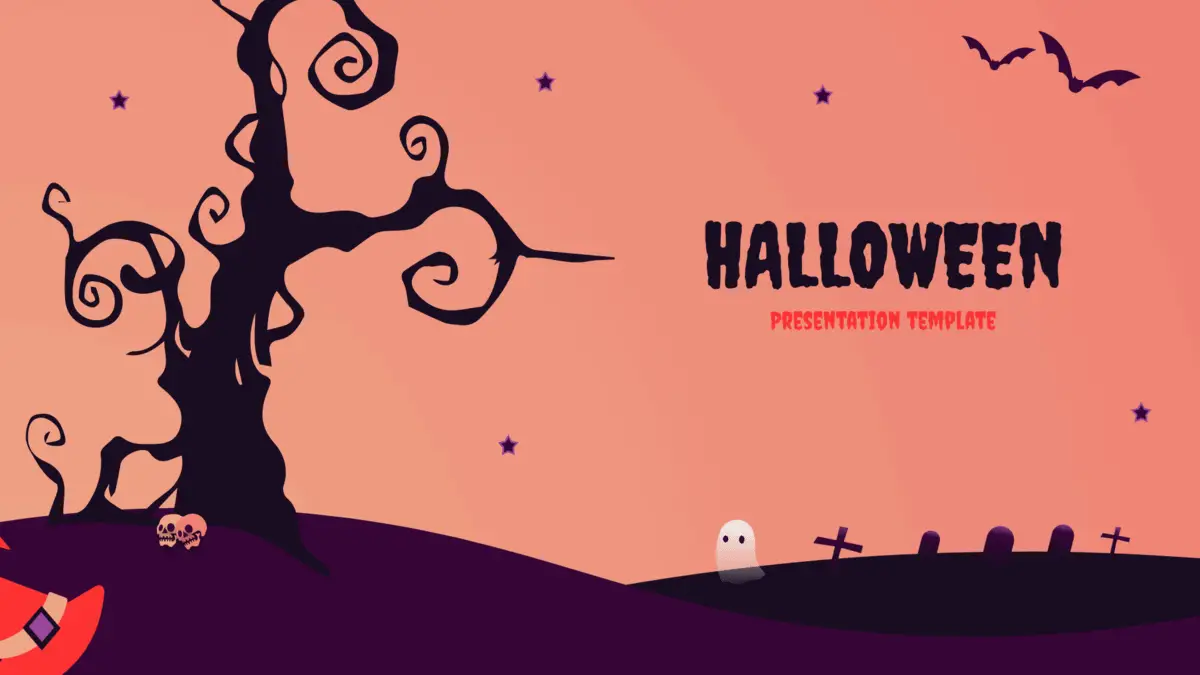 Haunted Mansion Halloween Slide Template
Halloween isn't complete without a haunted mansion! This Halloween Google Slide Template perfectly circles on the Haunted Mansion theme as its main design focus on a tiny black mansion. The template uses dark purple tones with white cloud accents to fully display that eerie feeling of a dark Halloween night near a haunted mansion. Try out and download this template here!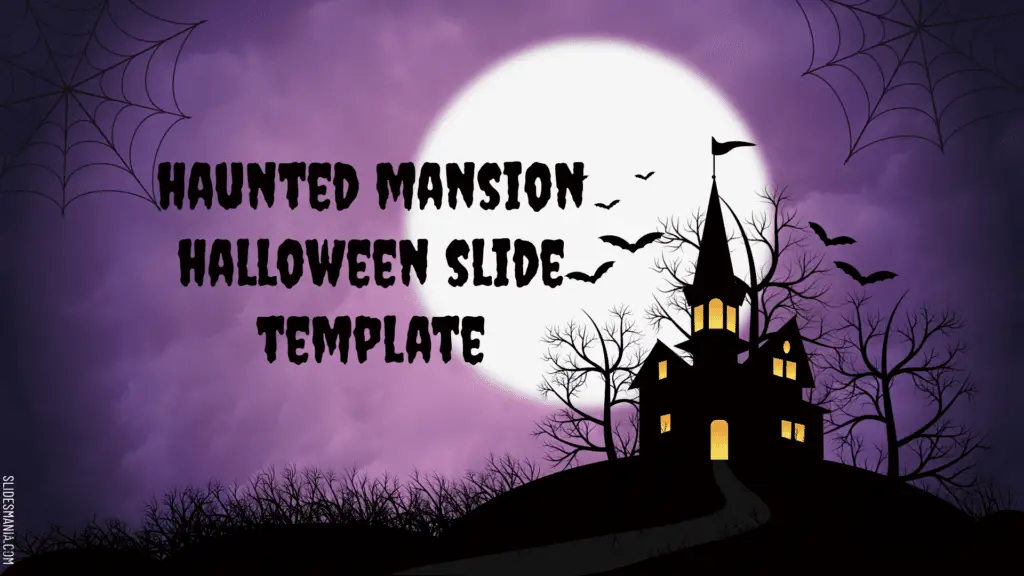 Free Canva Halloween Slide Templates
Canva is a great all-in-one design tool that also has cool slideshow templates! They have a plethora of designs to choose from in our free library tool. But the ones we will feature here are our favorites.
How do I install Canva Halloween Slide Templates?
Just like our other templates, you do not need to install them. You'll only need a free Canva account. Do know that this template will not work if you're not logged into your Canva account.
Black and White Spooky Halloween Slide Template Canva
This is a template for all those who love creepy and spooky things on Halloween. This black and white template, perfectly depicts an eerie atmosphere that will surely add some fun and spook to your presentations! Click here to try this out!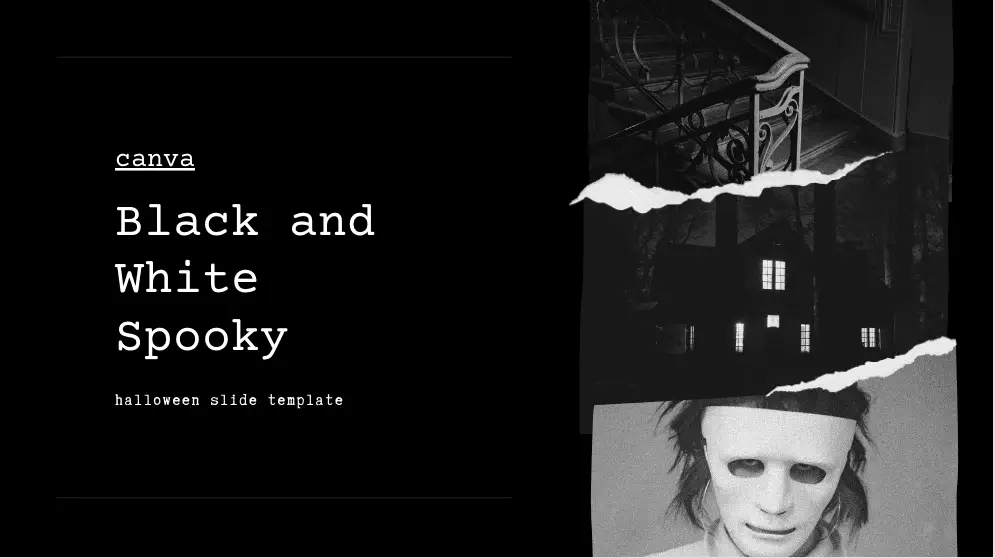 Glamourous Halloween Slide Template Canva
Who said that Halloween is just all gore and no glam? This slideshow template is absolutely lovely! It gives that traditional fun Halloween vibe a fun glamorous makeover! The template showcases a cute bright pop of color on traditional Halloween elements that make it look chic and perfect for a glamorous Halloween night! Try out this canva template here!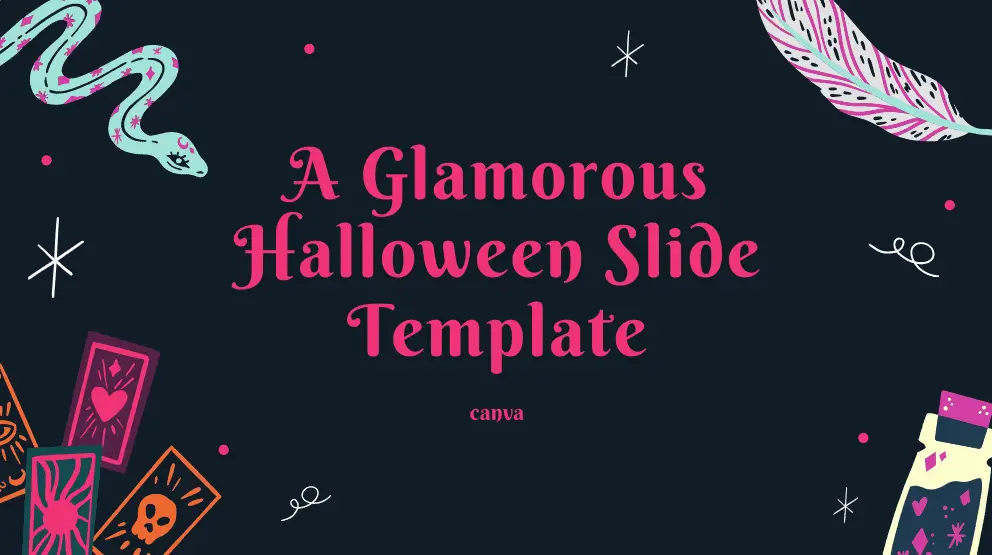 More Halloween Stuff
If you loved our Halloween templates and you want more Halloween-themed posts, check our our post on Halloween fonts for Free!