Marketing is one of the best and arguably only ways to grow your business. In today's society, most marketing is performed online. While there is still some at play in the traditional sense, namely word of mouth, defining your brand online and creating a marketing strategy is what will contribute to your success. 
In 2018 online, B2B marketers estimated that 40% of their budget went to content marketing. When compared to the meager 1 percent that occurred in 2017, it is clear to see which direction the market is trending. But what is a content strategy, you ask? This segment of marketing includes the management of tangible media that actively represents your brand. Media types can consist of those that are written, those your customers can download, or just visual representations. Content strategy can be items that you create, or those you have commissioned from someone else and now own the rights to. 
The purpose of content marketing is to demonstrate who you are, what you do, and the expertise you bring to the table. Most consumers won't want to work with or choose a company that lacks the experience, skills, or reputation. You should appear reliable and known. To a consumer, this is ideal. With content strategy, you are putting images and text in front of your customers that they can associate with you (hopefully in a positive way). 
Now that you have somewhat of an understanding of the what and the why content strategy is an essential part of your marketing campaign, we can dive further into how you would get started, and useful tips for creating a successful plan built for results. After all, isn't the goal to get positive results, increasing the customer base, and generating more revenue? 
First things first, the design is more than just pretty colours and images. Sure, this can be an essential part, but it isn't everything. The design should be well thought out; it should be calculated and encompass your brand as a whole. When making the content, you'll want to keep in mind who your audience is, or target customers, why you are creating the content and what the result hopefully will be.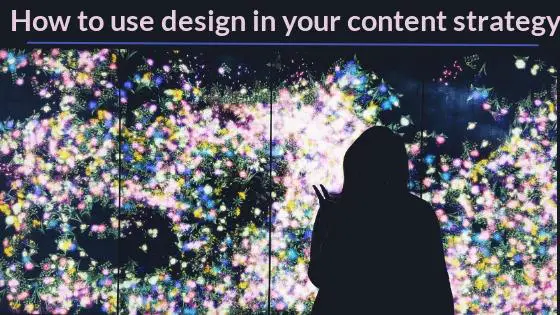 Getting Started With Content Strategy
Creating the perfect content strategy isn't easy. There are many factors to consider and even more practices to implement along the way. However, there are some guidelines you can follow below to help you get started. Remember, content design is meant to connect your brand with the viewer. It should resonate and be relevant to have the most significant impact (highest success). 
Identify Your Audience
No matter what type of content you are creating, text, images, or videos, knowing your audience is critical. This is the first place you should always start because it will make a massive difference in the success of your design. Your audience may not be the same on every social media account. Instagram, Snapchat, and Facebook all have a different demographic of users. 
Just by simply looking on the content available on these sites, it is quite telling that the audience on these would be considerably different. This doesn't mean you shouldn't utilize one over the other, but you should keep in mind who you are reaching.
Identify The Why
Why do you want to create content in the first place? Is it to inform your customers? Is it to get their attention? Or is it there to announce something? The why of content posting is just as important as who you market to. You shouldn't lose sight of this point throughout the marketing process; doing so could cause your design to ultimately tank. If your purpose is to create an engaging infographic that provides useful information without having to read lines of text, then you will want to look for facts and figures that pertain to your field and have proven facts and statistics.
The Different Types Of Content Delivery Methods To Choose From
There is more than one way to engage your viewers. When building your strategy, you will want to narrow down what type of content you will be using. This can include blog posts, infographics, eBooks, case studies, videos, and user reviews. Some examples that work for both shareable images or videos include can include:
A Personal Story
Reshare From a Customer
Top (3,5,10) List Videos
Tutorials
Unboxing
Product Reviews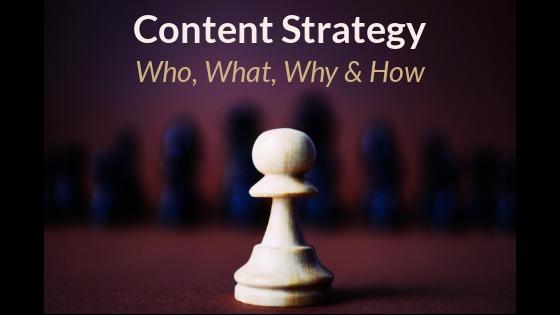 Look For Gaps-Remain Consistent
If you haven't posted on your social media for a while, this is the perfect time to get back with it. Consistency is the key to generating a better presence online. Get in front of your viewers, and give them content that has value. This could include infographics based on your niche, or advertising a new product you have available. The more you consistent you can be with your type and the time you post, and familiarity between the posts, the more effective the strategy will be. 
Content For Social Media
Repurposing your website content, such as photos, infographics, videos, etc. for use on your social media sites is something many businesses will do. Not only will this tie together your accounts, giving your company more consistency and brand recognition with customers, it is also economical. Instead of having to pay for multiple graphics or media, you can reformat and share these items straight to all your accounts. But there is a far greater opportunity with a content strategy on social media that goes beyond just repurposed material. Creating exciting social media content for your audience is what will drive them to your social media page and to your website to learn more. 
Social media offers up a few ways to introduce content to your viewers. This can include your profile picture, posts, images of products, cover photos, and ads. When creating a template, consider all the key points listed above in the how-to section. Know your target audience and always keep in mind your brand and what message you are trying to convey.
When creating social media content, value is king. Your content should always have a purpose. It doesn't matter if the picture is drop-dead amazing; if it has nothing to do with your brand or your company practices, the viewer won't associate with your brand. Taking the time to create a worthwhile post, fingers crossed, goes viral, you want whoever sees it know that is your company. This can apply to ad posts, notifications, or highlighting user reviews.
Using social media to your company's advantage is almost a must these days. While it was once all about the company's website, and in some ways still is, a bulk of consumers are starting to find products and services through their online feeds. Advertising on sites like Facebook, Instagram, and Twitter is much simpler and can give you a leg up on finding more potential customers, versus not having an active account. 
Design Elements To Incorporate 
Are you stuck on what design elements you should include in your posts on social media? It can get confusing as there is a ton to choose from. However, there is no shame in getting help. Backgrounds, fonts, colors, design is complicated. But using some elements of design in your social media content is key to making them eye catching and clear to understand. Remember you're trying to communicate visually so make it bold but easy to understand!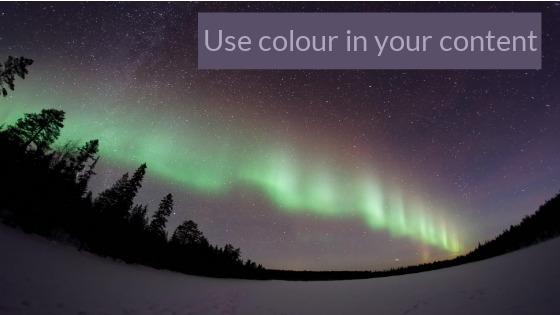 Colour Options
One of the greatest tips when using design in content strategy is to incorporate your brand's colours into the images you use or posts you create on social media. No matter if you are uploading to Instagram, Twitter, or Facebook, continuity should be a primary concern. This allows your customers to connect what you're posting to you, and when they see specific images or colors, your company name sticks out in their minds. 
There are many trending colour schemes to use in 2019, Using two to three colors is typically ideal when designing a template, one color for the background, one for font, and another for images or symbols. An example that is hot right now is using Sailor Blue and Mint together. While these should be a conflicting palette, the pastel mint and richness of the blue just work.
If you haven't decided what your brand's colors are, and are still in the creativity phase, it is worth researching what colors are associated with your particular niche. Some colors are more identifiable than others to that of specific industries. Take plumbing, for example; often you'll see logos and the company name being a light shade of blue. In comparison, a pest control company will use something green or red.
colors not only lend themselves to the design and create a connection between you and your viewer, but they can also inspire emotion. Red has not been known to be soothing; in fact, it can represent a sense of urgency. While this feeling might seem like something you would stay away from, red and orange are excellent colors to use for things like call to action buttons, or anything that prompts your viewer to click for more information or to contact your business.
Image Size and Pixels Matter
While you might be more concerned with what image you are going to use to showcase your brand, you should be aware that sizing is just as important as the content itself. Each platform has a 'recommended' sizing that works for different features and has an optimized viewing. If you notice on Facebook, the area for your profile picture is a circle and a tiny one at that. When you go to add your photo, unedited, it may not fit, and when trying to crop nothing provides right. This can be avoided by optimizing your picture to meet the needs of posting. Here is a rough guideline for profile pictures from the top platforms.
Facebook-180 x180 px
Instagram-160 x 160 px
Twitter-400 x400 px
Youtube-2560 x 1440 px
Pinterest-165 x 165 px
LinkedIn- 400 x 400 px
These are simply for the profile pictures. If you were to create a 'story' on Facebook, these images are optimal at 1,080 x 1,920 pixels. With each type of content you post there is an ideal size to match, and these aren't the same between all platforms. For example, if you were to post an ad on Facebook, this wouldn't be the same dimensions as what you would use on Pinterest. Pinterest images are vertical, whereas those on Instagram are square. If you optimize your content sizing, whether they are a picture, graphic, video, or any other media, it will be well received. 
Have you noticed that when a picture is out of focus or blurry, you tend to skip right past it, without a second thought? Keeping that in mind, clarity is a huge part of creating a content strategy that works. The last thing you want is poor quality; this will translate into customers connecting your brand with low end. If you are using free images online, versus having your own photographer and creating your own, you will want to look for the appropriate size and pixel density to ensure the highest clarity when posting.
Font- Styles, Size, Color, and Placement
Font can make a massive impact on how a viewer perceives an image or video. A blocky, hard to read text won't go over well when you are attempting to command authority. There are hundreds to thousands of different font faces to choose from, and each conveys a subtle message to the reader. Make sure that when selecting a font that it matches the voice of the graphic. Fonts can be humorous, and they can be sad, they can pull emotion out of the person reading the text. Make sure the font matches your intentions.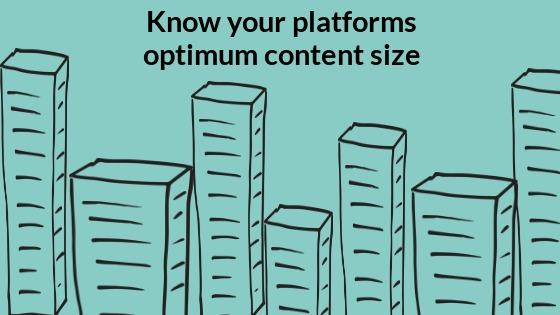 Conclusion
Using design throughout your content strategy is an absolute must. That is if you intend on creating content that people want to see and can't help but share. Always remember the guidelines for creating content, which includes knowing your audience and goal for your content. colours, font, and sizing are crucial when posting online and should always be at the top of the considerations in every shareable media you create and post. 
Author Bio- Currently working as a Marketing Executive at Design Wizard, Claire is passionate about creating amazing content and bringing people together. Having recently graduated with her masters degree in Marketing she is keen to impact the digital world. Outside of work you can catch Claire taking photos of her rescue dog Storm and checking out social media.