A creative and aesthetically pleasing food menu can drastically increase a restaurant's sales and overall popularity. A well-designed restaurant menu is memorable and will convince customers to order more food. The most popular restaurants create a specific environment that leaves them wanting more. The menu is an important element that contributes to that personality. The right menu template will help accomplish this.
Creating a unique and attractive menu for any restaurant is not easy. You want to properly showcase all your delicious food in an organized, fun way. Many restaurants want to be sure that their menu is just as unique as the food itself and that it stands out from the competition.
Some restaurants are whimsical and playful while others are sophisticated and classy; the menu needs to reflect that. Coordinating a restaurant's brand with the menu is essential. Whether you are a restaurant owner or have been hired to create a menu, these menu templates will inspire you and leave you hungry for more. We've created a collection of menu templates for a variety of different types of restaurant, cafes, and pubs.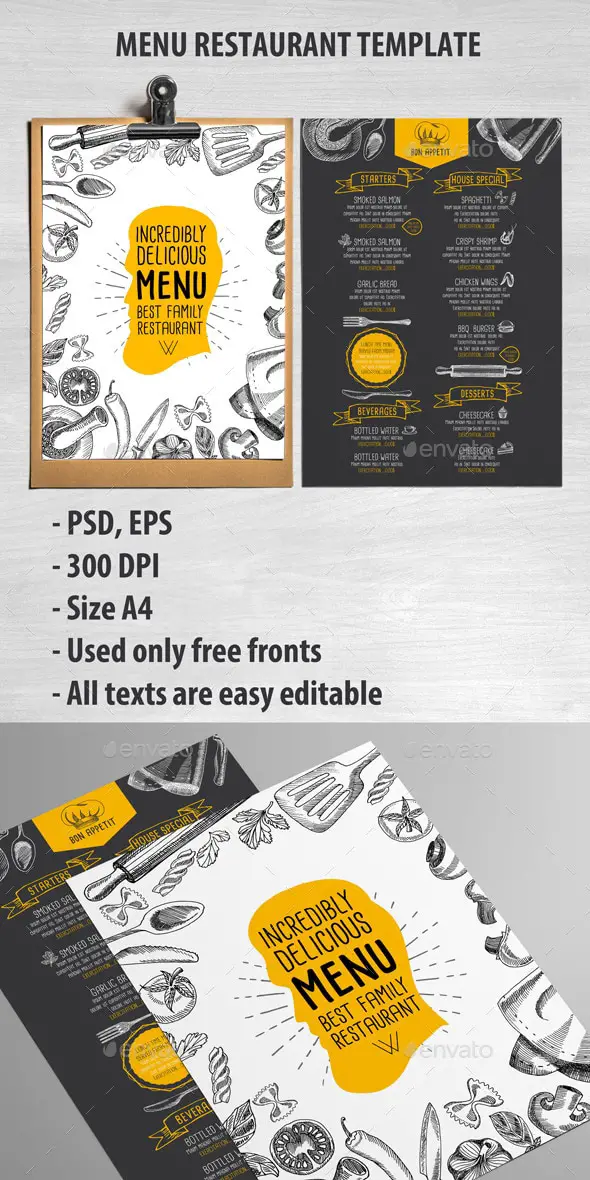 This simple menu design from BarcelonaDesignShop is clean and beautifully done. We can see this menu being used for a farm-to-table restaurant or cafe. The illustrations around the front of the menu are well done and can fit with any style restaurant. You can buy this entire template for only $15 and edit each section as you please.
This elegant menu is perfect for a feminine vegetarian cafe, maybe one that specializes in salads. We like the design of the menu template because it uses intelligent spacing to create a minimalistic feel. Not to mention, this design is easily editable and free from FreePik.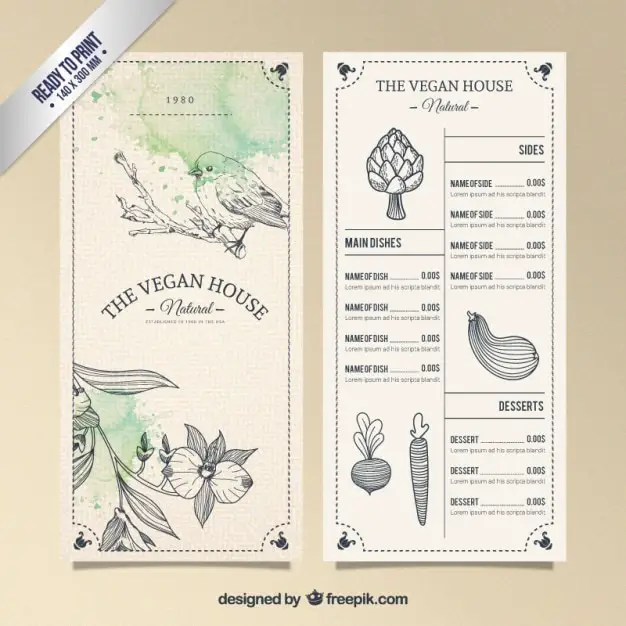 This is the perfect menu design for a sports bar or pub with a large beer and wine selection. The color contrast is attention-grabbing and well-done. There are multiple pages and sections, perfect for a large selection of tasty appetizers and craft beers. You can purchase this menu template for $21 from AnnaArt.

If you have a menu item you want to show off front and center, this is a well-designed menu to do just that. The designer chose to showcase a burger on the front cover, making this template a fantastic menu for a specialty burger joint. However, you can edit it to show off a juicy steak or mountain of french fries. This menu will certainly capture your guest's attention and help sell a fan favorite food item. This menu is available from Aarley Kaiven for $8.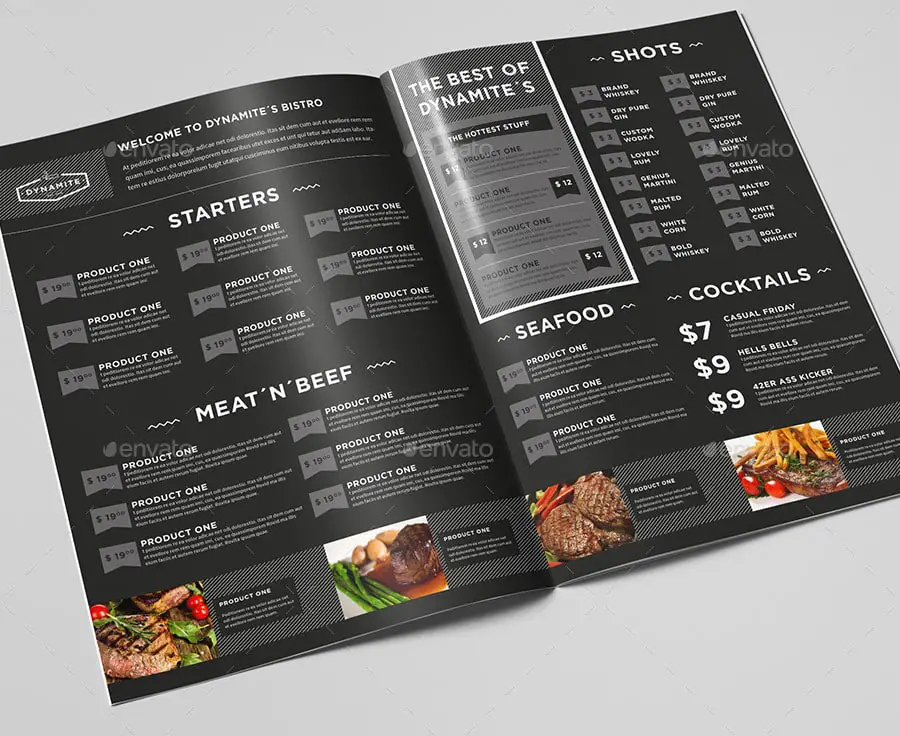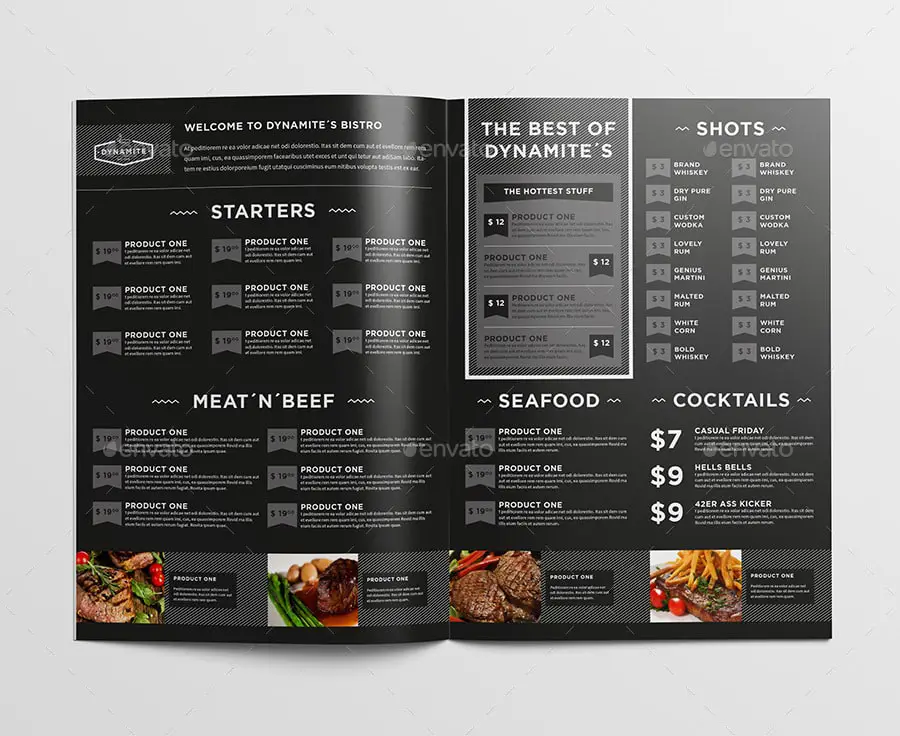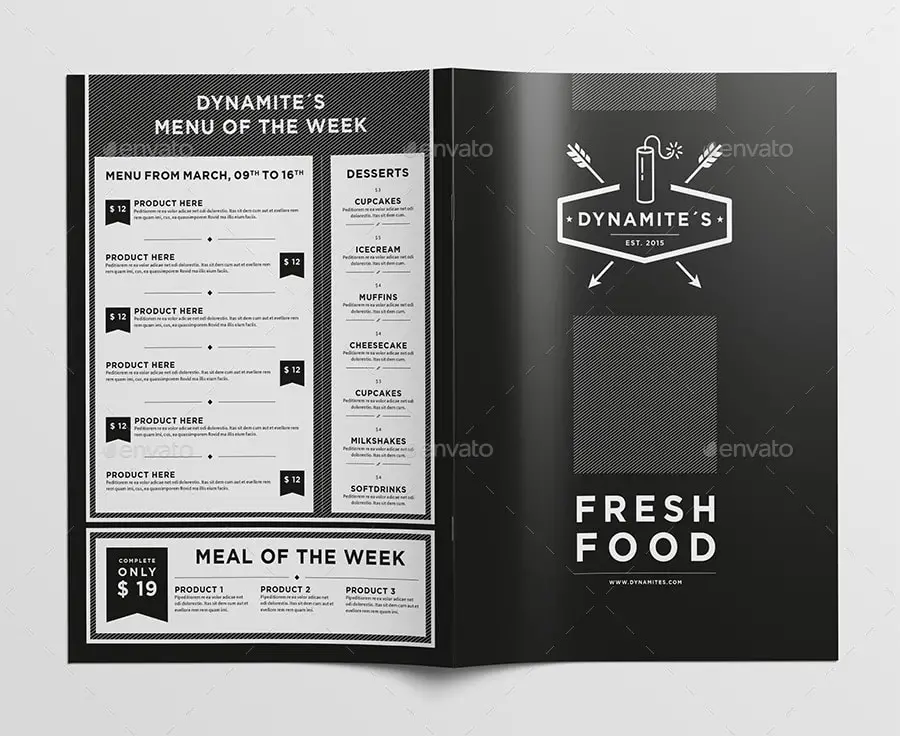 This menu template comes with a lot of other goodies for your restaurant, including table tents, flyers, and business cards. This bundle is perfect to help solidify a company's brand and incorporate a similar design throughout the restaurant. The black and white contrasts are great for hip cafes and sleek dining rooms alike. The whole bundle is available for $17 from egotype.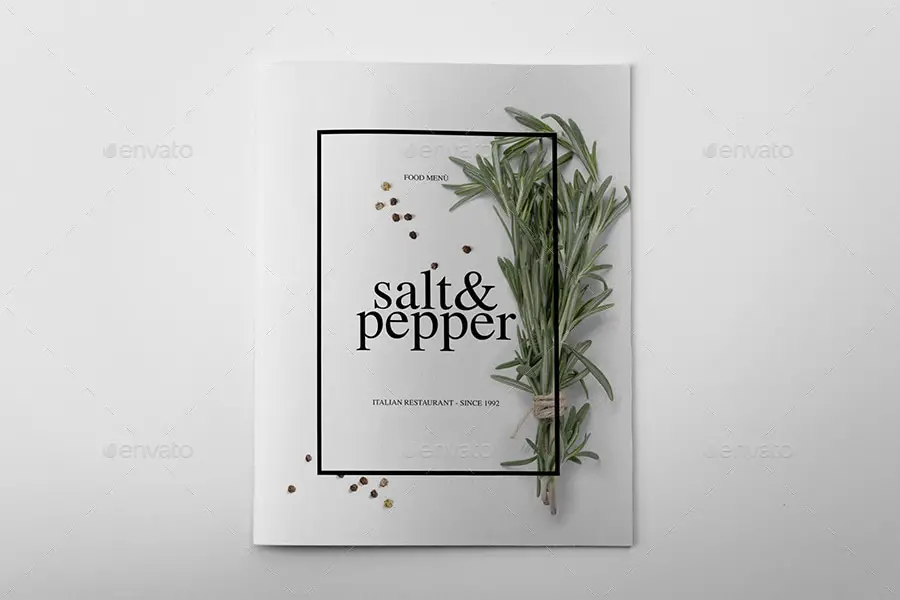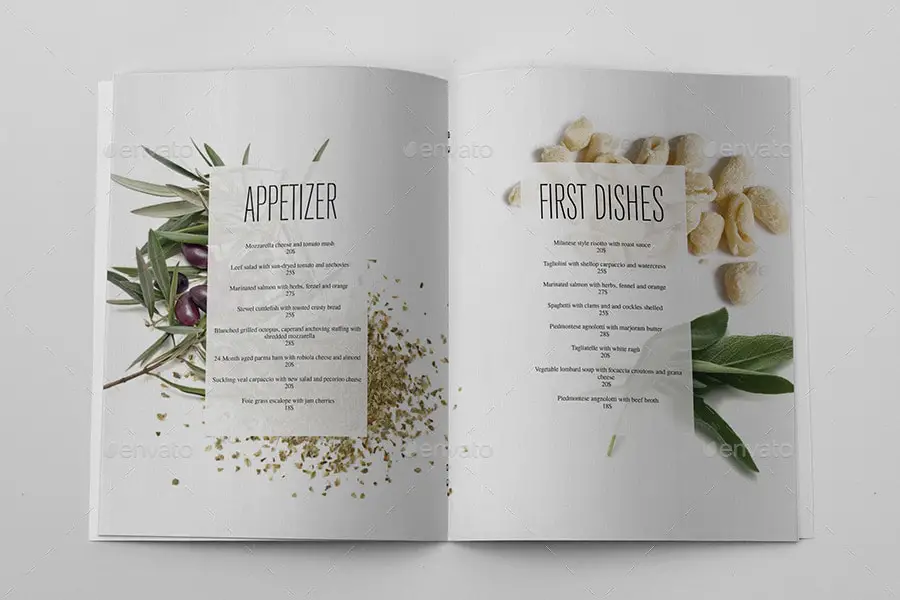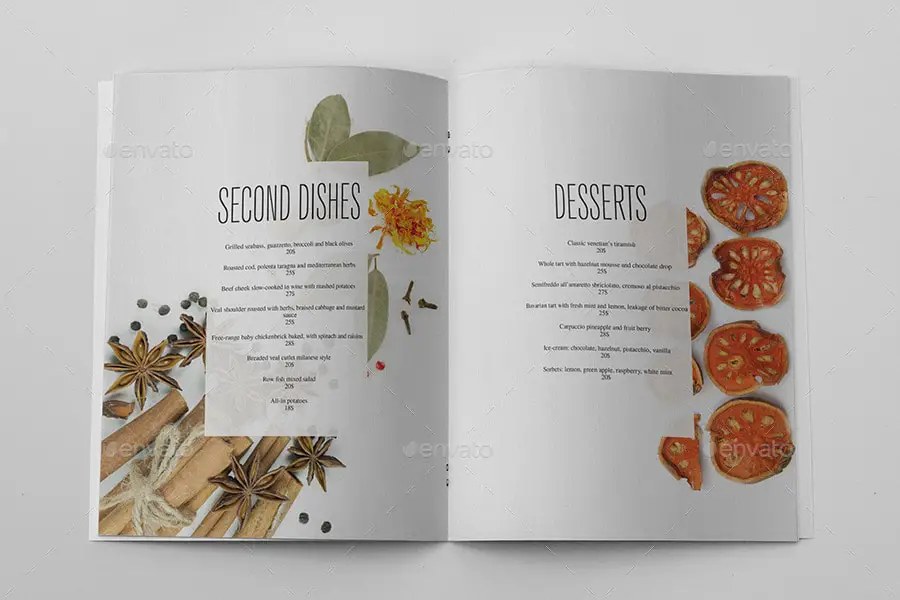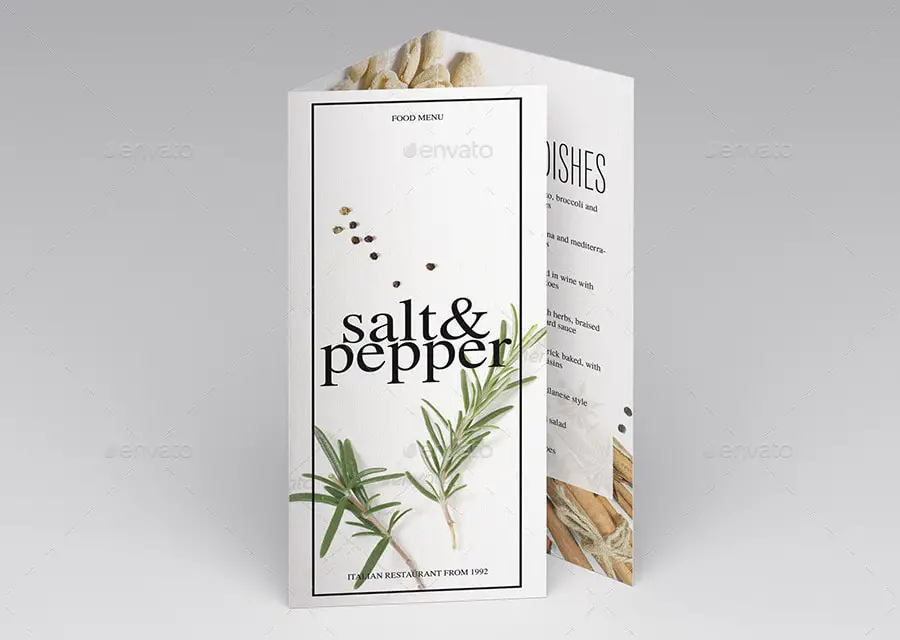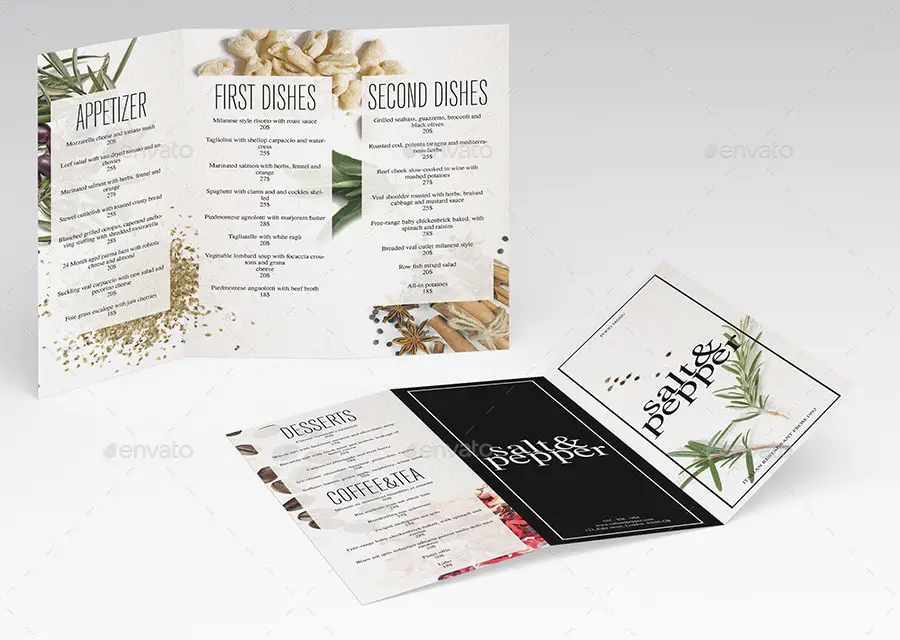 Possibly our favorite menu template, this package comes with a variety of menu styles to incorporate into your restaurant. The minimal style and gorgeous pictures create a design that is captivating and alluring. These menus would be great for a fresh restaurant that serves healthier options or an Italian restaurant because the pictures are of Italian spices. One template in this minimal menu bundle dedicated a single page to each meal course, creating almost a book of options. The second template is a smaller flyer. The whole package comes with table tents and flyers as well and can be purchased from giancacarraro86 for $17.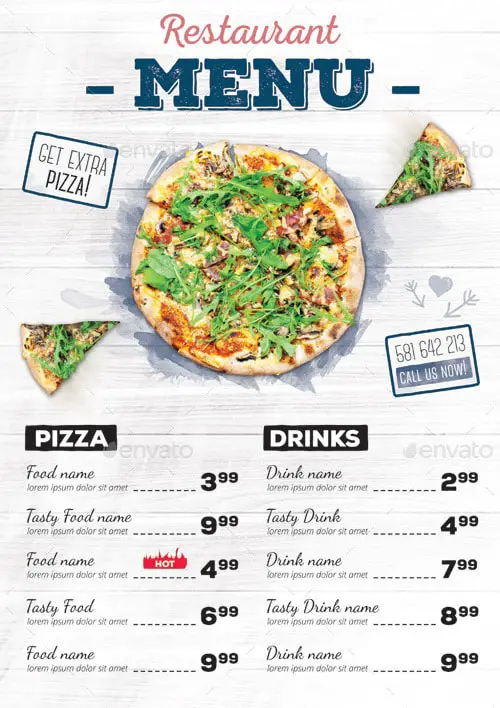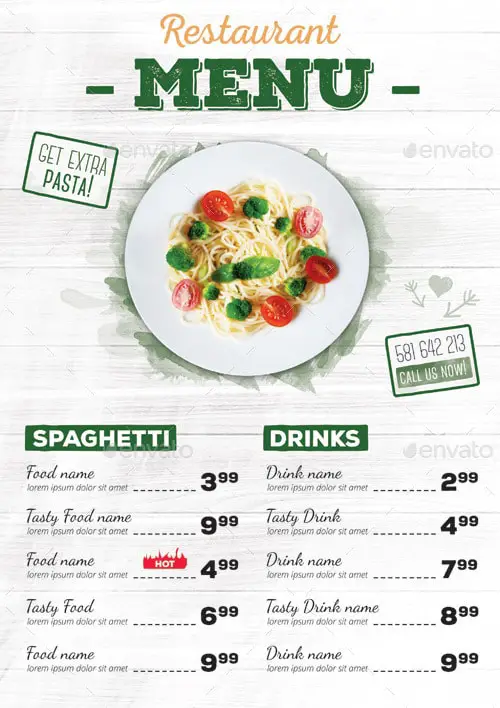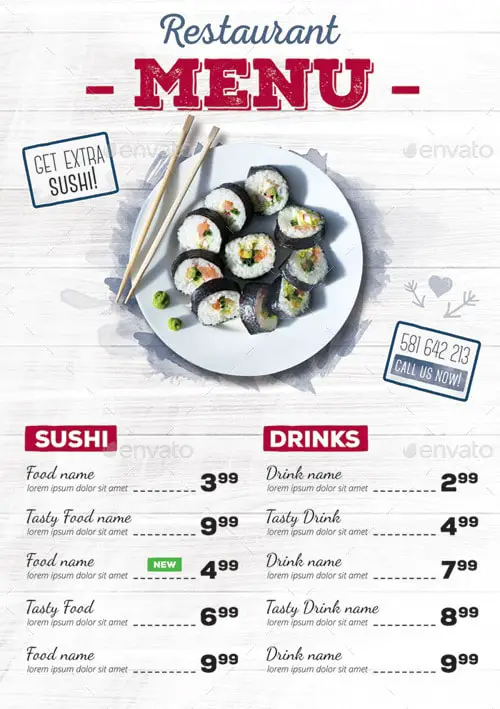 Sometimes putting pictures of the food items on your menu can appear less-classy because it is not displaying the food correctly. However, we love this menu template because it shows how to appropriately display food items on a menu. The fun colors and combination of typography create a good vibe for a family-friendly restaurant. This template is only $7 from designer OUT00.