We've catalogued a stylistically varied bunch of the most creative, on-point free Star Wars vector icon sets available online.
The sets that we've listed here come courtesy of a number of different graphic designers, that have reinterpreted the characters and iconography of the Star Wars universe in loads of different ways. Yoda, Luke, Lighsabers and X-Wings are cast in minimal, flat design and hand drawn styles, so we've got your next Star Wars-themed web or print project covered.
You might also want to check out our list of the best free space icon vector sets.
So Star Wars: The Force Awakens is finally among us. There have been a lot of rumours as to what and how would the characters look like, who would come back from the previous movies and so on. This set features what I consider to be the 15 main characters from episode VII. Each colour and position within the set is there for a reason, have you noticed?
Here are: Finn, BB8, Maz Kanata, Dameron Poe, Rey,Chewbacca, General Organa, Kylo Ren, Han Solo, R2D2, Luke Skywalker, C3PO, First Order Stormtrooper, General Hux and Captain Phasma.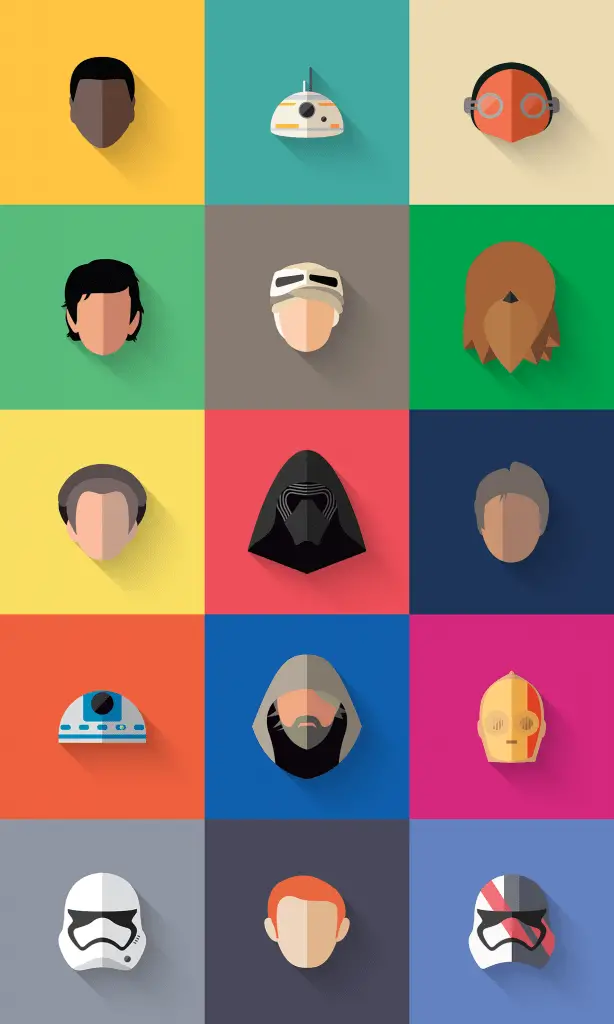 'These are few icons from the upcoming star wars icons freebie. Have you noticed upgraded stormtroopers helmets in the upcoming movie?! Looking awesome!'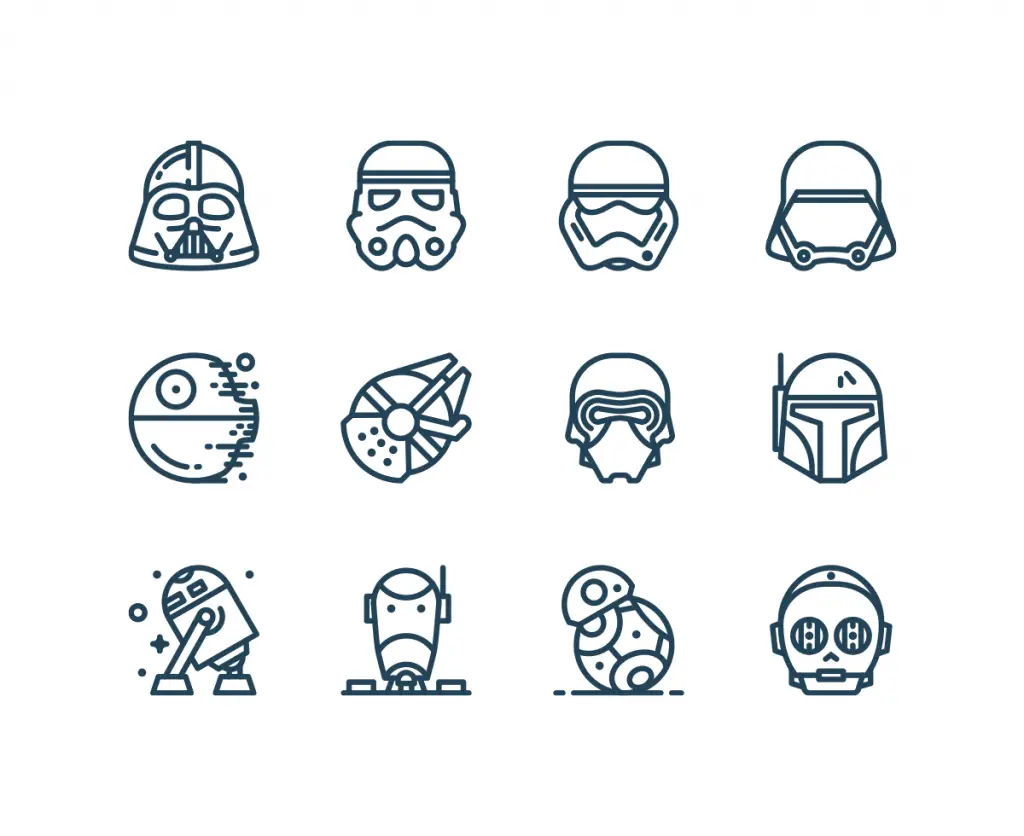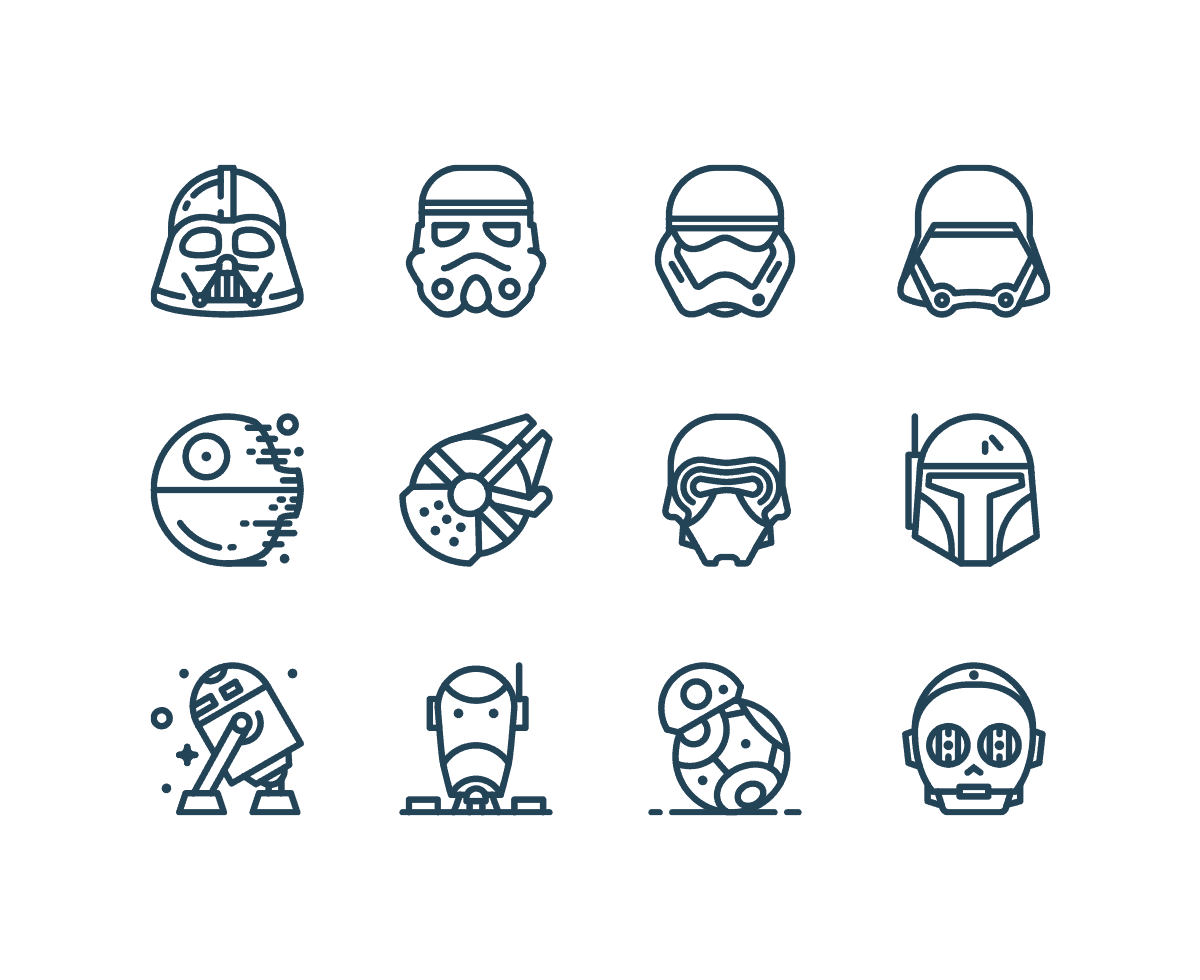 'Icons include: A Luke Skywalker, Princess Leia, Han Solo, Chewbacca, Red Five, R2-D2, C-3PO, Obi-Wan Kenobi, Yoda, Land Calrissian, Darth Vader, Boba Fett, Ewok, Admiral Ackbar, Lobot, Greedo, Stormtrooper, Tusken Raider, Emperor Palpatine, Jabba the Hutt, Jawa, Qui-Gon Jinn, Jango Fett, Clone Trooper, Darth Maul, Darth Vader, Lightsaber, Luke Skywalker (from a New Hope) lightsaber and a Luke Skywalker (from Return of the Jedi) lightsaber.'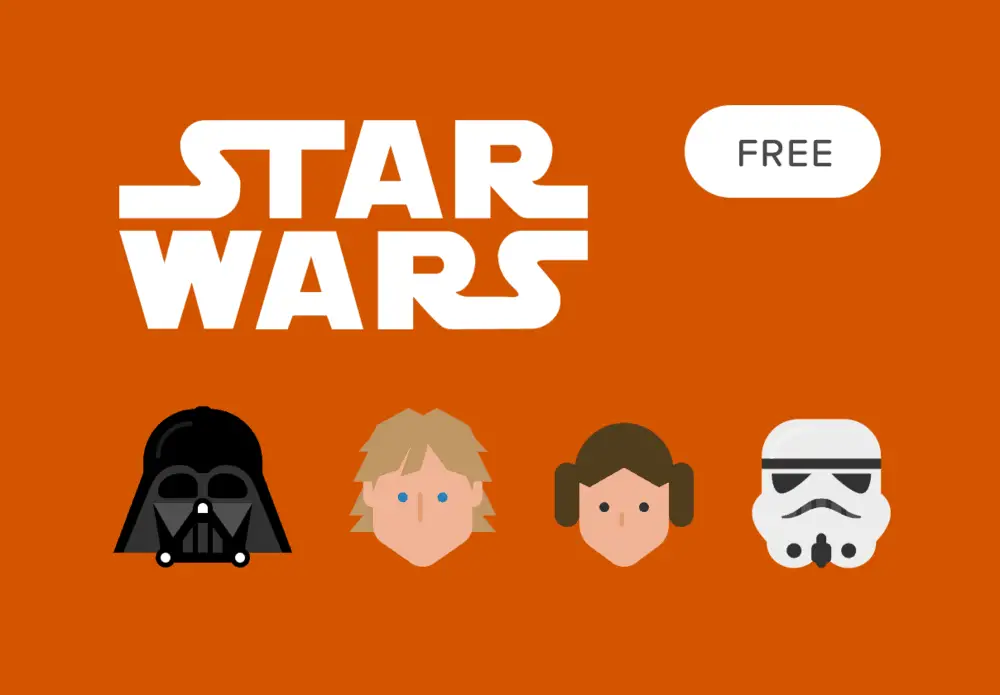 'The new set includes the following free Star Wars icons: millennium falcon, C-3PO, Princess Leia, Boba Fett, two lightsabers, Death Star, Darth Vader, R2-D2, Storm Trooper, Chewbacca and the new additions for an AT-AT walker, X-Wing, Tie Fighter, Admiral Ackbar and Yoda.'
Available as Adobe Illustrator file and a PDF.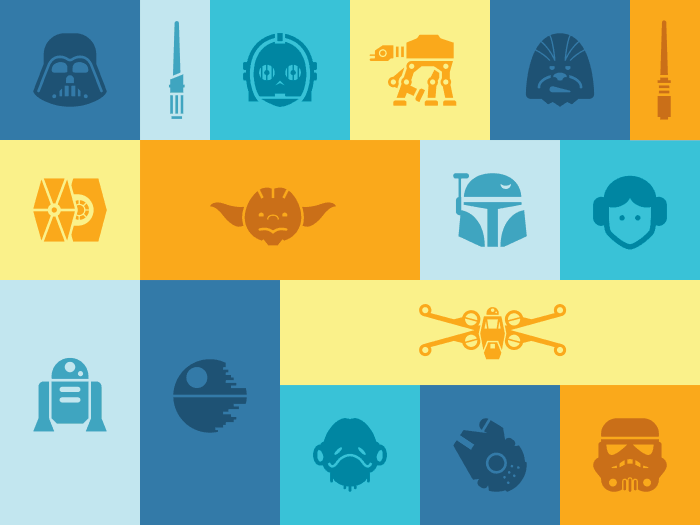 Star Wars Icons No.1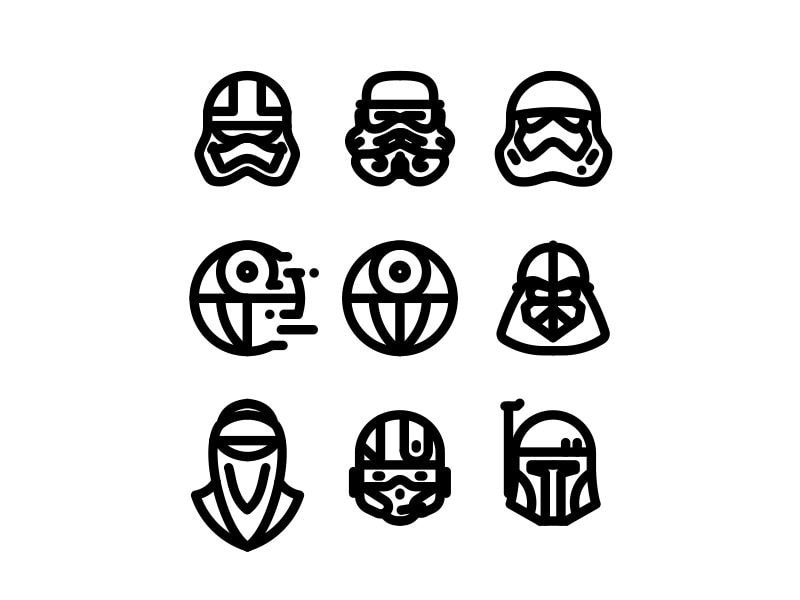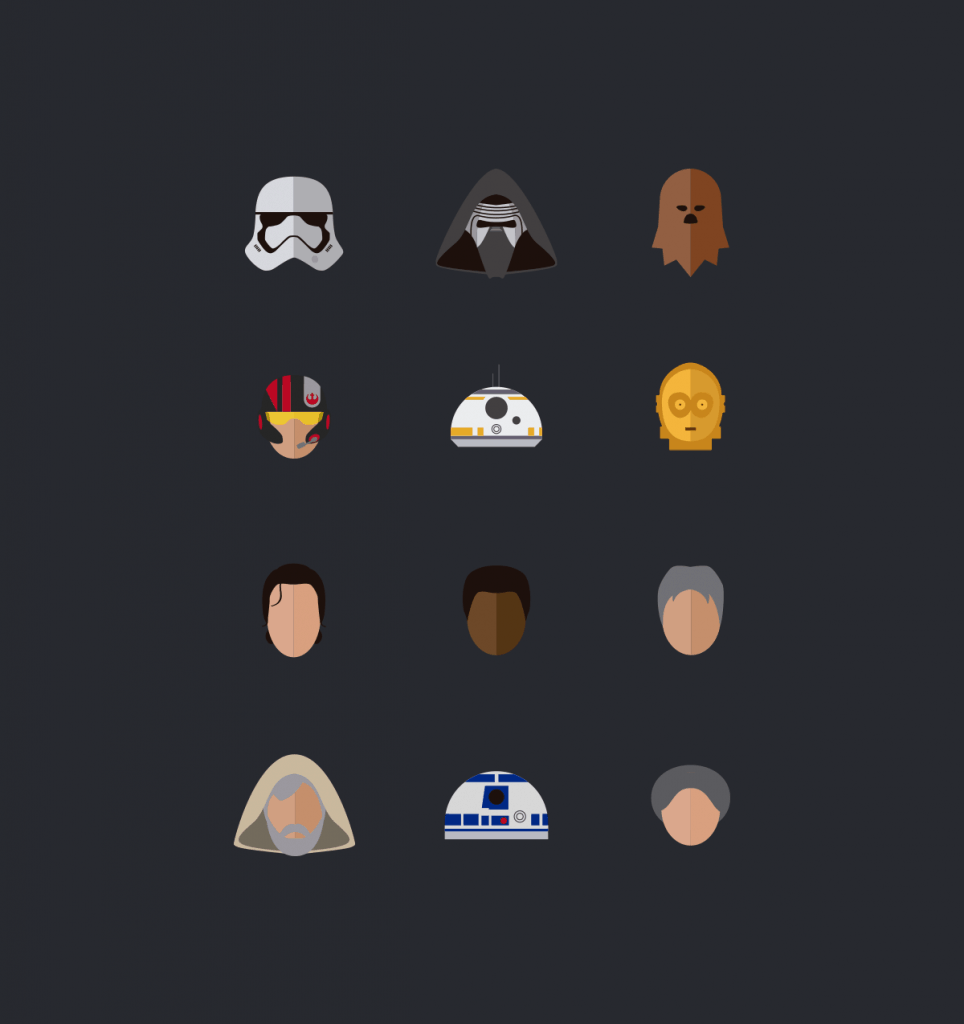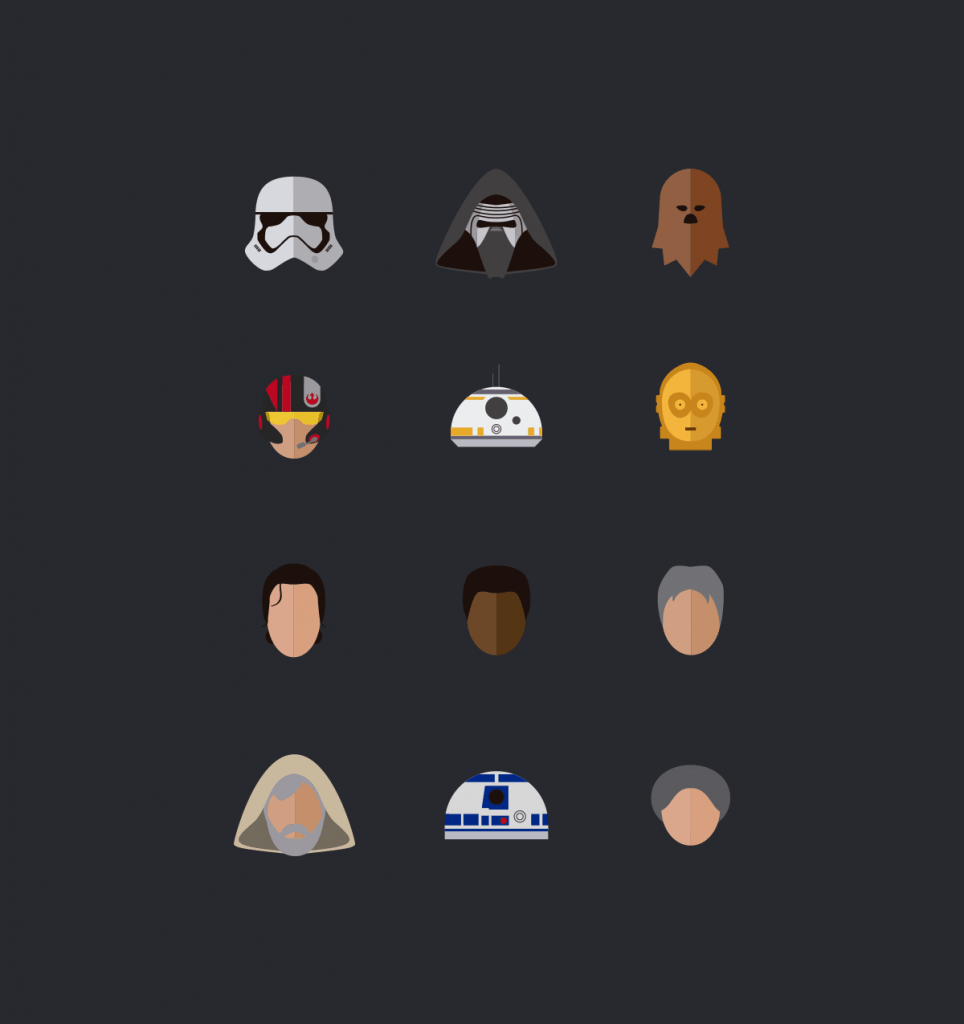 'I created this icon pack as a personal project. As you might of guessed, I like Star Wars. Feel free to download it and use it as you wish!'

'Everyone loves Star Wars. In honor of the release of Star Wars: The Force Awakens, here's a set of 17 free vector Star Wars icons.'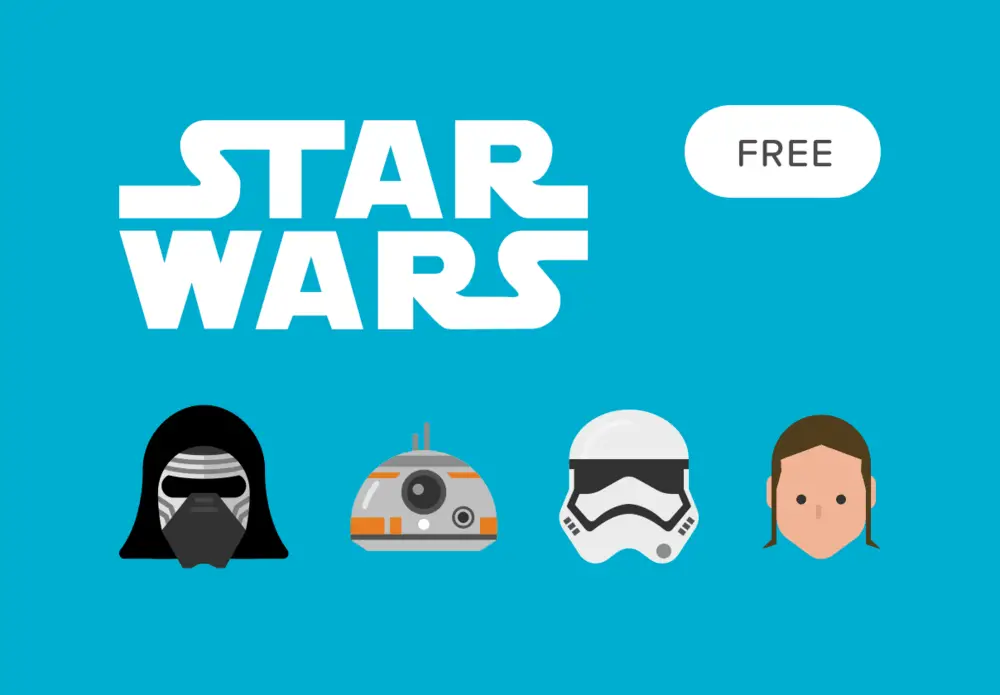 'Including: a millennium falcon, C-3PO, Princess Leia, Boba Fett, red lightsaber, Death Star, green lightsaber, Darth Vader, R2-D2, Storm Trooper and Chewbacca.'
Available as an Adobe Illustrator file and a PDF.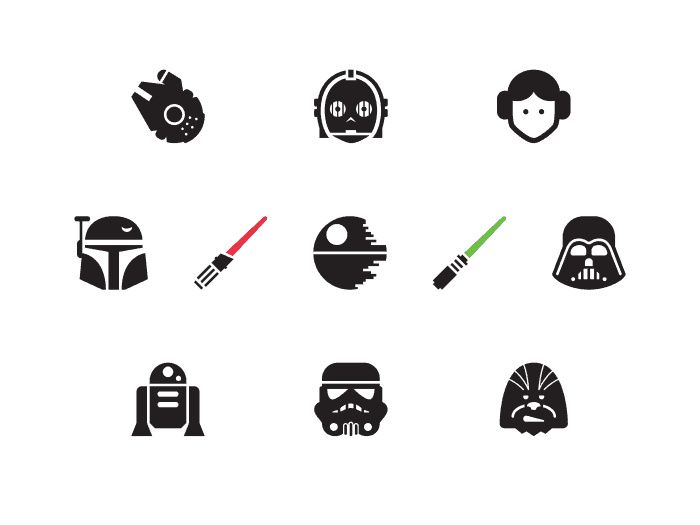 'Let's go with different style… Download first Star wars icon pack for free. See all the icons in detailed view. Only two weeks untill the movie premier. Can't wait!'