Today we are going to be discussing a few tips and tools you can use to help make the transition from freelance designer to agency a little bit easier.
CHANGE is that dreadful word that you don't want to hear, nor read in your emails from your clients. "Could you change that line? Wouldn't it be better if …?/ Can you try changing the color..?" are questions that can give you doubts about your career choice. You have to please your clients, and a negative or delayed answer is never acceptable. You know that the change they want will slow down and pile up your work but you do it anyway. Why? Because you MUST do it  yourself and asking for help is not what a freelancer does. You worked your butt off for the clients you have and the relationships you've built, but now work overwhelms you.
The main idea is to get rid of the "nobody can do it as well as me" mentality and admit that a bit of help would work wonders. You have to make one simple change and you won't be crying/laughing/profusely sweating when your friends are asking you to go on a vacation with them anymore. And for that, we have the solution: START YOUR OWN AGENCY
You're probably wondering how an agency is a better option than working by yourself, as a freelance designer. There are several advantages to becoming an agency:
 first of all, you are not the CEO, the manager, the designer, the HR, the marketer, and the cleaning lady anymore. You actually have time to do what you truly love: design.
 you don't have to refuse a potential client anymore as you have more time now to focus on designing only. If anything, you can hire another designer.
an agency enables you to pitch bigger projects. With a bigger team that works for you and satisfied clients, your agency becomes notorious in no time. Everybody will be requiring your services.
you get to socialize with people other than your clients, even though sometimes it's just work related stuff, it feels great to be heard and hear other voices.
What do you need in order to start off on the right foot? There are a few tips you need to take into consideration when starting a new agency. Below, we've compiled a list of a few tips and tools you can use to get an advantage.
1. Seek Advice
Make sure you have the best advisers around you in order to prevent your agency from sinking. Fast and easy aren't two words you often hear together. Luckily, consulting.com offers just that for all your advising needs.
"… people want advice. They want to get from point #A to point #B, but they don't know how to get there. They are either lost or facing obstacles they don't know how to surmount. The true meaning of consulting is helping people solve problems and move from their current state to their desired state."
If you are serious about starting and growing an agency, make sure you hire professionals. Building your brand, marketing your services, generating new revenue opportunities, supervising and mentoring your team are just some of the responsibilities you don't want to carry on your shoulders all alone. Make consulting.com your business partner and best friend.
2. Collaborate With the Best
You need a flawless website to represent your business. The user's experience can't be forgiven if it steals too much of their precious time. Your clients should be greeted with an easily navigable and straightforward interface. But, design shouldn't be the only thing you're focused on here. As visually appealing as a website can be, it's rendered useless unless it's functional. A slow website is always a no-no! That's why, we trust and recommend SiteGround.com. SiteGround hosts more than 1,000,000 domains and is known for its easy and quick navigation as well as affordability.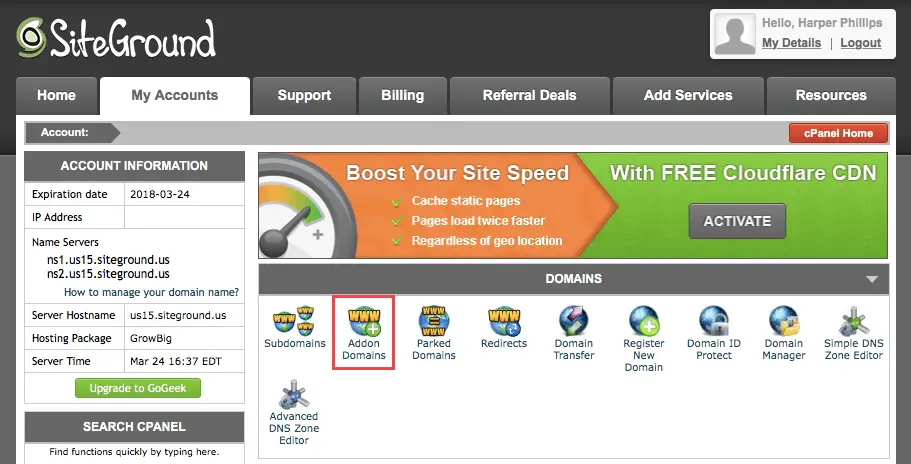 Sounds too good to be true, right? Not this time. Click here to see the outstanding reviews SiteGround is generating from clients all around the world, just like you.
3. Create a Flawless Website That Attracts Clients
Switching to an agency doesn't mean you have to hire hundreds of people, but rather, just enough to get work done effectively.  With the fancy "CEO" title come many responsibilities, such as paying your employees. In order to keep the money flowing in and to ensure monthly salaries, take on board any inquiries that land on your desk. Work diligently and the right clients will come to you. As a design agency, your business' website has to be flawless. Your website is your business card, a vital factor of your agency. Make it easy for your clients to find you. In this case, design is your best friend. Make it pretty and simple to contact you. The contact page is anything but useless for your website. You can place it anywhere as long as it's handy and easy to fill in.
I recently stumbled upon the website of Mission Restorations, a restorations company and I was highly impressed. Their Contact form is probably one of the friendliest I've ever seen.  It's easier to trust companies that seek to ensure quality over quantity, and when a restorations company cares so much about their website's looks, you know that they do their job well. Convince yourself by clicking here.
To recap everything we just went over:
Seek advice
Collaborate with the best
Create a flawless website that attracts clients
Again, there are an infinite amount of tips and tricks when it comes to running your own business. The key here is to know where to go and who to talk to when you need answers.
What are your go-to tips and tools for your agency or business? Let us know in the comment section below! Remember to stay updated with the latest trends in design by visiting us daily and following us on Instagram, Facebook, and Twitter.