The design of your home is an extension of you. When guests walk in, they see how you've arranged your living space, and can tell a lot about you. That being said, most houses have the typical template: living room, kitchen, bathroom, etc. Believe it or not, there are a few pioneers out there that took home living a step further. They take the standard house designs and turn them completely upside down. I know you're excited to get started, so let's jump right into it. Here are 5 strange house designs that will make you rethink normal:
See-Through House – Japan

This 914 square foot home built by Sou Fujimoto Architects holds no secrets. With every wall made of glass, the house was inspired by ancient predecessors who mainly inhabited trees.
"The white steel-frame structure itself shares no resemblance to a tree. Yet the life lived and the moments experienced in this space is a contemporary adaptation of the richness once experienced by the ancient predecessors from the time when they inhabited trees," says Fujimoto.
Slim House – Poland
Crammed between two buildings, the main goal of this house was to show how houses can be built anywhere. Measuring a maximum of 152cm from side-to-side, this one will really make you feel like you need to suck in your gut.
Seashell House – Mexico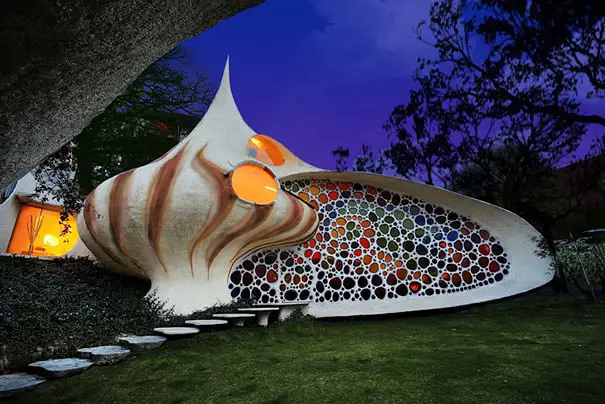 This odd house was created for a small family with two children in Mexico city. The house was built in 2006 by architect Javier Senosiain of Arquitectura Organica.
Slide House – Japan
As you can see, the house looks pretty normal. Sure, it's lacking some features that a lot of houses have, but it's certainly not eye catching… until you walk inside.
What ranks the slide house on the list of strange house designs is, you guessed it, the giant slide. Built within the heart of the house is a slide system that allows you to get from the top floor to the bottom floor in a matter of seconds.
Flintstone's house – USA
Television icon Dick Clark listed this house for a staggering $3.5million. As you can see, the 1960's cartoon classic "The Flintstones" is the inspiration behind this masterpiece. Even if you haven't seen the show, you have to admit that this house is impressive and very strange.
Everyone has their own style. Just because it isn't the normal template, doesn't mean it isn't possible. Take inspiration from these strange house designs, and go wild! The designers of these houses listed above definitely have a unique look on creativity, and it's allowed them to create houses that people will be talking about for years to come.