Meet Sisyphus, the first kinetic art table. This stunning table combines outstanding architecture, intricate art, and simple technology to create an ever-changing masterpiece in your home. Designed by Bruce Shapiro, the Sisyphus has raised almost 2 million dollars on Kickstarter. Watching the artwork unfold as the ball moves around the sand creates a peaceful feeling and feels similar to a Zen Garden. We love the beautiful design and mesmerizing artwork that is the Sisyphus table.

How Does it Work?
The Sisyphus functional table comes in three different sizes, an end table, 3-foot coffee table, and a 4-foot coffee table. Each table is fully functioning with a glass tabletop. Underneath the see-through tabletop is a thin layer of sand and a steel ball. A two-motor robot (referred to as the "Sisbot") moves the steel ball across the sand. The ball creates intricate, detailed patterns continuously. The patterns are stunning and we could watch this little ball move for hours. The design of the architecture of the table itself is breathtaking. Each table is handmade using wood and metal products.
The Sisyphus operates by simply plugging it in. The small Raspberry Pi motors can run forever when connected to an electrical outlet. The steel ball will create and recreate a variety of default paths that you can choose for yourself. You can choose from Sisyphus' default tracks or even create your own using Adobe Illustrator or other drawing programs. The user can also choose how fast the ball moves and creates the designs in the sand. Every Sisyphus is equipped with a light, allowing you to view the incredible art it creates.
The Mastermind Behind Sisyphus
Bruce Shapiro, the CEO of Sisyphus Industries, quit his job as a doctor over 20 years ago to pursue his passion as an engineer and artist. He has always had a passion for creating art using computer-controlled machines. He started his journey back in 1995, where he started he began documenting his projects on The Art of Motion Control.
On his Kickstarter page, he admits that his "friends and family thought I was crazy (and I was) but my wife Beverly supported me, and I went on to create widely varied pieces involving metal, flying silk ribbons, and even bubbles." He strives to create masterpieces using this new medium of art, motion.
Picking up Momentum
The kinetic table exploded on Kickstarter, raising 1.95 million dollars from almost 2,000 donors. People became obsessed with the unique designs the kinetic table creates right before their eyes. Each day,  people across the world upload and share tracks that they have made themselves, making the unique possibilities endless.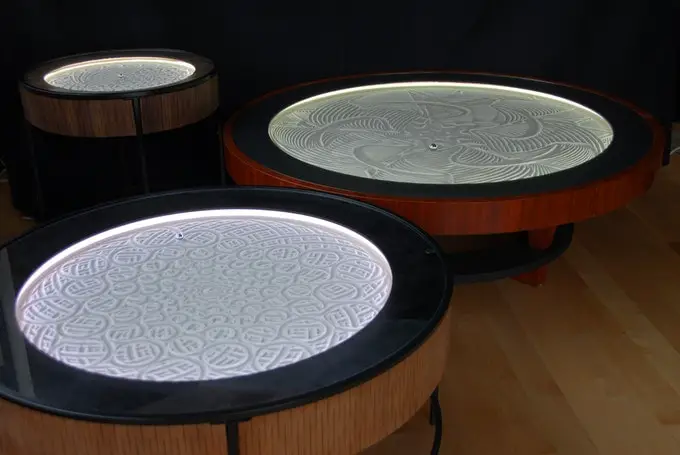 Sisyphus was then awarded a Proto Labs Cool Idea! Award service grant, which is allowing Sisyphus Industries to continue to grow. The grant awards money for manufacturing at Proto Labs, an industry that helps innovative projects come to life through digital manufacturing and other technologies. Sisyphus Industries will continue creating, producing, and manufacturing these outstanding tables for our viewing pleasure.